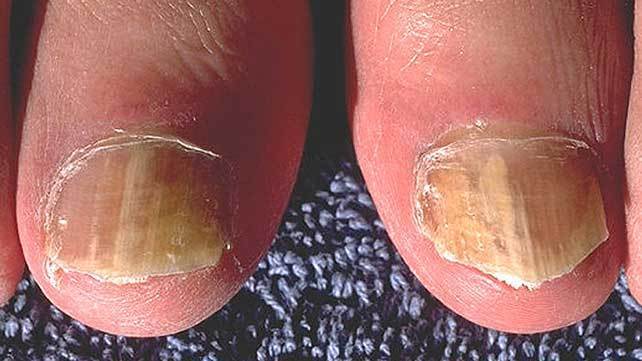 DESCRIPTION
Psoriasis is auto-immune chronic disease. 

Symptoms can vary from mild to severe.

Nail psoriasis also known as psoriatic nail dystrophy. It is due to psoriasis involving the nail matrix resulting in specific and non-specific changes occur in the nail.

Usually skin cells reproduce every 28–30 days. 

When people has plaque psoriasis their immune system is overactive and causes cells to reproduce every 3–4 days. As a result visible sections of skin are thick, red, and itchy.
SIGNS OF NAILS PSORIATIC

pitting, which involves dents or holes forming in the nail

white spots on the nail

grooves across the nail

a change in the nail's shape or size

thickening of the nail

separation of the nail from the nail bed

crumbling nails

discoloration, in which the nail may become yellow or brown, for example

blood under the nail
CLINICAL SIGNS OF NAIL BED INVOLVEMENT

Oil-drop sign and salmon patch

Onycholysis

 

Subungual hyperkeratosis

Splinter haemorrhages

under the distal third of the nail plate



OTHER CLINICAL SIGNS OF PSORIATIC NAILS

Paronychia

 due to periungual psoriasis

Acrodermatitis continua of Hallopeau

Twenty-nail dystrophy
WHAT ARE THE COMPLICATIONS OF NAIL PSORIASIS?
Secondary onychomycosis in the damaged nail plate

Psychosocial effects

 impacting social relationships and work-related activities

Association with psoriatic arthritis and metabolic syndrome.



WHAT IS THE DIFFERENTIAL DIAGNOSIS FOR NAIL PSORIASIS?
Onychomycosis

Nail trauma

Lichen planus

 of the nail

Parakeratosis pustulosa



WHAT IS THE TREATMENT FOR NAIL PSORIASIS?
General measures
Minimise nail trauma, keep affected nails short

Treat associated onychomycosis first for at least three months
Specific measures
Topical treatments
Topical steroids

 — betamethasone dipropionate, clobetasol propionate

Topical 

calcipotriol

Topical calcineurin inhibitors



Systemic treatments
Methotrexate

Acitretin

Biological agents for psoriasis

 — 

infliximab

, 

adalimumab

, 

etanercept

, 

ustekinumab

Novel small molecules — 

apremilast

, tofacitinib



Nonpharmacological treatments
Phototherapy

Lasers

Photodynamic therapy



PREVENTION OF NAIL PSORIASIS
Keep your nails trimmed short.

Use a nail file to keep nail edges smooth.

Wear gloves to clean and do other work with your hands.

Moisturize your nails and cuticles every day and after they've been in contact with water.

Wear comfortable shoes with enough room for your toes.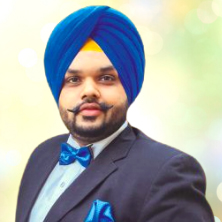 Dr. Vaidya Karanvir Singh is the younger Vaidya in Chandigarh Ayurved & Panchakarma Centre. He is the fourth generation in his family who is practicing as a general consultant in Ayurved & Panchakarma treatment at Chandigarh. In his practice, he had treated more than 1 Lakh Plus patients worldwide.
Article by Dr. Karanvir Singh (M.D in AYURVEDA, PANCHAKARMA FAGE) and reviewed by Vaidya Jagjit Singh (B.A.M.S)