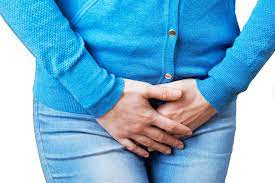 NATURAL TREATMENT FOR UTI
OVERVIEW:-
A urinary tract infection (UTI) is an infection in any part of urinary system  kidneys, ureters, bladder and urethra. Several infections involve the lower urinary tract  the bladder and the urethra.

Women are at higher risk of developing a UTI than are men. Infection limited to  bladder can be painful and uncomfertable. 

Bladder infections are the most common types of urinary infection.Most infection in men are the result of problems that restricts normal urine flow, such as enlarged prostate.
SYMPTOMS:-
They may include:
A strong, persistent urge to urinate

A burning sensation when urinating

Passing frequent, small amounts of urine

Urine that appears cloudy

Urine that appears red, bright pink or cola-colored — a sign of blood in the urine

Strong-smelling urine

Pelvic pain, in women
CAUSES:-
Urinary tract infections commonly occur when bacteria enter the urinary tract through the urethra and start to multiply in the bladder.

The  common UTIs occur mainly in women and affect the bladder and urethra.
Infection of the bladder (cystitis):- This type of UTI is usually caused by Escherichia coli  a  bacteria commonly found in the gastrointestinal tract. Sexual intercourse may devlop  cystitis, but  don't have to be sexually active to develop it. 
Infection of the urethra (urethritis):-In this type of UTI can occur when GI bacteria spread from the anus to the urethra. Because the female urethra is  very close to the vagina, sexually transmitted infections, such as herpes, gonorrhea, can devlop urethritis.
DIAGNOSIS:-
Urine culture

Computrized tomography

Cystoscopy

MRI
RISK FACTOR:-
Risk factors specific to women for UTIs include:-
Female anatomy:- A woman has a shorter urethra than a man , which shortens the distance that bacteria must travel to reach the bladder.
Sexual activity:- Sexually active women are more prone to UTIs than  women who aren't sexually active. 
Certain types of birth control:-Birth control methods like diaphragms for birth control may be at higher risk, as well as women who use spermicidal agents.
Menopause:-After menopause, a reduction in circulating estrogen causes changes in the urinary tract that lead  infection.
COMPLICATION:-
Complications of a UTI may include:-
Recurrent infections:- Especially in women who experience two or more UTIs in a six-month period or four or more within a year.
Permanent kidney damage:- from an acute or chronic kidney infection (pyelonephritis) due to an untreated UTI.
Urethral narrowing (stricture):- in men from recurrent urethritis, previously seen with gonococcal urethritis.
Sepsis:- A life-threatening complication of an infection, especially if the infection in the kidney  it may devlop bacterial infection
PREVENTION:-
Several these steps to reduce your risk of urinary tract infections:-
Drink plenty of liquids:- Especially water. Drinking water helps dilute  urine and ensures that  urinate more frequently allowing bacteria to be removed from urinary tract before an infection can begin.
Drink cranberry juice:- Although studies are not conclusive that cranberry juice prevents UTIs, it is likely not harmful.
AYURVEDIC VIEW FOR UTI:-
A

yurveda has correlated UTI to Mutrakrichha which is painful voiding of urine. Patient feels to micturate but passes urine with pain Mutra vaha srotas are the channel carrying urine waste which start from kidneys, the bladder is the container, the ureters are the passageways, and the end or opening is the urethra.

It is due to an imbalance of pitta dosha. So more important is to balance pitta dosha and to strengthen the urinary tract 

foods that are more hot, sour, or spicy, Drinking alcohol, Suppressing the urge to urinate, Habitually retaining urine in the bladder for long time, Exposure to excess heat and sunlight for long and drinking less water triggering pitta and thus leads to UTI.
NATURAL TREATMENT FOR UTI:-
It is one of the most effective home remedies for treating infections of the urinary tract.  Drinking two to four litres of water helps. As the body produces more urine, the bacteria get elliminate out.
Don't hold in  urine as that leads to more bacterial multiplication in the bladder. So try to empty bladder it will be helpful remedy for UTI.
Drinking cranberry juice is very effective in treating UTIs. Cranberry and its juice stop the growth of E.Coli, the most common  that causes these infections.
The good bacteria found in yoghurt  provide a line of defence against the infection-causing bacteria. Eating probiotic-rich foods help to increase the body's natural bacteria and prevent infections.
Stay dry and clean by wearing loose-fitting, comfortable clothes.  Avoid wearing nylon.
Green  has antimicrobial properties. It also works as a diuretic so helps the body flush out the harmful bacteria.
Add two tablespoons of apple cider vinegar in a glass of water and take it an empty stomach to cure bladder infections. It is antibacterial and effective in UTI.
Raw garlic that stops the growth of harmful bacteria. Garlic-infused water to remove  urinary infections. 
AYURVEDIC HERBS USED IN UTI:-
VARUNA

GOKSHUR

PUNARNVA

KESAR

ALOEVERA

PALASH

APAMARGA

SHATAVARI
CAC SPECIAL MEDICATION FOR UTI:-
TRIKATU SYRUP
UTI CARE
SHEET DHARA SYRUP
DETOX PREMIUM POWDER
LIVER CARE TABLETS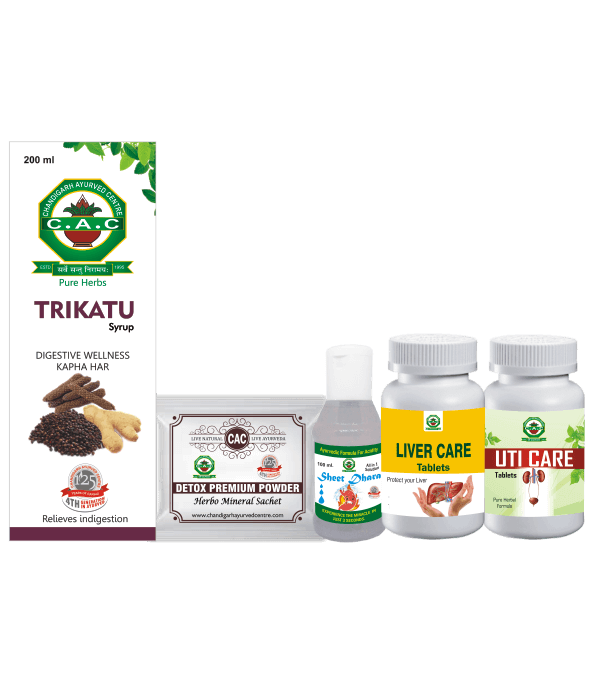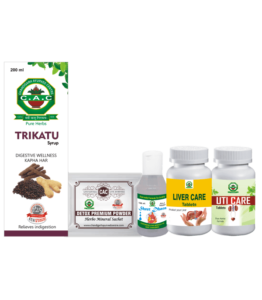 UTI CARE KIT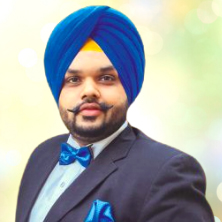 Dr. Vaidya Karanvir Singh is the younger Vaidya in Chandigarh Ayurved & Panchakarma Centre. He is the fourth generation in his family who is practicing as a general consultant in Ayurved & Panchakarma treatment at Chandigarh. In his practice, he had treated more than 1 Lakh Plus patients worldwide.
Article by Dr. Karanvir Singh (M.D in AYURVEDA, PANCHAKARMA FAGE) and reviewed by Vaidya Jagjit Singh (B.A.M.S)