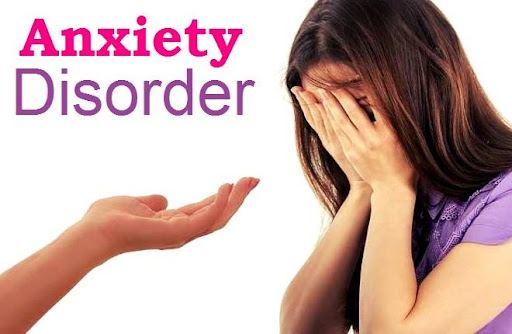 NATURAL TREATMENT OF ANXIETY WITH HERBS
What is anxiety?
Anxiety is a feeling of uneasiness, fear, stress and dread. anxiety might cause heart rate to rise, restless, sweat, tense etc. Everyone one or other day might feel anxious when in trouble, making important decisions, during examinations, at work. Normally some amount of anxiety is an energy boost to cope up the situation or help to focus better. But for some people this fear, stress, anxiety is not for a short interval but that person remains overwhelmed for prolonged time. That situation is calleds as anxiety disorder and gets worse with time. It interferes with people's day to day activities, relationships, job etc. it can be divided into generalized anxiety disorder, panic disorder or phobias.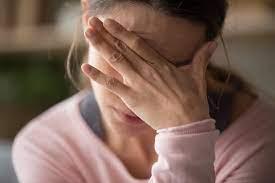 Who is prone to anxiety?
Faced trauma in childhood or in adulthood

Family history

Stressful events

Altered thyroid 

Arrhythmias

Certain personality traits like being shy, poor coping skills

Cardiopulmonary disorders
Symptoms: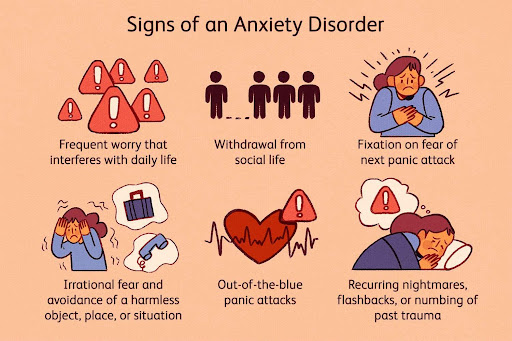 Hard to control anxious thoughts

Constant worrying

Unable to focus on work

Restless 

Pouding or rapid heart rate or palpitations

Dizziness

Shortness of breath

Change in behavior

Repeated flashbacks, dreams 

Increased muscle tension

fatigue

Trembling hands

Loss of appetite

Insomnia
Ayurveda say:
Anxiety  is a manas vikara (mental disorder) by acharyas. There are three manas guna or qualities of mind; Satva (purity), raja (activity) and Tama (darkness). There is mild vitiation of Raja and Tama dosha in the manas roga like in anxiety. As there are three  Sharirik doshas; vata, pitta and Kapha. Both the sharirik and mansik doshas are related to one another.  Due to the imbalance of raja and tama there is an imbalance of sharirik doshas as well giving physical symptoms along with anxiety. Aperson having a bad state of mind has bad physical health too.
 Ayurvedic management of Anxiety: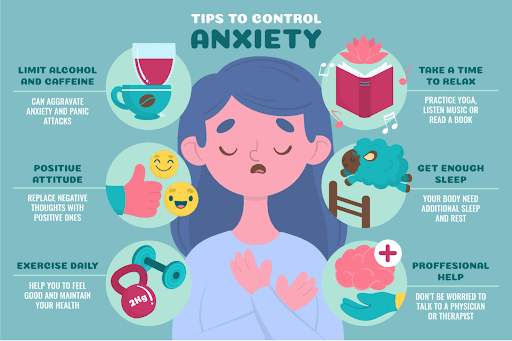 "SATVAVAJYA CHIKITTSA"  is mentioned by our acharyas to treat mental disorders. . It means to increase the Satva gun inside the body that gives a sense of control over the mind. In simple words it means withdrawal of mind from unwholesome objects. It mentions:
" Dhee dhaiya atmadi vigyanam manopaushadham param" that means deeper level of understanding mind
Procedures:
Abhyanga ( external oleation)

Snehapanam (Internal oleation)

Shirodhara (Pouring warm oil in the forehead)

Takradhara ( pouring medicated yogurt over the forehead)

Shiroabhyanga (Head massage)
 SOME HERBS FOR ANXIETY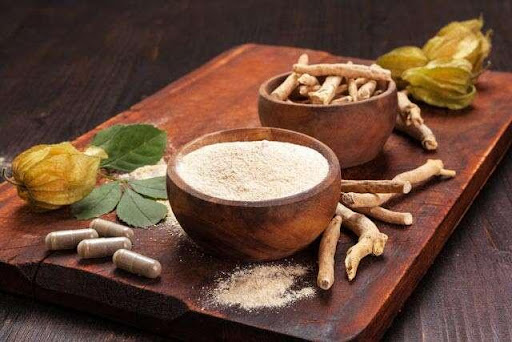 Ashwagandha (Withania somnifera):

Ashwagandha balances all three doshas, restores sleep, boosts energy and stamina and is a potent immunomodulator. Take 1-2 teaspoons of dried ashwagandha root powder with  warm milk. It helps to reduce anxiety and stress.

Brahmi (Bacopa monnieri):

Brahmi is known to be potent Medhya rasayana (brain rejuvenator). Brahmi decreases the level of stress causing hormones, it enhances the concentration. Take 8-10 leaves and make tea. This helps to maintain calm and is a good stress reliever.

Jatamansi (Nardostachys jatamansi):

jatamansi is an anti fatigue and anti stress rasayana herb. The roots of jatamansi have magical effects in keeping the mind and body calm. It helps in removal of toxins from the body. Jatamansi shows great results when taken 1 teaspoon with a pinch of loha bhasma.

Vacha (Acorus calamus):

Vacha has mind calming properties. Vacha helps in  relieving anxiety and  helps you sleep better. Take 1 teaspoon of Vacha powder with lukewarm water 1 hour post meal.

Bhringraj (Eclipta alba):

Bhringraj tea detoxes the body and energizes the mind. Massing warm bhringraj oil over the scalp helps in calming the mind. 

Tagar (Valeriana wallichii) :

Tagar has antipsychotic antioxidant properties and also hepatoprotective activity. Tagar is well known to treat insomnia and anxiety. 1-3 gram of tagar should be consumed to calm the mind.
MANAGEMENT OF ANXIETY WITH CHANDIGARH AYURVED CENTRE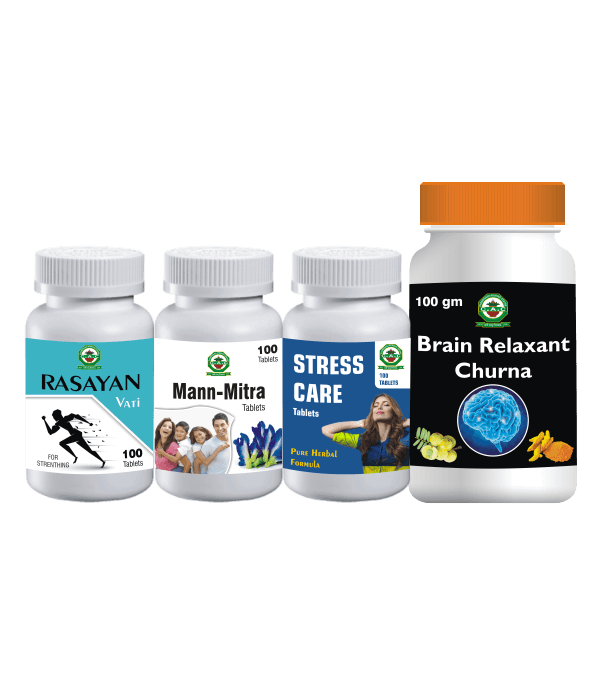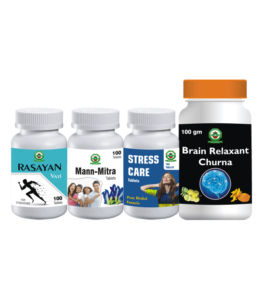 Anti-Stress Kit
1. Rasayan Vati
Rasayan vati is herbo-mineral ayurvedic formulation, which is 100% natural. Rasayan vati contains various herbs such as Aswagandha, Shilajeet, Amla, Kesar, Musali, Shatavar, Brahmi Abhrak Bhasam, Swarn Makshik Bhasam, Yashad Bhasam, Mukta pisti, Praval pisti, Jaiphal, Vang Bhasam, Dalchini, Javitri, Gokhru, Kaunch Beej, Saunth, Mirch, Pipli, Amla, Kesar, Manjith, Anant Mool, Brahmi, Musali, Swarn Vang, etc. These ingredients show antioxidant, aphrodisiac, anti-inflammatory, antipyretic, analgesic, immuno-modulator properties.  These tablets provide good results in General debility, Psychological disorders, and improves immunity.
Recommended Dosage: Take one tablet twice daily.
2. Stress care tablet:
It is an amazing combination of natural herbs like Sarpgandha, Brahmi, Tagar, jatamansi. It helps to relieve stress conditions. They help to pacify the nervous system and also help to increase mental and physical performance. In Ayurveda when there is an imbalance of three energies i.e. Vata, pitta, and Kapha, it leads to disease. Vata has a sub dosha named prana doshas which regulates the sensory perception, brain, and mind. Tarpak Kapha subtype of kapha, governs cerebrospinal fluid, sadhak pitta subtype of pitta doshas governs emotions and their impact on the heart. So any vitiation of these doshas leads to stress. It act as Anti-depressant, relieves Insomnia, Anxiety.
Recommended Dosage – Take 1 tablet twice a day with normal water.
3. Brain Relaxant Churna:
This churna is pure Ayurvedic which helps to rejuvenate the brain cells, improves memory, give strength to the body, & increases the concentration by calming down the brain. It is prepared from herbs that show calming effect on brain and gives you relaxation. Brain relaxant churna shows antioxidant, Neuroprotective, carminative and anti-inflammatory properties. Ingredients present in this churna are Amla (Emblica officinalis), Sonth (Zingiber officinale), Pippali (Piper longum), Marich (Piper nigrum), Haldi (Curcuma longa), Bala (Sida cordifolia), Suddha Gandhak, Lauha Bhasma. It helps to Maintain blood sugar level, Anti-depressant, Insomnia, Increase Haemoglobin levels, Cures indigestion, Helpful in Ulcerative colitis, and Nerve tonic. It helps in dealing with health conditions such as feeling delusion, hallucinations, disordered thinking, disabling, & impair daily functioning related to schizophrenia patients.
Recommended Dosage – Take 1 tablespoon of this churna twice daily.
4. Mann Mitra tablet:
Mann Mitra tablet is herbal and purely ayurvedic medicine. It is used in Ayurvedic treatment for psychiatric conditions and help to balance all the three doshas of body i.e vata, pitta, kapha. CAC Mann Mitra tablet improves intelligence and speech problems. It is helpful for making the nervous system strong and nerves as well. It contains various herbs like Bala, Vacha, Shankhpushpi, Nagkeshar etc that help you fight insomnia, anxiety, and stress. It works as a antioxidant, anti depressant, immuno booster, anti epileptic and as neuro protective drug.
Recommended Dosage – Take 1 tablet twice a day with normal water.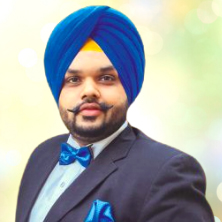 Dr. Vaidya Karanvir Singh is the younger Vaidya in Chandigarh Ayurved & Panchakarma Centre. He is the fourth generation in his family who is practicing as a general consultant in Ayurved & Panchakarma treatment at Chandigarh. In his practice, he had treated more than 1 Lakh Plus patients worldwide.
Article by Dr. Karanvir Singh (M.D in AYURVEDA, PANCHAKARMA FAGE) and reviewed by Vaidya Jagjit Singh (B.A.M.S)