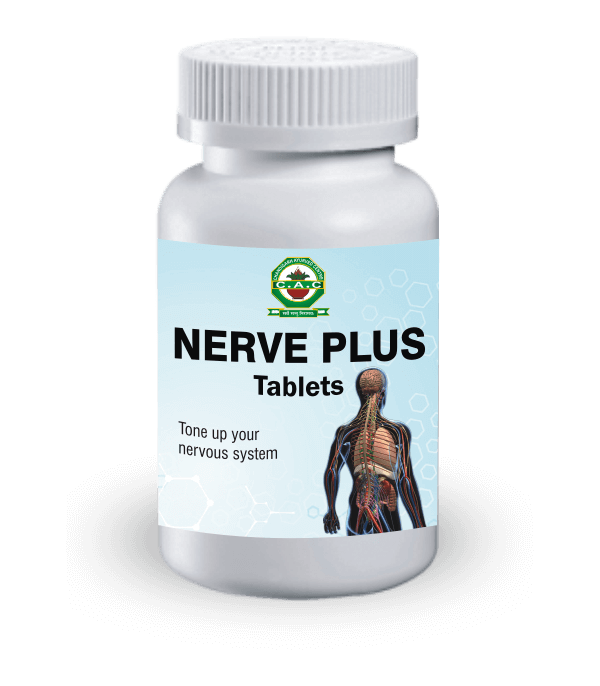 DESCRIPTION
Cac nerve plus tablet contains Ghritkumari, kalimirch, Giloy satva, Shudha shilajeet, Shudha Kuchala, Shudha Vatsnabh etc. These herbs might be beneficial in improving appetite by increasing intestinal motility as well as gastrointestinal functions and also help prevent constipation. It might be good for diabetics due to the presence of certain constituents that help lower blood glucose levels. Kuchla also helps to manage insomnia by controlling the functions of the brain and reducing stress. It is also beneficial in managing urinary problems like burning sensation or irritation during urination due to its diuretic activity. According to Ayurveda, the administration of Kuchla is recommended only after its purification (shodhana) in different media like cow's urine (Gomutra), cow's milk (Go dugdha) or cow's ghee (Go ghrita). The final purified product is known as Sudha Kuchla. Sudha Kuchla helps to manage sexual problems like erectile dysfunction due to its Vajikarna (aphrodisiac) property. Kuchla oil can be applied on the joints to provide relief from inflammation and pain associated with rheumatism due to its anti- inflammatory property.
USES
Stimulate the nervous system.

In insomnia

In rheumatism

Acts as aphrodisiac

In Inflammation

Improve appetite
INGREDIENTS
Each 650mg tablet contain:

Ghritkumari (Aloe barbadensis)  ———————————-72mg

Kalimirch (Piper nigrum) ——————————————–72mg

Giloy satav (Tinospora cordifolia) ——————————– 72mg

Shudha Shilajeet( Asphaltum) ————————————- 72mg

Shudha Kuchala (Strychnos nux –vomica)  ——————— 218mg

Shudha Vatsnabh (Aconitum ferox) —————————— 72mg

Shudha singraf (Purified cinnabar) ——————————- 72mg



Dosage
:
Take 1-2 tablets twice a day.
INGRIDENTS DESCRIPTRION
1. Ghritkumari (Aloe barbadensis) – Ghritkumari is a famous herb used in Ayurveda since long time ago. 
Scientific name Aloe barbadensis belongs liliaceae family. 

It is tikta and bitter in taste; guru, snigdha, pichhila in quality; Physical Property Heavy, Unctuous, Sticky; Virya Sheeta; Potency Cold; Vipaka Katu Metabolic Property After Digestion Pungent. 

It balance all three doshas in body. 

Aloe vera is packed with vitamins A, C, E, B1, B2, B3, B6, B12, and folic acid. 

It also serves as a storehouse of minerals such as calcium, magnesium, zinc, iron, selenium, and potassium provide several essential amino acids and fatty acids that play a critical role in the overall health of an individual. 

Aloe vera acts as a powerful anti-inflammatory agent. 

The anti-inflammatory compounds like bradykinase, C-glucosyl chromone, and salicylic acid reduce the production of acid in the body that causes inflammation. 
2. Kali mirchi (piper nigrum) – Kalimirch or Black pepper is a commonly found spice in every house.
Kalimirch might be beneficial in managing arthritis pain. 

Kalimirch has anti-arthritic, anti-inflammatory and analgesic property. 

Kalimirch reduces the activity of inflammatory mediators in arthritis, thus reduces inflammation and pain. 

Kalimirch help to reduce the inflammation and accelerate the healing process due to its Ropan (healing) property.
3. Giloy satav (tinospora cordifolia) – Giloy show three tastes or rasa chiefly Kashaya (astringent), Katu (pungent) and Tikta (bitter). 
Sanctified with Laghu (light) and Snigdha (unctuous) gunas help it to penetrate deep within the body tissues. 

It has Ushna Virya and Madhura Vipaka (sweet post-digestive effect). 

By its astringent and bitter taste, giloy effectively pacifies the Kapha and Pitta doshas and owing to its metabolic property, it normalises the Vata and Pitta doshas and provides a nourishing effect to the body. 

Tridoshic Rasayana properties present in giloy that balances all the three doshas which are Vata (air) doshas, Pitta (fire and air) doshas and Kapha (earth and water) doshas. 

Giloy satva has strong anti-inflammatory and pain-relieving properties which makes it crucial for relieving pain and inflammation during arthritis and gout it dismisses burning sensation in feet and is also found beneficial in reducing joint and muscle pain, thereby reducing the chances of chronic autoimmune inflammatory diseases like rheumatoid arthritis.
4. Shudha shilajeet (asphaltum) – Alzheimer's disease is a progressive brain disorder that causes problems with memory, behavior, and thinking. Shilajit may prevent or slow down the progression of Alzheimer's. 
The primary component of shilajit is an antioxidant known as fulvic acid. 

This powerful antioxidant contributes to cognitive health by preventing the accumulation of tau protein. Tau proteins are an important part of your nervous system, but a buildup can trigger brain cell damage. 

Being a powerful adaptogen, Shilajit also beneficial for treating different types of psychotic problems like depression, dementia, etc.

It stabilises the Vata and Pitta doshas in the body and keeps the serotonin level under control and helps to reduce various symptoms of anxiety which includes uneasiness, restlessness, cold hands, and feet, etc. 

The potent antidepressant properties of the herb also help in calming the mind, reducing all sorts of physical and mental stress, irritability and improving energy and stamina. 

The abundance of anti-inflammatory and anti-arthritic properties in Shilajit makes it the ultimate choice for providing relief from pain and inflammation due to arthritis. 

It is also extremely effective against Rheumatoid arthritis which is known as Amavata in ayurveda. 

Amavata is generally caused due to vitiation of Vata doshas and accumulation of Ama in the joints.
5. Shudha kuchla (strychnos nux-vomica) – Sudha Kuchla helps to manage the symptoms of depression and anxiety. 
According to Ayurveda, the nervous system is controlled by Vata and an imbalance of Vata causes depression and anxiety.

Kuchla helps manage pain or inflammation caused due to an imbalanced Vata dosha. 

Kuchla due to its Vata balancing and Ushna properties helps to reduce the pain or inflammation, especially in case of rheumatism.
6. Shudha vatsnabh (aconitum ferox) – Vatsnabh is pungent, bitter and astringent in taste. 
Majorly used part for therapeutic benefit is tuberous root. 

Pharmacological studies shown it is anesthetic, anti-arthritic, de-obstruent (Shroto-Vishodhana), diaphoretic, diuretic, sedative, a nerve stimulator, analgesic, anti-inflammatory, antidote, and cardiac stimulant. 

Arthritis occurs due to an imbalanced Vata dosha and leads to certain symptoms like pain. Vatsnabh helps reduce the pain in the condition of arthritis and provide relief due to its Vata balancing property.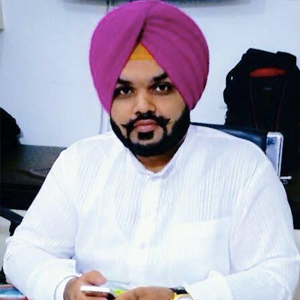 Vaidya Karanvir Singh is the younger Vaidya in Chandigarh Ayurved & Panchakarma Centre. He is the fourth generation in his family who is practicing as a general consultant in Ayurved & Panchakarma treatment at Chandigarh. In his practice, he had treated more than 1000 plus patients worldwide.
Article by Dr. Karanvir Singh (M.D in AYURVEDA, PANCHAKARMA FAGE) and reviewed by Vaidya Jagjit Singh (B.A.M.S)