Nummular dermatitis – Symptoms, Causes and Treatment
Nummular dermatitis is another name used for nummular eczema and is also known as discoid eczema. It is a chronic skin condition but treatable in which coin-shaped spots developed on the skin. These spots are often very itchy and well-defined. Clear fluid may ooze out from lesions left them dry and crusty.

Nummular eczema often occurs after a skin injury, like abrasion or insect bite, burn etc. but there may be other causes also. In Nummular eczema there is formation of one patch or multiple patches occur that is of coin-shaped. The patches can last for several months.

Prevalence of Nummular eczema is more in men than in women. 
Symptoms of nummular eczema
The most common symptom of nummular eczema that is noticed among people is formation of coin-shaped lesions (in patches form) on the body. 

The lesions most commonly seen on the arms or legs, but they may eventually spread to the torso and hands. The lesions may be brown, pink, or red depends upon the skin tone of the individual.
Other symptoms that occur may include:
Lesions are very itchy and may cause burning sensation

Red, scaly, or inflamed skin around the lesions

Lesions that ooze fluid and eventually crust over
Signs that can be noticed 
Skin discoloration may occur in the area where the spot flattens. In dark skin, this discoloration is known as post inflammatory hypopigmentation and may stay for several months.

A new flare-up may show up as a large, raised patch on top of an old, healing spot instead of a coin-shaped lesion.
What causes nummular eczema?
The cause of nummular eczema is unknown.  But in many people who are suffering from this condition have a personal or family history of:
asthma

allergies

atopic dermatitis
The following factors may also trigger the development of nummular eczema:
Environmental irritants

Temperature changes

Stress

Surgery
Who is at risk for nummular eczema?
The conditions that may increase the risk of developing nummular eczema mat include
Having another type of eczema

Exposure to excessive cold, dry climate

Dry skin

Poor blood flow or swelling in the legs

Any kind of skin injury, like an insect bite or abrasion

Use of certain kind of medications
How is nummular eczema diagnosed?
Your doctor may be able to diagnose the condition by taking your complete medical history and by doing physical examination. 

Skin sample can be taken by superficially scraping the skin. This will help to analyze the skin cells and try to determine whether the rash is nummular eczema or any another skin condition.

An allergy test can also be performed if doctor suspects that the lesions are a due to an external allergic reaction.
Differential diagnose – Nummular eczema vs. ringworm
As the condition progress, nummular eczema lesions can appear like another condition that is caused by the ringworm fungus.

In Ringworm (tinea corporis) there are also itchy bumps presents that may turn into round, itchy, and scaly patches with a clear center. Both types of lesions will be very itchy. Ringworm lesions heal from the center first.

Doctor should treat the condition after knowing the difference between these two conditions, and other skin conditions, like psoriasis, that have similar clinical presentations.
How is nummular eczema treated?
This condition of nummular eczema can be treated with use of certain medications and lifestyle changes. Nummular eczema is not contagious condition, which means it cannot spread from one person to another person through direct skin contact.
Medications used
In severe cases, OTC medications are not strong enough to relieve the symptoms of the condition. So your doctor may prescribe corticosteroid or tacrolimus ointments, or pimecrolimus cream. Another option is tar cream.

If you do not get relief even after medicated treatment, your symptoms may be triggered by an allergic reaction. Then your doctor may recommend a patch test to identify the source of the allergy.
Lifestyle changes
There is not a cure for nummular eczema. However, condition may be managed by making some lifestyle changes and avoiding trigger factors. These life style changes may include avoiding
Excessive bathing and hot water

Use of harsh soaps

Wool and other irritants 

Stressful situations

Exposure to environmental irritants, like household cleaners and chemicals

Avoid skin injuries
The following can help relieve your eczema:
Application of medicated lotions or skin ointments locally on the affected parts  like corticosteroids

Moist bandages can be used to cover and protect the affected areas

Getting ultraviolet light treatment for severe itching

Taking antihistamines to treat itching

Use moisturizer daily, to prevent from dryness especially on the legs
Nummular eczema diet
Taking nutritious, balanced diet will help to manage skin conditions like nummular eczema, skin lesions and other symptoms like itching, rashes etc. Dietary recommendations include 
Use of healthy, balanced diet. 

Follow an anti-inflammatory diet.

Avoid use of packaged foods that are common in the culture of the Western diet
Foods to eat
Some examples of foods that are health-promoting and having anti-inflammatory properties include:
Plant-based omega-3 sources,for eg. Flaxseed oil or ground flaxseeds and green leafy vegetables

Fish containing omega-3 fatty acids or fish oil supplements

Fruits, Green vegetables, and whole grains that are source of antioxidants and healthy carbohydrates.

Olive oil and canola oil should  be used, as these contain healthy monounsaturated fats

Spices like turmeric and ginger, that possess anti-inflammatory properties as well
Foods to avoid
Examples of inflammatory foods that should be avoided or controlled may include:
Trans fats like hydrogenated oils, which describes things like margarine and fried foods like French fries etc.

Red meats, full-fat dairy products, the skin of poultry, butter, that contain unhealthy saturated fat

Foods that contain added sugar and refined carbohydrates in high amount like processed foods.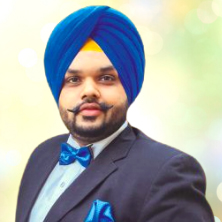 Dr. Vaidya Karanvir Singh is the younger Vaidya in Chandigarh Ayurved & Panchakarma Centre. He is the fourth generation in his family who is practicing as a general consultant in Ayurved & Panchakarma treatment at Chandigarh. In his practice, he had treated more than 1 Lakh Plus patients worldwide.
Article by Dr. Karanvir Singh (M.D in AYURVEDA, PANCHAKARMA FAGE) and reviewed by Vaidya Jagjit Singh (B.A.M.S)