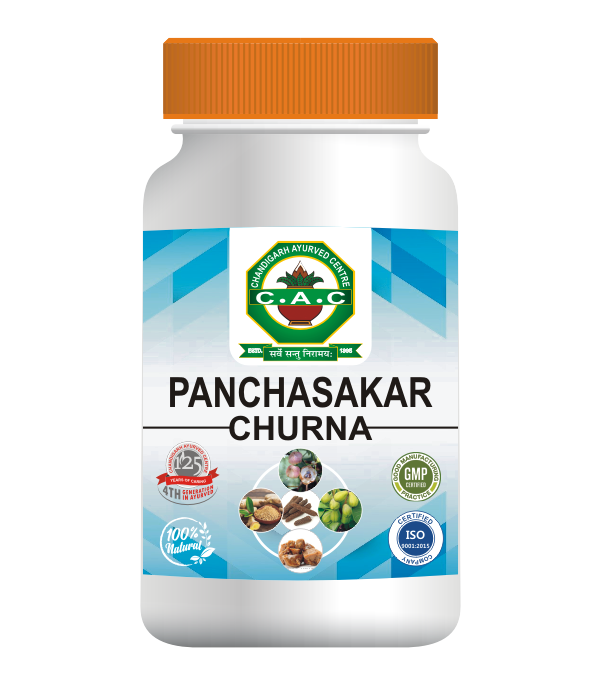 Description
CAC Panchsakar churna is a herbo mineral and purely ayurvedic formulation. It mainly works on your Vata and pitta dosha of your body. It can cure Chronic Constipation and help relieve symptoms of Acidity, indigestion, Belching and colic pain. It acts as a mild Laxative and reduces Bloating. It works very efficiently on a disease named IBS (Irritable bowel syndrome) which is very common nowadays that affects your day to day activities. CAC Panchsakar churna is 100% natural and pure. It is prepared from various herbs like Haritaki, Shunthi, Swaran Patri, Shatapushpa, and Saindhav Lavan that show antioxidant, anti-inflammatory and laxative properties.
Each 100gm PANCHSAKAR CHURNA contains:
Haritaki (Terminalia Chebula) 2gm

Shunthi (Zingiber Officinale) 1gm

Saindhava Lavana (Rock Salt) 1gm

Svarna Patri (Cassia Angustifolia) 4gm

Shatapushpa (Foeniculum Vulgare) 1gm
DETAILED DESCRIPTION OF INGREDIENTS-
Haritaki
Scientific Name- Terminalia Chebula
It is enriched with plenty of nutrients and posses healing properties like Anti-cancerous, antibacterial, anti-diabetic and anti-oxidant properties. It contains essential vitamins, minerals and proteins. 

It is a source of Vitamin C, manganese, selenium, potassium, iron and copper. It also contains plant chemicals like –Tanic acid, gallic acid, palmitic acid, stearic acid and behenic acid.

It is helpful in relieving constipation, bloating other gastric issues.
It helps to prevent from Cough and Cold, 

It is good for skin and hair health.

It helps to removes Acne and ulcer.

It helps in weight loss

It helps to lower the blood sugar level.

It boosts your immunity level.
Shunthi
Scientific Name- Zingiber Officinale
Ginger contains very few vitamins and minerals. Since it is typically eaten in small quantities, people generally don't get many nutrients from it. 

Unique compounds within ginger are thought to be the primary source of its health benefits. These include gingerol, shogaols, zingiberene, and zingerone.

It is a great option for

improving the metabolism of the body

. It benefits a lot in all digestive disorders specially loss of appetite, hemorrhoids, tastelessness and flatulence.
Saindhava Lavana or Rock Salt 
According to Ayurveda saindhava lavana is 

considered to be superior in quality

among the five types of salt mentioned in text. It can balance the three doshas – The vata, pitta and kapha.

It may reduce the risk of low- sodium. It is essential for proper muscle and nerve function.

It may aid digestion and may treat sore throats.
Svarna Patri
Scientific Name- Cassia Angustifolia
It is a potent herb which helps to reduce hyperacidity, bloating and flatulence

. It helps to relieve constipation, restores your gut health, improves the colon health and maintains healthy digestion.

It is widely used for the treatment of I

rritable bowel syndrome (IBS), anal or rectal surgery, Anal fissures or tears in the lining of the anus, Hemorrhoids, and weight loss. 
Shatapushpa 
Scientific Name- Foeniculum Vulgare
It is widely used as a Female health enhancer.

It boosts up the breast milk production.

It soothes joint pains and good for bone Health

It helps to cures urinary complaints.

It helps to calm painful boils and swellings.

It is used in various health issues like PCOD/PCOS.

It Aids in Digestion

It is useful in Insomnia

Helps to Control diabetes 

It helps to prevent excess Gas It Boosts up your Immune system.
INDICATIONS
Abdominal pain

Bloating

Constipation problems

Hemorrhoids

Loss of appetite

Rheumatoid arthritis

Indigestion

Headache

Intestinal disorders

Hyperacidity

Colic pain

Acidic belching

Supports intestinal immunity
ABOUT PRODUCT:
Chandigarh Ayurved Centre products are 100% safe and natural. MADE IN INDIA.

This product is formulated under the guidance of the MD Ayurveda expert.

Natural and herbal products for overall health.

Free from preservatives and chemicals.

125 years of serving mankind through Ayurveda.

Serving society  4

th  

Generation in Ayurveda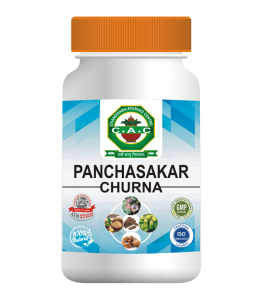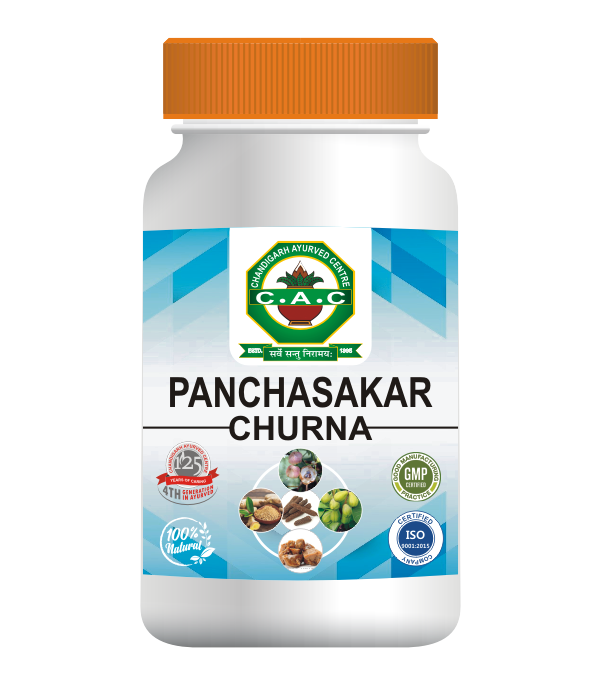 PANCHASAKAR CHURNA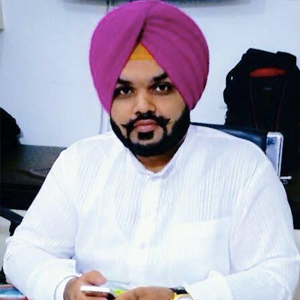 Vaidya Karanvir Singh is the younger Vaidya in Chandigarh Ayurved & Panchakarma Centre. He is the fourth generation in his family who is practicing as a general consultant in Ayurved & Panchakarma treatment at Chandigarh. In his practice, he had treated more than 1000 plus patients worldwide.
Article by Dr. Karanvir Singh (M.D in AYURVEDA, PANCHAKARMA FAGE) and reviewed by Vaidya Jagjit Singh (B.A.M.S)