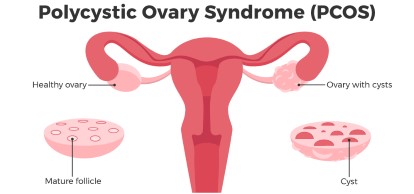 PCOD (Polycystic Ovarian Disease)
PCOD known as polycystic ovarian disease which is principally a  hormonal disorder causing enlarged ovaries with small cysts on the outer edges. PCOD is that condition where the ovaries release plenty of immature or partially-mature eggs which eventually grow to cysts.
The reason behind the cause of PCOD isn't well understood, is that it involve mixture of genetic and environmental factors. Nowadays PCOD is quite common life style disorder  affecting 5% to 10% of women of age 12–45 years. 
Pathophysiology of Polycystic Ovarian Disease (PCOD)
Normally, the ovaries make female sex hormones and a little amount of male sex hormones (androgens). These help to keep up  the normal and regular  development of eggs with in the ovaries during each 

cycle

.

Polycystic ovarian disease is said to an imbalance in these sex hormones. In PCOS, because of hormone imbalance females start making slightly more androgens. This causes them to prevent  ovulating, due to which females get liable to pimples and grow extra facial and body hair.

Follicles are the sacs within the ovaries that contain eggs.
In PCOD , the eggs in these follicles don't mature and  not released from the ovaries, but they form very small cysts with in the ovary, hence ovaries become polycystic.
Common symptoms  include:
Acne and blemishes on face

Weight gain  and trouble losing fat around belly

Extra hair growth on the face and body. 

Thinning hair on the scalp.

Irregular periods – Women with PCOS may have, but less than nine periods a year. Some women have no periods and some have very heavy bleeding

Fertility concern- Many women who have PCOS have trouble getting pregnant (infertility) because it is difficult for them to concieve.

Depression
Investigations like blood glucose level , internal secretions tests, ultrasound of the abdomen and pelvis are done. Sometimes serum androgens, luteinising hormone and other hormone estimations may be checked.
Treatment
The medical treatment of PCOD/PCOS focuses on managing your individual concerns like  infertility, hirsutism, acne or obesity. Thus mainly symptometic treatment is given like –
Lowering of  glucose levels in body

Restoration of fertility

Treatment of hirsutism or acne

Restoration of regular menstruation, and prevention of endometrial hyperplasia and endometrial carcinoma.
Losing weight (which can be difficult) has been shown major effect  to help with diabetes, high blood pressure, and high cholesterol. Even a weight loss of 5% of total body weight has been shown to be very helpful with the imbalance of hormones and also with infertility.
Medicine used to treat the  hormonal imbalance and menstrual cycles of polycystic ovary disease include:
Birth control pills or progesterone pills help to make menstrual cycles more regular

Metformin, a medication that increases the body's sensitivity to insulin, can improve the symptoms of PCOS and sometimes will cause the menstrual cycles to normalize. In some women, it is also helpful in  weight loss.

LH-releasing hormone (LHRH) analogs

Treatment with clomiphene citrate causes the egg to mature and be released.
AYURVEDIC  ASPECT OF PCOD –
In Ayurveda – we can consider PCOD under aartava dosha i.e. Granthibhuta aartava dosha which mainly occurs beacause of  vitiation of  vata and kapha dosha.
Aharaja Hetu – Vata – Kapha Prakopakara Nidana sewan
According to Rasa- Ati Katu, Tikta, Kashaya Ati Madhura, Lavana
 According to Guna -Excessive intake of Sheeta, Laghu, Ruksha Excessive intake of Guru, Abhishyandhi, Picchila 
According Dravya- Paryushita Anna, Ati Shushka Anna Excessive intake of Anupa, Audaka Pishita Sevana
 According Pramana- Abhojana,Visha mashana Atibhojana,Adhy ashana Viharaja hetu Ati Vyavaya, ratri Jagarana,Vegadh arana Divaswapna
 Manasika hetu- Chinta,Shoka,bh aya Abhighat aja Hetu Vandhya
Artava is Upadhatu of Rasa. So Rasa Dushti leads to Artava Dushti. This is the first pathology in Artavakshaya. When  Prakupita Vata and Kapha does the Avarana to Artavavaha Srotas and takes Sthana Samshraya in Garbhashaya. The Khavaigunayata is also established by Nidana Sevana and the Dosha Dushya Sammurchhana takes place in Artavavaha Srotas. Due to Khavaigunyata with in the Artavavaha Srotas Utpatti of Artava occurs less in quantity leading to Artava kshaya.  Further Rasa does the Dooshana of Meda dhatu (Rasa Nimittameva Sthoulyam karshyam cha) and takes Sthanasamshraya in Koshtha which causes  Sthoulya (obesity) which is one in every  of the main complaints or complication in PCOS.  It does the Asthi Dusthi and Loma, Kesha are considered as Asthi Mala. There is Lomativriddhi (hirsutism) in upper lips, chin, chest and abdomen because of  Dushta Vata and Asthi. 
Treatment– Ayurvedic treatment for aartva dushti  involves  Shodhana chikitsa and shaman chikitsa.
Shodhana chikitsa- Shodhana chikitsa involves snehyukta virechan followed by matra basti and then uttar basti.
Choice of medicines used for shodhan and shaman chikitsa  depends upon patient's prakriti and state of tridosha's
After shodhan of patient medicines which have effect on vata and kapha dosha and aartava vaha strotas.
For treatment of granthibhoot aartava it's said that- medicines like patha , trayushna and vrikshak should be taken in decoction form.
'Granthibhoote pibet patham trayushnam vrikshakani ch'
Ahara to be followed– One should add Till, mash, Kultha, gomutra, dadhi, matsya in diet as these are vat-kapha shamak dravyas helps to clear strotoabrodh in aartva vaha strotas.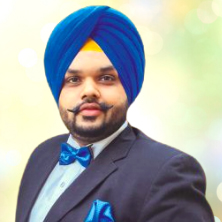 Dr. Vaidya Karanvir Singh is the younger Vaidya in Chandigarh Ayurved & Panchakarma Centre. He is the fourth generation in his family who is practicing as a general consultant in Ayurved & Panchakarma treatment at Chandigarh. In his practice, he had treated more than 1 Lakh Plus patients worldwide.
Article by Dr. Karanvir Singh (M.D in AYURVEDA, PANCHAKARMA FAGE) and reviewed by Vaidya Jagjit Singh (B.A.M.S)