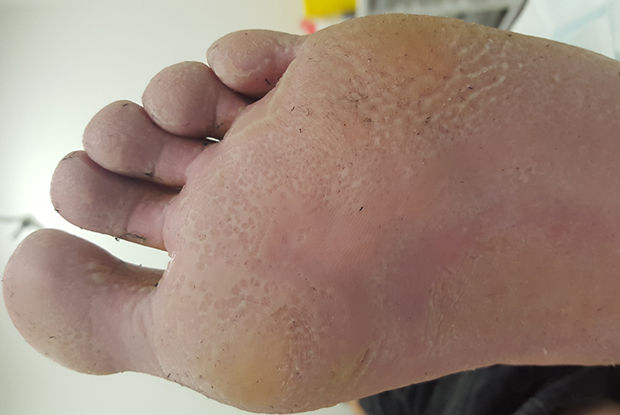 DESCRIPTION
It is a bacterial infection of the skin 

It affects soles of the feet or the palms of the hands.

More commonly occur in people with physical jobs that require to wear enclosed footwear for extended periods such as those working as farmers or soldiers, 

This bacteria more likely to develop the infection because bacteria thrive in dark, moist conditions and cause small depressions or pits in the top layer of the skin with bad smell.
CAUSES
Kytococcus sedentarius, Corynebacterium and Actinomyces spices cause pitted kerotolysis.

These bacteria thrive in moist or dark environments. 

Pitted keratolysis has an association with excessive sweating.

Tight fitting socks or shoes creates perfect conditions for the bacteria to multiply.
Other risk factors for pitted keratolysis include:
not drying the feet thoroughly after bathing

not wearing absorbent socks

sharing towels with others
Some occupation increase the risk of pitted keratolysis include:
athletes

farmers

sailors and fishing workers

industrial workerspeople who work in the military
Other risk factors that can make people more likely to develop pitted keratolysis include:
hot, humid weather

sweating a lot on the hands or feet

having thickened skin on the palms or soles

having diabetes

being older

having a compromised immune system
SIGNS AND SYMPTOMS
The most common locations for pitted keratolysis include:
Pressure-bearing sites on the soles of the feet, especially the heels

Non-pressure-bearing sites on the soles of the feet

Palms of the hands.
WHO'S AT RISK?
Pitted keratolysis occur in people of any race, age, and sex.

It is more common in males' mostly in athletes and military personnel tend to develop this condition most commonly.
Conditions that make people to develop pitted keratolysis include:
Sweaty feet

Hot or humid weather

Unventilated footwear 
SELF-CARE GUIDELINES
Keep the feet as dry as possible is important.



Try the following: 
Wear absorbent cotton socks and change them frequently.

Wash feet with antibacterial or antiseptic soap.

Using hairdryer to dry feet thoroughly after washing them.

Apply antiperspirant to the soles daily.

Minimize the use of tight-fitting, occlusive footwear. 

Avoid wearing the same pair of shoes.
ALLOPATHIC TREATMENTS
Antiperspirant containing aluminum chloride

Antibiotic lotions such as clindamycin, erythromycin, or mupirocin

Antifungal cream such as miconazole or clotrimazole

Oral antibiotics such as erythromycin

Injections of botulinum toxin in severe cases.
CAC TREATMENT FOR PITTED KEROTOLYSIS
CAC DETOX PREMIUM POWDER

– are herbo-mineral sachets which are purely Ayurvedic formulation. These sachets mainly detox the body and eliminate toxic substances and helps in proper metabolism of all the functions. This formulation act at the level of the nervous system and facilitate proper conduction of signal impulse from the nerves to the muscles. These sachets have anti-inflammatory, antioxidant, and anti-bacterial, anti-fungal, and immune-modulator. The ingredients present in it are moti pishti, parwal pishti, shukta pishti, Giloy satv, kamdudha ras, Jahar Mohra, akik pishti, gandhak rasayan, sutshekhar ras, etc. These ingredients balances all the three doshas (Vata, Pitta & Kapha) and helps in blood purification, reduces burning sensation, weakness, and hot flashes in ulcerative colitis patients. It reduces the level of high uric acid in the body. The powder is very beneficial in relieving discomfort, numbness, muscle ache, and reduces swelling of the pelvic region. This powder provides a cooling & calming effect on the mouth ulcers. It is very beneficial in reducing the swelling, redness, stiffness, and improves the movements of joints.
CAC Skin care tablet

– is herbo mineral and purely ayurvedic formulation. It help to maintain the texture of your skin depending on the type of skin you have. It contains various herbs like Haridra khand, Panchnimb churna, Khadir chahal, Chirayta, Mulethi, Chopchini, Gandhak, Ajmoda that work very effectively on all skin types. Skin care is a blood purifying tablet. It cools and detoxifies the blood, removes stagnant blood and dissolves obstructions in the blood flow that further increase blood circulation of the skin. It minimises the blemishes, lighten sun tan, delay ageing of skin and heal skin problems.
CAC Twak Tailam

– is the herbal oil and is purely Ayurvedic preparation. CAC Twak Tailam provides relief from various skin problems such as pimples, blemishes, scars, ulcers, wounds, skin rashes, dry patches, itching, skin irritation, reduces redness, etc. It is composed of natural herbs that pacifies all three doshas and provides healthy skin. This oil is made up of pure herbs such as yashtimadhu (Glycyrrhiza glabra), manjistha (Rubia cordifolia). Twak tailam supports skin health, helps in reducing uneven pigments, delays the process of ageing, improves complexion, and helps in deep detoxification, blood purification without any side effects. This oil moisturizes your skin, and makes your skin spotless and glowing naturally.
CAC Panchatikta Ghrit Guggulu

– It is a herbo-mineral ayurvedic formulation of CAC consist of herbs specifically designed to treat drying, inflammation, and deadening of tissue and skin, particularly of the rectum area. The main ingredient is Neem which is best for treatment of ailments of the blood and plasma, most effective against many skin diseases which is caused due to harmful toxins and vitiation of the blood. It has antiseptic and anti-inflammatory effects which makes it useful in treating piles, and fissures. In addition, this blend contains many ingredients which shows cleansing action on the liver and kidneys, which further helps to detox the skin and post-digestive functioning. The herbs added shows rejuvenating and soothing action on the circulatory and digestive systems. It is used to treat a variety of skin conditions including, but not limited to, rectal bleeding and inflammation.
CAC Blood Purifier Syrup

– it is 100% natural & safe prepared from various extracts of herbs. The herbs used for formulation of this syrup shows antioxidant, anti-inflammatory, anti-bacterial, anti-fungal, and immuno-modulator properties. It is best known for purifying the blood. It helps in eliminating the toxins from blood that cause acne and blemishes. It's a perfect herbal remedy for skin diseases like acne vulgaris, boils, skin rashes, blemishes, urticaria, and nose bleeding.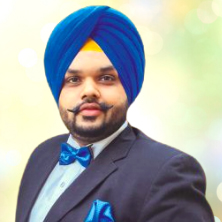 Dr. Vaidya Karanvir Singh is the younger Vaidya in Chandigarh Ayurved & Panchakarma Centre. He is the fourth generation in his family who is practicing as a general consultant in Ayurved & Panchakarma treatment at Chandigarh. In his practice, he had treated more than 1 Lakh Plus patients worldwide.
Article by Dr. Karanvir Singh (M.D in AYURVEDA, PANCHAKARMA FAGE) and reviewed by Vaidya Jagjit Singh (B.A.M.S)