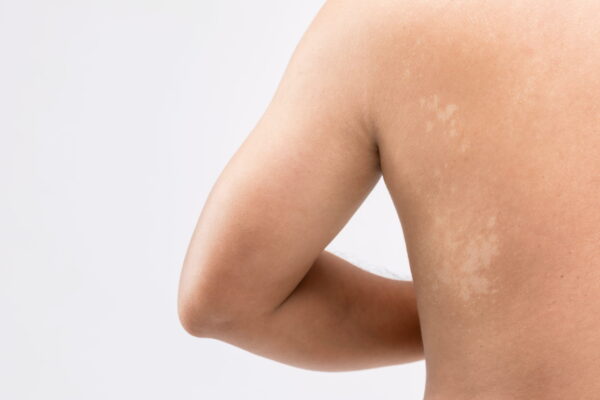 OVERVIEW
Ptyriasis versicolor is a fungal infection that causes small, discoloured patches of skin.
 It most often affects teens and young adults. The condition isn't contagious. Pityriasis versicolor most frequently affects  adults and is  more common in men than in women. It can also affect all three stages of human.
It may disappear in the winter months and reappear each summer.
CAUSE
Pityriasis versicolor is a common superficial fungal infection caused by saprophytic, lipid-dependent yeasts from the Malassezia genus . Malassezia is a normal component of the skin flora; however, in pityriasis versicolor this fungus transforms from yeast cells into a pathogenic mycelial form. This may occur due to hot and humid weather, hyperhidrosis, the use of topical skin oils , a genetic predisposition , immunocompromised individuals , those receiving oral contraceptive therapy, and malnourished individuals .
Since Malassezia is lipid-dependent, it commonly presents in areas with greater sebum production. As such the upper body is frequently affected and pityriasis adolescents due to a higher sebum production. 
SYMPTOMS
Hypopigmentation

Hyperpigmentation

Mild erythema

Macules

Patches

Thin plaques

Fine scale

Mild pruritus
Lesions are usually small; however, they frequently coalesce into larger patches.
DIAGNOSE
Your doctor can diagnose tinea versicolor by what the rash looks like.
Some investigation also help to detect the ptyriasis vrsicolor:-
Wood lamp (black light) examination.

 In this examination doctor uses ultraviolet light, which may make the affected areas appear a fluorescent coppery orange color if they're affected of tinea versicolor.

Microscopy using potassium hydroxide (KOH). 

In this examination doctor removes cells from your skin, put them in potassium hydroxide, then looks  under a microscope.

Skin biopsy.

 The physcian takes a skin sample by scraping some skin  from the affected area to look at under a microscope. 
PREVENTION
It can be difficult to prevent a recurrence of this condition. There are few steps to prevent the infection. These include:
avoiding excessive heat

avoiding tanning or excessive sun exposure

avoiding excessive sweating
DURATION
Pityriasis versicolor is a chronic condition. It responds well to treatment; however, recurrence is frequently observed and long-term prophylactic therapy is often required. This condition can be persistent if untreated; however, cases of spontaneous remission have been reported.
SIMILAR CONDITION
Some conditions with overlapping symptoms, such as vitiligo, are often mistaken for tinea versicolor. Vitiligo can differ from tinea versicolor in several  ways, including:
Vitiligo doesn't affect your skin's texture.

Vitiligo usually appears on the mouth, fingers, wrist armpits, mouth, eyes, or groin.

Vitiligo  forms patches that are symmetrical patches.
 It's not known what causes this condition. 
RISK FACTORS
The overgrowth can be triggered by a combination of enviromental and biological factors.These factors include the following:
Oily skin

Living in a hot, humid climate

A weakened immune system

Hormonal fluctuations
It is more common in warm climate. It may be environmental and  seasonal. In this condition most of people's skin look like pigmented and rashed. Sometimes it may cause mild  symptoms like scaling, itching and irritated skin. It can be much more widespread if there is a problem with the immune system
DIFFERNTIAL DIAGNOSE
Seborrheic dermatitis

Pityriasis rosea

Vitiligo

Erythrasma

Pityriasis alba

Secondary syphilis

Terra firma-forme dermatosis
HOME REMEDIES FOR PITYRIASIS VERSICOLOR
A sevral type of home remedies are recommended for tinea versicolor.  
Aloevera has the ability to alkalize the body and also has soothing quality. It detoxify the body and inhibit the spread of fungus.
Garlic is also a skin irritant as can be turmeric and apple cider vinegar simultaneously used excessively.Tea tree oil apply on the affected area it can reduce patches over the skin.
Yoghurt has been recommended to be ingested and applied topically for the probiotic effect.
Neem ia known as natural detoxifier and considerd as the best treatment for skin disease.
Neem paste can applied externally.
Turmeric is very effective in treating ptyriasis versicolor as it helpful  in reducing itching and pigmentation of skin.
It can be concluded that herbal remedies for ptyriasis versicolor are effective in the management of its reoccurance.
AYURVEDIC HERBS USED IN PITYARIASIS
Ayurvedic herbs people have used to treat psoriasis include:
aloe vera

black nightshade

Boswellia, or frankincense

garlic

guggul

jasmine flower paste

neem
PANCHKARMA TREATMENT FOR PITYRIASIS
With the aim of better control on Pityariasis, Ayurveda also has a specific schedule comprised of various Panchkarma treatment aspects that includes purely herbal originated internal and external medications. Panchkarma treatment includes:-
Consuming medicated ghee, according the Dosha type of the disease and the patient, for 7 to 10 days.

Vaman & Virechan

 

is done by inducing vomiting (Vamana) and purgation (Virechana) by herbal medicine.

Shirodhara the above detoxification is followed by medicated Oil or Buttermilk dripping overhead (Shirodhara) .In which include usually oil, milk, buttermilk or water.

Vasties (Medicated enemas)-these are being done for 8-10 days and internal medicines like herbal formulations,  medicated ghee need to be consumed for at least 120 to 180 days.
A strict diet chart need to be followed during the entire treatment period and it is better to follow as vegetarian diet. Non Veg, Alcohols and salted thing have to be avoided. It is better to avoid junk food also. Ptyriasis vrsicolor must keep a state of mental calmness.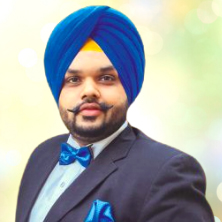 Dr. Vaidya Karanvir Singh is the younger Vaidya in Chandigarh Ayurved & Panchakarma Centre. He is the fourth generation in his family who is practicing as a general consultant in Ayurved & Panchakarma treatment at Chandigarh. In his practice, he had treated more than 1 Lakh Plus patients worldwide.
Article by Dr. Karanvir Singh (M.D in AYURVEDA, PANCHAKARMA FAGE) and reviewed by Vaidya Jagjit Singh (B.A.M.S)