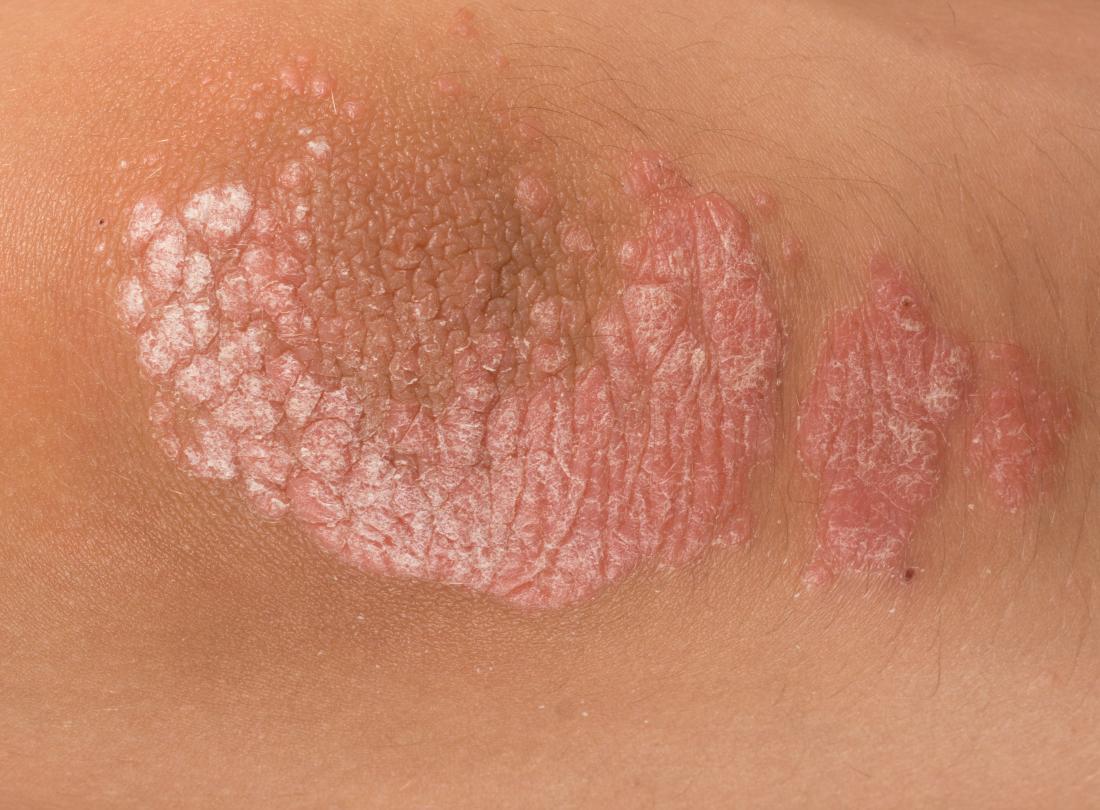 Plaque psoriasis is a chronic autoimmune condition. It appears on the skin is thick patches and reddish scaly skin.

Plaques typically appear  red patches covered with a silvery white  scale. 

In this the plaques may appear darker and thicker and more of a purple or grayish color or darker brown.

Plaques can appear anywhere on the body appear on the knee, elbows, scalp.

Plaques usually appear symmetrically on  the body.
SYMPTOMS
Common signs and symptoms include:
Red patches of skin covered with thick, silvery scales

Small scaling spots (commonly seen in children)

Dry, cracked skin sometime it may bleed

Itching, burning or soreness

Thickened, pitted or ridged nails

Swollen and stiff joints
CAUSE
Psoriasis has no exact cause. 
There are multiple proposed risk factors for psoriasis although genetic predisposition is thought to be the main contributor. 

Environmental and behavioral factors may also play roles . In particular, increased rates of smoking, alcohol, and obesity are typically found among patients with psoriasis. 

Some medications and infections have also been identified as possible triggering  factors for psoriasis.

The following have been shown to trigger the development of psoriasis:

High stress

Infections (strep throat)

Medications (malaria drugs, lithium)

Heavy alcohol consumption

A severe sunburn

Reduced immunity

Psoriasis tends to run in families, but it may be skip generations. 
CLASSIFICATION
The severity of plaque psoriasis is determined based on the amount of the body covered in plaques:
Mild Psoriasis: Less than 2 percent

Moderate Psoriasis: 3-10 percent

Severe Psoriasis: 10 percent or more
DIAGNOSIS
Plaque psoriasis can be identified during a visual examination. 
As psoriasis has a strong genetic association family history can aid in the diagnosis. 

You should also obtain your patients medical history and information about their specific sympt 
RISK FACTORS
These factors can increase your risk:
Family history.

 The condition runs in families. If psoriasis occurs in one parent then increases the risk of getting the disease. 

Stress.

 If patient suffer from stress it impact  immune system, high stress levels may increase  risk of psoriasis.

Smoking.

 Smoking can increases  risk of psoriasis but also may increase the severity of the disease. Smoking  also play a  key-role in the occurance of the disease.
HOW PLAQUE PSORIASIS ASSESED
Patients with chronic plaque psoriasis should be assessed by a dermatologist. Factors  may include the following:
Age of onset of psoriasis

Current age and sex

Sites affected by psoriasis

Symptoms (itch, soreness)

The classification of psoriasis (localised or generalised, large plaque or small plaque)

Extent and severity of psoriasis (often by 

PASI

 scoring)

Functional impairment or disability due to skin disease (often using DLQI or Dermatology Life Quality Index scoring)

Health problems including blood pressure, weight and body mass index .

Smoking status and alcohol also play major role

Current medications for psoriasis and other conditions

Previous treatments and their effect

Skin 

phototype

Suitability of systemic therapy.
DIFFERENTIAL DIAGNOSIS
LICHEN PLANUS

BROWN DISEASE

ERYTHEMA ANNULARE

PARAPSORIASIS

PITYRIASIS ROSEA 

SEBORRHEIC DERMATITIS
TAKE CARE OF SKIN
 

A good moisturizer can keep plaques soft and make you less itchy.

 Avoid harsh soaps.

Use CAC Twak Tail for softens the plaque.

Uses aloevera gel twice or thrice  a day.

Apply medicated lotion,cream or ointment.

Try using medicated shampoo for scales on your scalp. Learn about more 

skin care tips for psoriasis

.
 AYURVEDIC VIEW OF PLAQUE PSORIASIS
Ayurvedic says that psoriasis accur due to an imbalance of dosha and also called energy. These dosha is vata, pitta, kapha.

Vata is responsible for controlling bodily functions and also help in movement  ,contribute to the dryness and skin scaling of psoriasis. Kapha is responsible for growth and provide the mositure to the body.

The imbalance between these dosha can lead the skin disease .Ayurvedic treatments  in psoriasis  play a very important role.when apply herbal medication it help to detoxify the skin and remove the toxins.In psoriasis  diet and lifestyle changes also play a major role.
AYURVEDIC HERBS USED IN PLAQUE PSORIASIS
NEEM

KESAR

CHANDAN

HALDI

ALOEVERA

MANJISHTHA

ELAYACHI
HOME REMEDIES USED IN PLAQUE PSORIASIS
Use a petroleum jelly or thick mosturizer

Mosturize the skin daily.

Consuming a healthy diet high in vegetables.

Use apple cidar vinegar for scalp.

Tea – tree oil also apply on affected area.
OTHER ALTERNATIVES THERAPIES
Other home remedies that people have tried include:-
Accupressure

 Acupuncture

Massage

Yoga
DIET IN PLAQUE PSORIASIS
Ayurvedic practices typically revolve around a vegetarian diet. 

Take gluten free diet.

Avoid dairy product.

Use  omega-3 fatty acid it help to reduce inflammation.

Avoid dairy product.

Take fruits and leafy vegetables in high amount.

Avoid junk food

Avoid citrus eatables

Take proper sunlight

Foods to avoid include high-carbohydrate ingredients and products that contain large amounts of sugar.

Avoid excessive salty and spicy food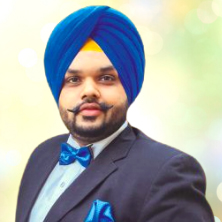 Dr. Vaidya Karanvir Singh is the younger Vaidya in Chandigarh Ayurved & Panchakarma Centre. He is the fourth generation in his family who is practicing as a general consultant in Ayurved & Panchakarma treatment at Chandigarh. In his practice, he had treated more than 1 Lakh Plus patients worldwide.
Article by Dr. Karanvir Singh (M.D in AYURVEDA, PANCHAKARMA FAGE) and reviewed by Vaidya Jagjit Singh (B.A.M.S)