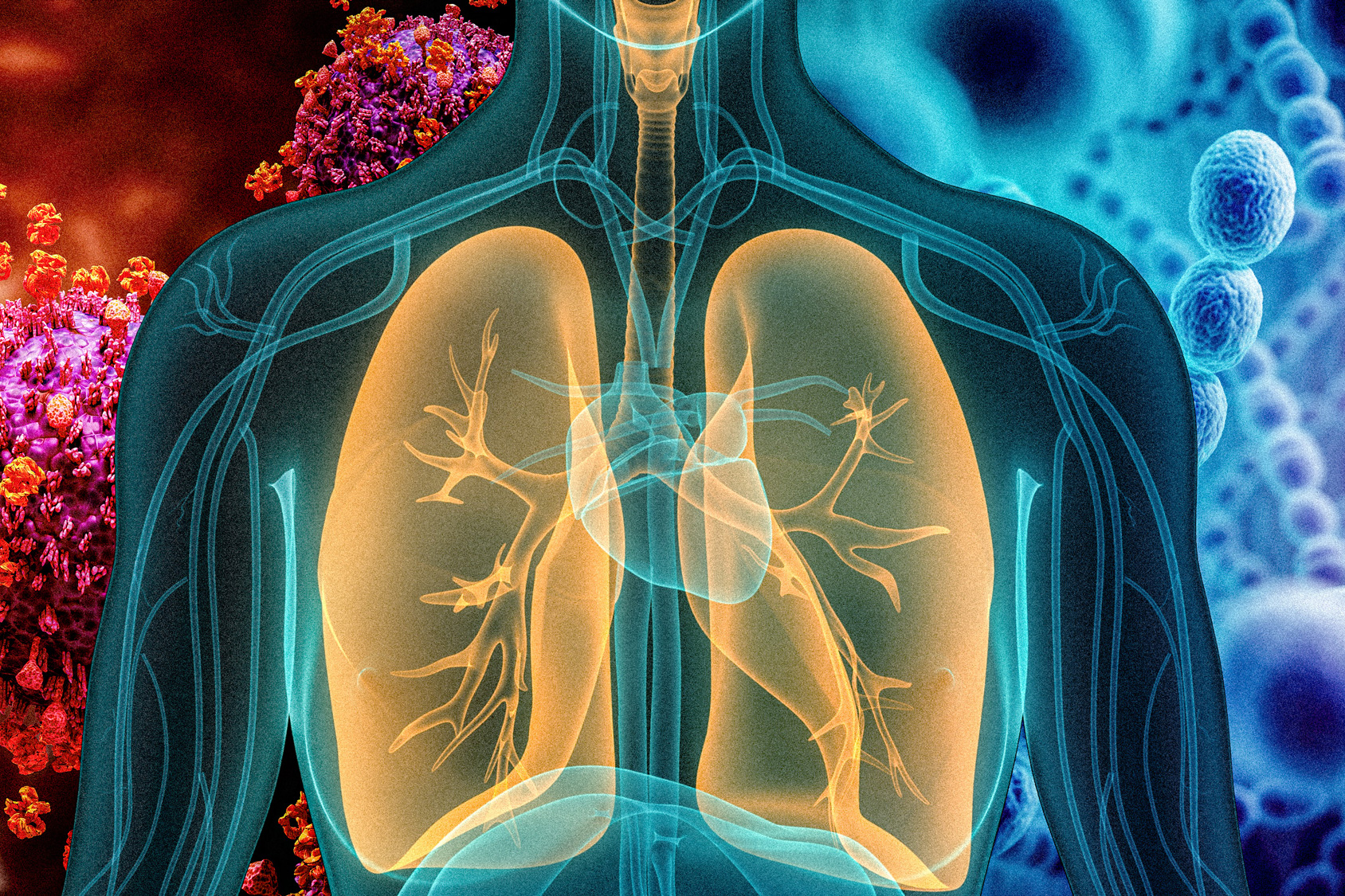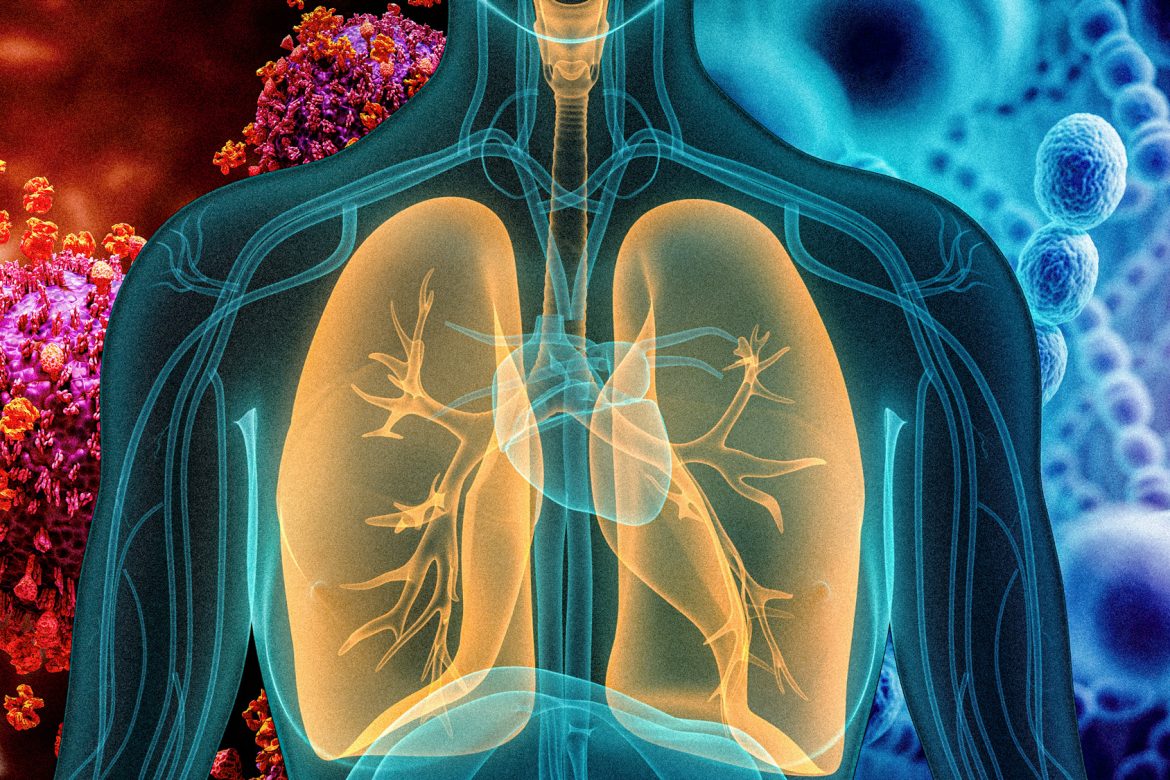 PNEUMONIA AND ITS AYURVEDIC MANAGEMENT:
It is an infection  that influences the air sacs in both lungs.The air sacs may fill with fluid or causing cough with phelgm .A variety of organism including bacteria,virus,fungi can cause pneumonia. Bacterial pneumonia is more  harmful than viral pneumonia. It can affect one or both lungs. Pneumonia occurs in both lungs called bilateral anemia.
TYPES OF PNEUMONIA:
Bacterial pneumonia: It is an infection caused by streptococcus bacteria.It is caused by weakening of body defenses in cases such as chronic illness,poor nutrition or an impared immune system.
Viral pneumonia: It is caused by inflenza virus or para influenza virus. In healthy people viral pneumonia is goes away in 1-2 weeks but cough and fatigue last occurs for many weeks.
Mycoplasma pneumonia: It is commonly referred to as walking pneumonia.It is the mildest form of illness.It is caused by mycoplasma pneumoniae.
SYMPTOMS OF PNEUMONIA:
Mucous mixed cough which are green or yellow in color.
Fever with chills.
Shortness of breath.
Rapid or difficulity in breathing
Sharp or stabbing pain that gets more worse when you breathe deeply .
Loss of appetite
Confusion
Headache
Abdominal pain
Ear pain
RISK FACTORS OF PNEUMONIA:
Infants from birth to 2 years.
Weaknes immune system such as pregancy or HIV patients
People who have chronic illness such as asthma,Diabetes, COPD
INVESTIGATION:
Chest x -ray
Blood culture
Sputum culture
CT-scan
Bronchoscopy
COMPLICATIONS:
Impaired breathing
Lung abscess
Pulmonary fibrosis
Pleural effusion
Pleuritis
AYURVEDIC APPROACH OF PNEUMONIA :
Pneumonia can be correlated with shwasanaka jwara in which Kapha dosha is dominant. Vitiation of kapha dosha leads to the ama dosha and blocks the Numerous body channels are obstructed by vitiated Kapha and ama . It results in the spread of Agni  all over the body and it results in pushing heat toward the skin and raising body temperature.
CAUSATIVE FACTORS FOR PNEUMONIA :
More Exposure to dust,smoke and wind.
Excessive exercise and intake of dry foods.
Excessive intake of curd and unboiled milk.
Weakness and injury to vital organs
Cold viruses
PANCHAKARMA PROCEDURES:
SINGLE HERBS:
Peppermint
Eucalyptus
Amla
Kutaja
Tila
Guduchi
Vasa
GOOD FOOD TO EAT IN PNEUMONIA :
Turmeric
Citus fruits
Green leaf vegetables such as spinach, broccoli
Honey
Protein rich food
Fenugreek seeds
Coconut milkj
Flaxseeds
Almond
Amla
CHANDIGARH AYURVED CENTRE MEDICATION FOR THE TREATMENT OF PNEUMONIA: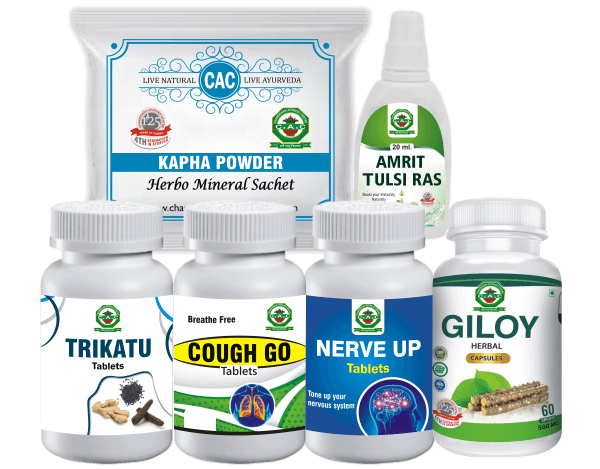 Kapha Powder:
This ayurvedic powder is very effective in cough with mucus, cold, and other respiratory disorders. Cough powder is a mixture of some ayurvedic ingredients like talisadi churna, abharak bhasam, godanti bhasam, lakshmi vilas rasa, yashtimadhu churna, tankan bhasma, kaph ketu ras. These ingredients in combination show antioxidant, anti-inflammatory, bronchodilator, & expectorant properties.
Recommended Dosage: Take 1 sachet twice a day with honey.
Trikatu Tablet:
As the name suggests three ingredients are used for its preparation like Shunthi, Pippali, & Maricha. These herbs in combination deal with the loss of appetite, gas, flatulence, bloating, abdominal distension, weak digestion, constipation, abdominal pain, etc.
Recommended Dosage: Take 1 tablet twice daily with normal water.
Cough Go Tablets:
These herbal tablets are beneficial in cough, cold, bronchitis, & other respiratory disorders. Cough Go Tablets are ayurvedic formulation containing Sonth (Zingiber officinale), Mulethi (Glycyrrhiza glabra), Pippali (Piper longum), Kali mirch (Piper nigrum), etc. All these ingredients show antioxidant, anti-inflammatory, bronchodilator, & expectorant properties. This is very beneficial in fever due to phlegm and treats the chronic cough. It helps in reducing cough, headache, rhinitis, etc.
Recommended Dosage – Take 1 tablet twice daily with normal water.
Giloy capsule:
Giloy capsules are formed with the standardized extract of herb giloy (Tinospora cordifolia). The Giloy herb improves immunity, removes toxins from body, purifies blood, beneficial in cough, cold, fever, & bronchitis.
Recommended Dosage: Take 2 capsules twice a day with normal water.
Nerve up tablets:
Nerve up tablets help in balancing the vata doshas and kapha dosha, and acts as nervine stimulant. It shows effective results in improving the central nervous system. It contains natural ingredients like shudha kuchla, shudha shilajeet,  praval pishti, shankh bhasma etc. These contains natural vatahar properties and helps in curing vata disorders, speed up physical and mental processes. It act as Respiratory stimulant, helps in Joint pain, Inflammation, Stiffness, Gout, Arthritis, Bodyache, Erectile dysfunction, and Body weakness.
Recommended Dosage: Take 1 tablet twice daily.
Amrit Tulsi Ras:
Amrit Tulsi Ras is a pure herbal preparation containing five types of Tulsi extracts Ocimum sanctum, Ocimum gratissium, Ocimum canum, Ocimum basilicum, Ocimum citriodorum. This herbal drop increases immunity, helps to treat cough, common cold and skin, respiratory diseases specially bronchitis. It gives effective results in bacterial and viral infections.
Recommended Dosage: Take 2 drops twice daily in a cup of water.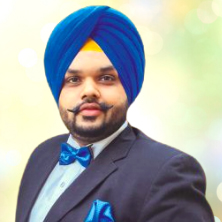 Dr. Vaidya Karanvir Singh is the younger Vaidya in Chandigarh Ayurved & Panchakarma Centre. He is the fourth generation in his family who is practicing as a general consultant in Ayurved & Panchakarma treatment at Chandigarh. In his practice, he had treated more than 1 Lakh Plus patients worldwide.
Article by Dr. Karanvir Singh (M.D in AYURVEDA, PANCHAKARMA FAGE) and reviewed by Vaidya Jagjit Singh (B.A.M.S)