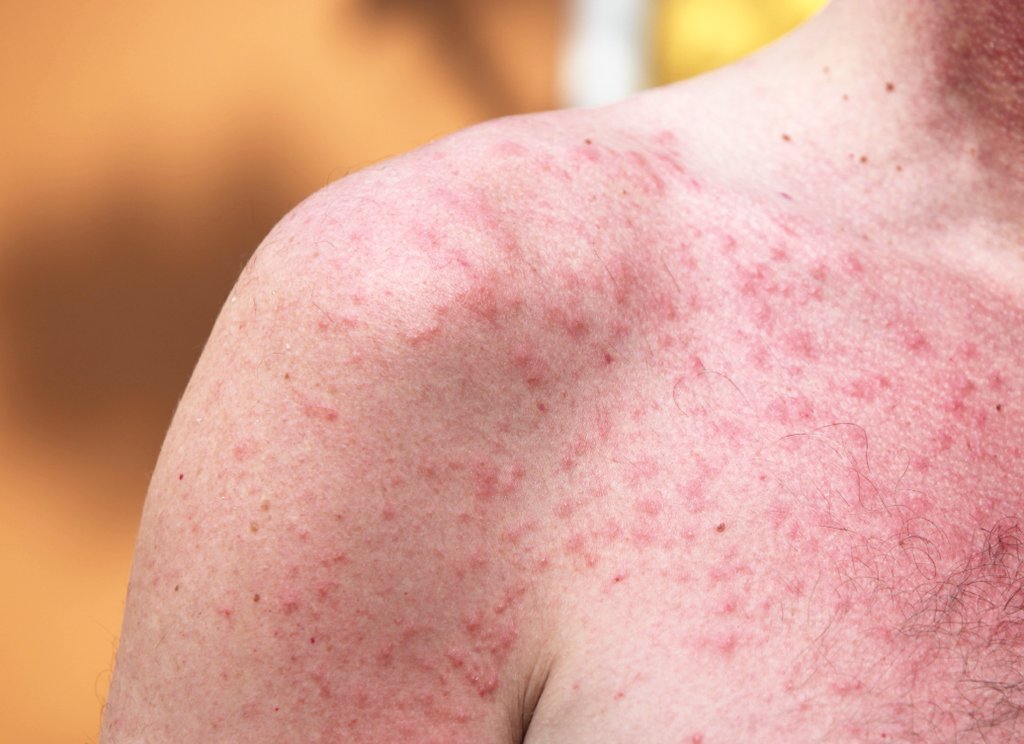 POLYMORPHIC LIGHT ERUPTION
DESCRIPTION
Polymorphic light eruption also called polymorphous light eruption.

It is a common skin rash triggered by exposure to sunlight or ultraviolet light.

The rash usually appears red, tiny bumps or slightly raised patches of skin.

Polymorphous light eruption mostly occur during spring season and early summer when people exposure more to sunlight. 

Repeat occurrence are less common but the rash recurs after the first incident.

Polymorphous light eruption usually goes away on its own without leave any scar within 10 – 12 days.

People with severe or persistent rashes need immediate treatment.
WHO GETS POLYMORPHIC LIGHT ERUPTION?
Polymorphic light eruption generally affects adult females sometimes affects children and males in 25% of cases. 

It is particularly common in places where sun exposure is uncommon.

It is less common in Australasia. 

It has also been relatively common at higher altitudes compared to sea level. 

It can affect all skin photo type more often diagnosed in white skin than other skin of color. 

Some people experience polymorphic light eruption during phototherapy which is used to treat skin conditions such as psoriasis and dermatitis. 
CLINICAL FEARTURE OF POLYMORPHIC LIGHT ERUPTION
Erythema 

Erythematous plaques

Dry, red patches or plaques 

Vesicles 

Pinpoint papules 

Lichenoid plaques

Targetoid lesions (bull's-eye appearance)

Prurigo confined to exposed areas

Itch without visible signs 
HOW IS POLYMORPHOUS LIGHT ERUPTION TREATED?
In some cases, polymorphic light eruption is resolves on its own with no treatment in more severe cases medications required such as:

Topical steroids

Topical tacrolimus

Antihistamines

Oral corticosteroids

Hydroxychloroquine
RISK FACTORS
anyone can develop polymorphous light eruption. Some factors are associated with an increased risk of the condition include:
Being female

Experiencing the first episode during the teenage years 

Having light skin and living in northern regions

Having a family history of the condition.
CAC TREATMENT FOR POLYMORPHOUS LIGHT ERUPTIOON
CAC DETOX PREMIUM POWDER

– these

are herbo-mineral sachets which are purely Ayurvedic formulation. These sachets mainly detox the body and eliminate toxic substances and helps in proper metabolism of all the functions. This formulation act at the level of the nervous system and facilitate proper conduction of signal impulse from the nerves to the muscles. These sachets have anti-inflammatory, antioxidant, and anti-bacterial, anti-fungal, and immune-modulator. The ingredients present in it are moti pishti, parwal pishti, shukta pishti, Giloy satv, kamdudha ras, Jahar Mohra, akik pishti, gandhak rasayan, sutshekhar ras, etc. These ingredients balances all the three doshas (Vata, Pitta & Kapha) and helps in blood purification, reduces burning sensation, weakness, and hot flashes in ulcerative colitis patients. It reduces the level of high uric acid in the body. The powder is very beneficial in relieving discomfort, numbness, muscle ache, and reduces swelling of the pelvic region. This powder provides a cooling & calming effect on the mouth ulcers. It is very beneficial in reducing the swelling, redness, stiffness, and improves the movements of joints.


DOSAGE –

Take 1 sachet twice daily with normal water.

ALOE-VERA GEL

– it is 100% natural and safe containing herbal extracts. These ingredients show antioxidant, anti-inflammatory, & moisturizing properties. This herbal gel gives good results in Acne or Pimples, Dry Skin, Hyper-Pigmentation All skin diseases. 100% natural & safe product. This product is formulated under the guidance of MD Ayurveda expert. Provides natural glow to the skin and free from preservatives & chemicals etc.

SKIN CARE TABLET

– it is herbo mineral and purely ayurvedic formulation. It help to maintain the texture of your skin depending on the type of skin you have. It contains various herbs like Haridra khand, Panchnimb churna, Khadir chahal, Chirayta, Mulethi, Chopchini, Gandhak, Ajmoda that work very effectively on all skin types. Skin care is a blood purifying tablet. It cools and detoxifies the blood, removes stagnant blood and dissolves obstructions in the blood flow that further increase blood circulation of the skin. It minimises the blemishes, lighten sun tan, delay ageing of skin and heal skin problems.


DOSAGE

– Take 1-2 tablets twice daily.

TWAK TAILAM

–

Twak tailam is the herbal oil and is purely Ayurvedic preparation. CAC Twak Tailam provides relief from various skin problems such as pimples, blemishes, scars, ulcers, wounds, skin rashes, dry patches, itching, skin irritation, reduces redness, etc. It is composed of natural herbs that pacifies all three doshas and provides healthy skin. This oil is made up of pure herbs such as yashtimadhu (Glycyrrhiza glabra), manjistha (Rubia cordifolia). Twak tailam supports skin health, helps in reducing uneven pigments, delays the process of ageing, improves complexion, and helps in deep detoxification, blood purification without any side effects. This oil moisturizes your skin, and makes your skin spotless and glowing naturally.


METHOD OF APPLICATION

– Apply over the affected area of the skin.

PANCHTIKTA GHRIT GUGGULU

– It is a herbo-mineral ayurvedic formulation of CAC consist of herbs specifically designed to treat drying, inflammation, and deadening of tissue and skin, particularly of the rectum area. The main ingredient is Neem which is best for treatment of ailments of the blood and plasma, most effective against many skin diseases which is caused due to harmful toxins and vitiation of the blood. It has antiseptic and anti-inflammatory effects which makes it useful in treating piles, and fissures. In addition, this blend contains many ingredients which shows cleansing action on the liver and kidneys, which further helps to detox the skin and post-digestive functioning. The herbs added shows rejuvenating and soothing action on the circulatory and digestive systems. It is used to treat a variety of skin conditions including, but not limited to, rectal bleeding and inflammation.


DOSAGE

– 1 tablet twice a day.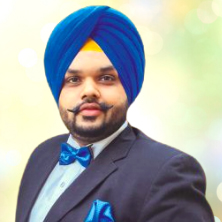 Dr. Vaidya Karanvir Singh is the younger Vaidya in Chandigarh Ayurved & Panchakarma Centre. He is the fourth generation in his family who is practicing as a general consultant in Ayurved & Panchakarma treatment at Chandigarh. In his practice, he had treated more than 1 Lakh Plus patients worldwide.
Article by Dr. Karanvir Singh (M.D in AYURVEDA, PANCHAKARMA FAGE) and reviewed by Vaidya Jagjit Singh (B.A.M.S)