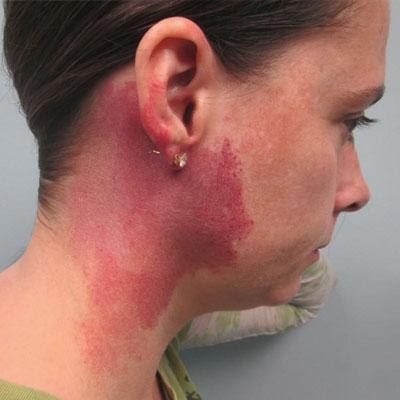 About port-wine stains
A port-wine stain is a birthmark on the skin that is pink or purple in color. It's also known as nevus flammeus.

In most cases, port-wine stains harmless. But sometime, port wine stain may be sign of an underlying health condition.
What are the symptoms in port-wine stains?
Not any other symptoms are found in port wine stain, except   from their appearance. They usually start out as red or pink. Over time, they can be darken to a purple or brown color.
Other features of port-wine stains include:
Size.

  Size may vary from a few mm to several cm.

Location.

Port-wine stains commonly appear on one side of the face, head, and neck, but sometimes they may also affect other body parts like abdomen, legs, or arms.

Texture

. In starting, Port-wine stains usually appear flat and smooth. But with time, they may become thicker or slightly bumpy.

Bleeding.

Bleeding is seen in patients when the skin is scratched or injured.
What causes port-wine stains?
Port-wine stains are usually caused due to an issue with capillaries, which are very small blood vessels.

Normally, capillaries are narrow. But in port-wine stains, capillaries are overly dilated, due to which blood collect in them. Due to this collection of blood port-wine stains formed. Port-wine stains may become larger or change shape as capillaries grow larger.

Sometime Port-wine stains may occur as

symptom of a condition called Sturge-Weber syndrome, occurrence mostly seen on the scalp, forehead, or around eyes. 

When this port-wine stains noticed on the arms or legs, they can be a symptom of Klippel-Trenaunay syndrome. In this case, they mostly affect only one limb.

This is a genetic condition which leads to changes in the blood vessels of the affected leg or arm. Because of these changes bone or muscle of that limb grow longer or wider than usual.
How port wine stain can be diagnosed?
Port wine stains are clearly noticeable and look different from other birth marks so easy to diagnose .There is no requirement of any specific test to diagnose the condition.
How are port-wine stains treated?
There is not any specific treatment for port-wine stains.  Usually don't require treatment. But for cosmetic reasons, people like to have them faded.

Treatment may depend on several factors like skin tone, size and location of stains. Laser treatment is effectively used, in which pulsed dye laser is used.
Other laser and light treatments include:
Bromide copper vapor

Diode

Alexandrite

Intense pulsed light
In Laser and light treatments heat is used that damage the abnormal blood vessels. This helps in shrinking of blood vessels that fade, or possibly remove port-wine stains.

Laser treatments not completely remove a port-wine stain but are effective to lighten or fade the color so that they become less noticeable. In some cases, laser treatments can also be reason for permanent scarring or discoloration.

After taking laser treatment, your skin will become extra sensitive, so extra care should be taken, sunglasses or sunscreen should be applied and protect the affected skin following the procedure.
Can port-wine stains cause any complications?
Most of port-wine stains remain harmless. But sometimes if they are located near eyes then can lead to the development of an eye condition called glaucoma. Glaucoma is a condition in which there is high pressure in the eye, which can lead to vision loss if not treated.
If anyone has a port-wine stain near the eyes, then one must check if:
One eye appears more prominent or have larger pupil than the other

One eyelid is open wider than the other eye
All symptoms of glaucoma may be present, which should be treated with prescription eye drops or surgery.
Also, skin thickening and cobblestone appearance of eye can be noticed as a result of malfunctioning capillaries. However, early management of port-wine stains can help in preventing this from occurring.
AYURVEDIC TREATMENT OF PORT WINE   STAINS
Chandigarh Ayurved centre provides effective and pure Ayurvedic treatment for Port wine stains. CAC provides combination of medicines that work on blood vessels that is main root cause of this kind of skin condition. Use of these medications can cure the port wine stains completely.
Description of medications
1.Detox Premium Powder :
The powder is very beneficial to cure any kind of body pain as it removes excess toxins from the body and balances the aggravated pitta and vata dosha. The ingredients help in reducing swelling, redness, shrinkage of tear lining in the anus, burning sensation, etc.
2.Blood Purifier Syrup :
It is ayurvedic syrup that consists of various natural ingredients as the syrup purifies the blood by removing excess toxins it is very beneficial in maintaining proper circulation and improves the skin naturally.
3.Twak Tailam :
Twak tailam is very effective for the skin as it deeply nourishes the tissues and improves the skin luster. The tailam supports skin health, helps in reducing uneven pigments, improves complexion, and helps in deep detoxification and blood purification without any side effects.
4. Skin care tablet :
It helps to maintain the texture of your skin depending on the type of skin you have. Skin care is a blood purifying tablet. It cools and detoxifies the blood, increase blood circulation of the skin
5. Panchatikta Ghrita Guggulu :
This tablet promotes detoxification and rejuvenation. Panchatikta Ghrita Guggulu tablet is a natural source of anti – oxidant. 
6.Trikatu Tablet :
Trikatu Tablet helps to eliminate excess Kapha or mucous from the body, supports respiratory system, manages weight, helps to take out impurities or ama from the body, supports healthy detoxification, reduces swelling. It shows anti-inflammatory, analgesic, expectorant, antioxidant properties.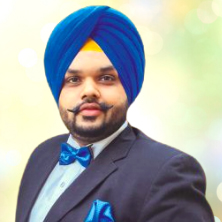 Dr. Vaidya Karanvir Singh is the younger Vaidya in Chandigarh Ayurved & Panchakarma Centre. He is the fourth generation in his family who is practicing as a general consultant in Ayurved & Panchakarma treatment at Chandigarh. In his practice, he had treated more than 1 Lakh Plus patients worldwide.
Article by Dr. Karanvir Singh (M.D in AYURVEDA, PANCHAKARMA FAGE) and reviewed by Vaidya Jagjit Singh (B.A.M.S)