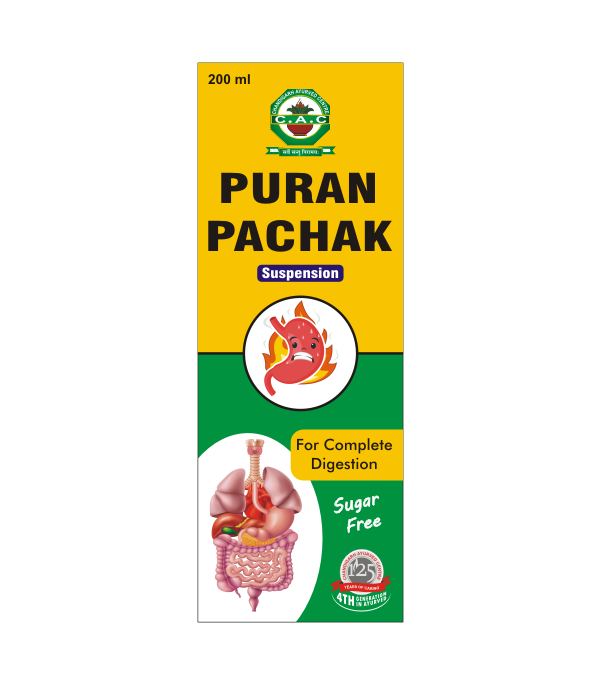 Description
CAC Puran Pachak churan is a herbo-mineral churan of 100 gms and is Purely Ayurvedic formulation. CAC Puran Pachak churan helps in Digestion, Supports the Digestive system, and maintains the doshas in our body. It also helps to remove out impurities or ama from the body. This churan reduce the acidity, detoxify the blood and also supports the body health. It shows antacid, digestive, anti-inflammatory, analgesic, expectorant, and antioxidant properties. This churan is made up of pure ayurvedic herbs such as Amla, Saunf, Pipperment, Kalanamak, Harar etc. that helps to maintain the digestive system and in the body. The regular use of this churan balances the digestive hormone and heals peptic ulcers naturally. It is a good Appetizer and help to Improves digestion, supports normal gastric function, and normal circulation of the blood. 
USES OF PURAN PACHAK CHURAN
Puran Pachak neutralizing the acid in the stomach by inhibiting the pepsin (proleolytic enzyme)

Puran Pachak raise the pH of the stomach contents towards neutrality

Dyspepsia

Detoxification

Postprandial fullness

Abdominal bloating

Loss of appetite

Abdominal distension

Indigestion

Anti-inflammatory

Analgesic

Antioxidant

Hyperacidity

Flatulence

Expectorant

Boosts metabolism

Boost Immunity

Weight management

Supports Digestive functions

Belching
INGRIDENTS OF PURAN PACHAK CHURAN –
Each 100 gms contains:
Harar (Terminalia chebula) ———————————–9 gm

Bahera (Terminalia bellirica) ———————————9 gm

Amla (Emblica officinalis) ————————————9 gm

Chhoti harar (Terminalia chebula) —————————9 gm

Sonth (Zingiber officinale) ————————————9 gm 

Pippali (Piper longum) —————————————–9 gm

Kali mirch (Piper nigrum) ————————————-9 gm

Gulab phool (Rosa canina) ————————————7 gm

Saunf (Foeniculum vulgare) ———————————–9 gm

Sanay patti (Cassia angustifolia) ——————————9 gm

Kala namak (Rock salt) —————————————–9 gm

Peppermint (Mentha piperita) ———————————3 gm
INDRIDENTS DESCRIPTION
Harar

– Haritaki is a traditional remedy for improving gut health and treating a wide range of gastrointestinal disorders like esophagitis, heartburn, diarrhea, flatulence, peptic ulcer, gastroesophageal reflux disease, indigestion, constipation, and stomach pain. The carminative nature of the fruit helps in breaking down the food particles in the stomach and intestine, enhances the secretion of the digestive juices and thereby increases the absorption of essential nutrients through the intestines. It helps to eliminate abdominal gas and in turn reduces abdominal distension, bloating and gaseous cramps.

Bahera

– Enhances digestion, powerful digestive qualities in Baheda actively facilitates breaking down of food particles in the stomach and intestine, trigger the secretion of digestive juices and thereby increase the absorption of essential nutrients through the intestines. Not only help to eliminate the abdominal gas while reducing abdominal distension, bloating

 

and gaseous cramps also plays a pivotal role in treating a host of gastrointestinal anomalies.

Amla

– it help in Better Digestion. The fiber present in amla berries helps the body to regulate bowel movements and may help to relieve symptoms from conditions like irritable bowel syndrome. High levels of vitamin C in Amla berries helps body to absorb other nutrients.

Sonth

– Dry ginger powder helps to treat discomfort in the stomach caused by indigestion. The anti-inflammatory properties of sonth help in the neutralization of digestive juices in the stomach and eliminate extra gas from the intestine. Having 3 grams of dry ginger powder before every meal helps improve the digestive process. 

Pippali

– Pippali helps to manage indigestion. According to Ayurveda, indigestion means the state of an incomplete process of digestion. The main reason for indigestion is aggravated Kapha that causes Agnimandya (weak digestive fire). Taking Pippali powder helps to improve Agni (digestive fire) and digests the food easily due to its Deepan (appetizer) and Pachan (digestive) properties. Pippali helps to manage stomach ache due to gas or flatulence. Gas or flatulence is caused due to an imbalance of Vata and Pitta dosha. Low Pitta dosha and aggravated Vata dosha results in low digestive fire, thus impairing digestion. Impaired digestion leads to gas formation and causes stomach ache. Taking Pippali powder helps to correct digestive fire because of its Anuushna (mild hot) potency. This prevents gas formation and thus stomach ache.

Kali mirch

– Pepper is an ultimate herbal spice for stomach health. It improves the secretion of hydroelectric acid and promotes digestion, and cure from diarrhea, gastritis and constipation. Added pepper to daily diet can increase sweating and urination thereby preventing the accumulation of toxins and water (edema) in the body. The carminative property of pepper can expel gas from the body and keep the stomach healthy. Black pepper have highly beneficial action on the stomach walls and prevent the gastric mucosal damage. Due to its anti-oxidant and anti-inflammatory properties, there is no other better medicine for curing peptic ulcers than black pepper.

Saunf

– Saunf seed extracts possess strong carminative properties that help to relieve belching and gas. The antispasmodic action works to ease abdominal cramps caused due to indigestion. While it also controls gastric secretions that help to reduce acidic and sour taste in the mouth.

Saunf seeds are one of the vital medicines used extensively for treating stomach inflammation. Saunf powder controls the secretions of gastric acid and calms the intestinal lining. It also works to improve appetite in patients suffering from heartburn, acid reflux or GERD.

Peppermint

– Peppermint calms the stomach muscles and improves the flow of bile. This makes it suitable for people who have indigestion. Treat the symptoms of irritable bowel syndrome (IBS) like pain, bloating, diarrhea, gas.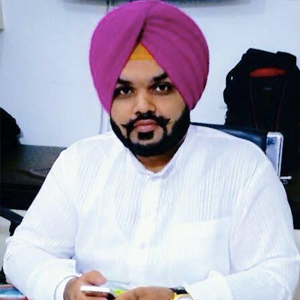 Vaidya Karanvir Singh is the younger Vaidya in Chandigarh Ayurved & Panchakarma Centre. He is the fourth generation in his family who is practicing as a general consultant in Ayurved & Panchakarma treatment at Chandigarh. In his practice, he had treated more than 1000 plus patients worldwide.
Article by Dr. Karanvir Singh (M.D in AYURVEDA, PANCHAKARMA FAGE) and reviewed by Vaidya Jagjit Singh (B.A.M.S)