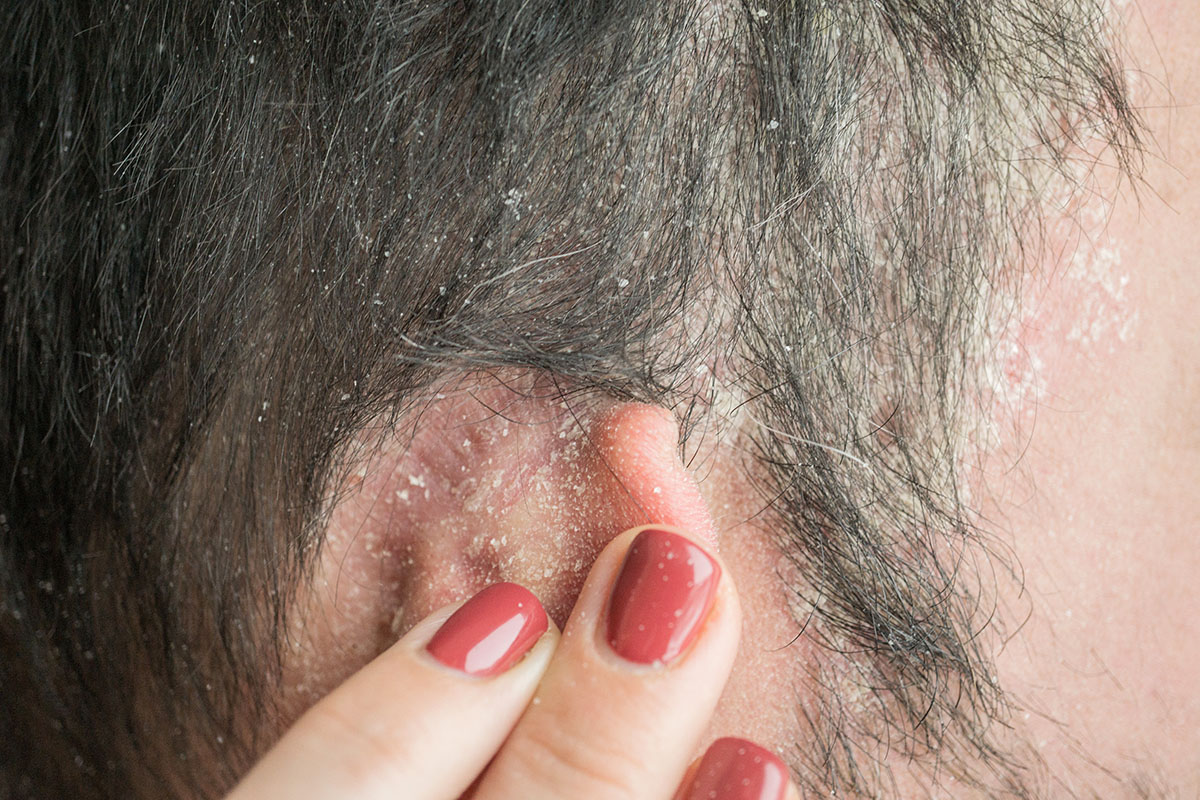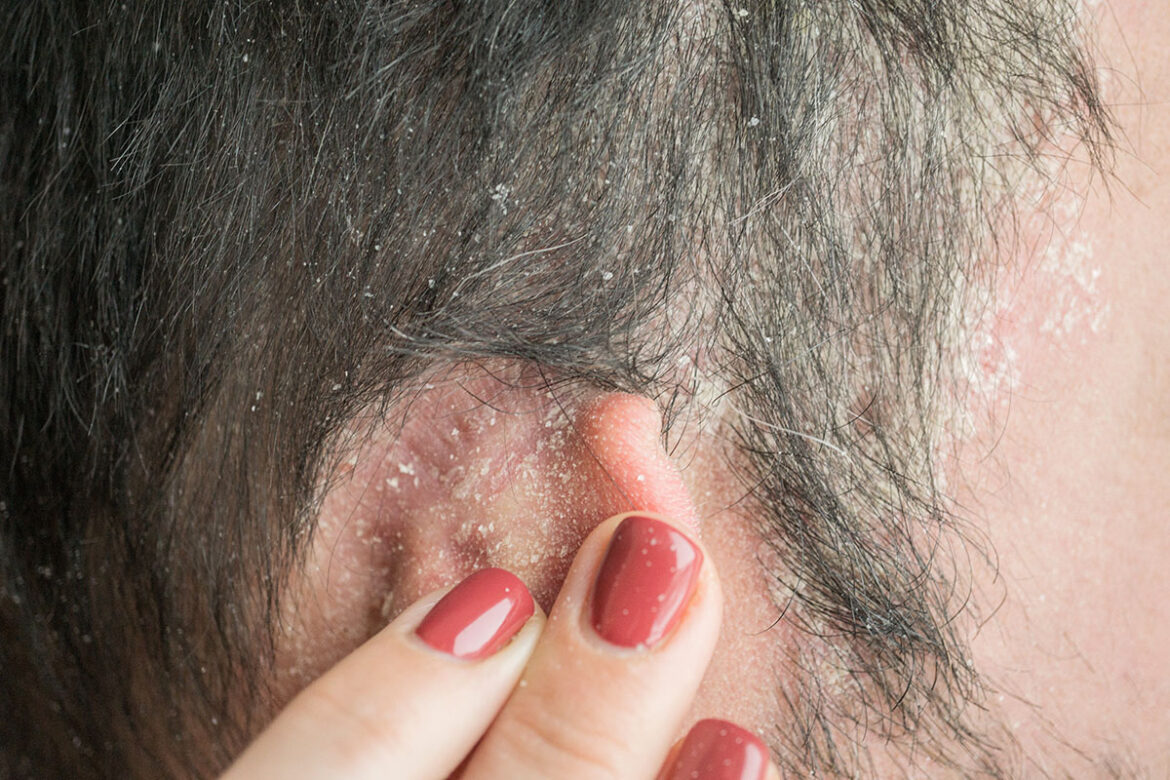 DESCRIPTION
Seborrheic dermatitis is a common skin disease 

It causes itchy rash with flaky scales, show redness on light skin and light patches on darker skin. 

It is also known as dandruff, cradle cap, seborrheic eczema, seborrhea, and seborrheic psoriasis.

It looks similar to psoriasis, eczema, or an allergic reaction.

It usually happens on scalp but people can get it anywhere on their body.
SEBORRHEIC DERMATITIS CAUSES
Exact causes of seborrheic dermatitis is not known. There are some few reason that cause seborrheic dermatitis include:
Stress

Genes

A yeast that usually lives on people skin without causing problems

Certain medical conditions and medicines

Cold, dry weather

An immune system response

An increased level of androgens hormone.

An increased level of skin lipids.

An inflammatory reaction.

Family history



SEBORRHEIC DERMATITIS RISK FACTORS
Newborns and adults ages 30 years to 60 years are more prone to get seborrheic dermatitis. Most commonly seen in men than women and people with oily skin. Some conditions can also raise adult's seborrheic dermatitis risk including:
Acne 

AIDS

Alcoholism 

Depression 

Eating disorders 

Epilepsy 

Heart attack or stroke recovery 

Parkinson's disease 

Psoriasis

Rosacea



SEBORRHEIC DERMATITIS SYMPTOMS
Itchy white flakes on scalp. 

When scratched the flakes mix with hair or fall onto neck and shoulders.

Red scales on skin.

Crusty yellow scales on infants heads. 

Blepharitis

Pinkish plaques of scales on both sides of face.

Flaky patches on chest shaped like a ring or flower petal.

Redness in the folds and creases of genitals, armpits and beneath breasts.

Inflamed hair follicles on cheeks and the upper half of trunk.



DOES THE WEATHER MAKE SEBORRHEIC DERMATITIS WORSE?
Dry air during the winter months will make seborrheic dermatitis worse.

The dermatitis cure during the summertime. 

The Ultravoilet-A and Ultravoilet-B light have been shown to kill the yeast that overgrows on the skin of people who get seborrheic dermatitis.
WHAT'S THE DIFFERENCE BETWEEN SEBORRHEIC DERMATITIS AND PSORIASIS?
Psoriasis and seborrheic dermatitis can mimic each other. 

Both are patches of red skin with flakes. 

Both can be found on scalp and back.

Psoriasis is an inflammatory skin disease that affects 2% to 4% of the population. 

Psoriasis scales are thicker than seborrheic dermatitis. 

The edges of scales are very well-defined. 

Scalp psoriasis scales are silver in color than white or yellow. This condition called sebopsoriasis where seborrheic dermatitis and psoriasis overlap and people have the symptoms of both white flakes and silver flakes.
SEBORRHEIC DERMATITIS DIFFERENTIAL DIAGNOSIS
Psoriacic

Eczema 

Rosacea

 Allergic reaction

Systemic lupus erythematous



WHAT IS THE TREATMENT FOR SEBORRHOEIC DERMATITIS?
Treatment of seborrhoeic dermatitis involves following options.
Keratolytics can be used to remove scale, e.g. salicylic acid, lactic acid, urea, propylene glycol

Topical antifungal agents are applied to reduce malassezia.

Mild topical corticosteroids are prescribed for 1–3 weeks to reduce acute flare inflammation. 

Topical calcineurin inhibitors are indicated 

Topical corticosteroids have fewer adverse effects on facial skin.

In resistant cases, oral tetracycline antibiotics or phototherpy may be recommended. 

Low dose oral isotretinoin has also been effective for severe or moderate seborrhoeic dermatitis.
Scalp treatment
Medicated shampoos containing ketoconazole, ciclopirox, selenium sulfide, zinc pyrithione, coal tar, and salicylic acid, used twice weekly for at least a month. 

Steroid scalp applications reduce itching, and should be applied daily for a few days.

Calcineurin inhibitors such as tacrolimus can be used as steroid alternatives.

Coal tar cream can be applied to scaling areas and removed several hours later by shampooing.

Combination therapy is often advisable.
Face, ears, chest and back
once or twice each day using a non-soap cleanser

Apply ketoconazole or ciclopirox cream once daily for 2 to 4 weeks

Hydrocortisone cream can also be used applied up to twice daily for 1 or 2 weeks. 

Topical calcineurin inhibitors such as pimecrolimus cream or tacrolimus ointment may be used instead of topical steroids.

A variety of herbal remedies are commonly used.
Management in infants
Regular washing baby scalp with baby shampoo or aqueous cream.

White petrolatum may be useful.  

Topical antifungals are often used depending on the extent of the rash.
CAC TREATMENT FOR SEBORRHOEIC DERMATITIS
Detox Premium Powder

–

This is a herbo-mineral preparation that contains ingredients like Parwal Pishti, Giloy satv, Shukta Pishti, Kamdudha Ras, Gandhak Rasayan, etc.
Parwal Pishti – This Pishti reduces inflammation, flaking, itching of the skin. The Pishti is composed of natural coral calcium processed with rose water.

Shukta Pishti

– It helps to balance the Pitta dosha in the body. All signs and symptoms related to Psoriasis patients are managed with this article.

Giloy Satv

– This satv is prepared from the herb Giloy (Tinospora cordifolia). The anti-inflammatory, antioxidant, and analgesic properties of this herb deal with psoriasis easily.

Kamdudha Ras

– This herbal-mineral classical preparation balances Pitta dosha in the body.

Gandhak Rasayana

– This herbal preparation is used since ancient times for all types of skin disorders.

Tal Sindoor

– It contains ingredients like Shuddh parad, Aloe vera, Gandhak, etc that relieve redness in psoriasis patients.

Akik Pishti

– This Pishti reduces all types of Pitta related disorder hence it gives good results in psoriasis.


Recommended Dosage

– Take 1 sachet twice daily with plain water.
Blood Purifier Syrup

–

It is ayurvedic syrup that consists of various natural ingredients such as Khadir Chall (Acacia catechu), Manjistha (Rubia cordifolia), Neem (Azadirachta indica), Giloy (Tinospora cordifolia), Harad (Terminalia bellirica), Baheda (Terminalia chebula), Amla (Emblica officinalis), etc. As the syrup purifies the blood by removing excess toxins it is very beneficial in maintaining proper circulation and improves the skin naturally.


Recommended Dosage

–

Take 2 teaspoonful twice daily.



Twak Tailam

– Twak tailam is very effective for the skin as it deeply nourishes the tissues and improves the skin luster. The tailam is composed of yashtimadhu (Glycyrrhiza glabra), manjistha (Rubia cordifolia), etc. The tailam supports skin health, helps in reducing uneven pigments, improves complexion, and helps in deep detoxification and blood purification without any side effects.


Method of Application

–

Apply over the affected area of the skin.

Skin care tablet

–

skin care tablet is a pure ayurvedic formulation. It help to maintain the texture of your skin depending on the type of skin you have. It contains various herbs like Haridra khand, Panchnimb churna, Khadir chahal, Chirayta, Mulethi, Chopchini, Gandhak, Ajmoda that work very effectively on all skin types. Skin care is a blood purifying tablet. It cools and detoxifies the blood, increase blood circulation of the skin. It minimizes the blemishes, lighten sun tan, delay ageing of skin and heal skin problems.


Recommended Dosage

–

Take 1 tablet twice daily.



Panchatikta Ghrita Guggulu

– Panchatikta Ghrita Guggulu is an ayurvedic preparation mainly used for skin diseases. This tablet contains pure herbal ingredients such as Nimba(Azadirachta indica), Patola(Cucumis acutangulus), Guduchi(Tinospora cordifolia), Vasa(Adhatoda vasica), etc. This tablet promotes detoxification and rejuvenation. Panchatikta Ghrita Guggulu tablet is a natural source of anti – oxidant. It promotes engender vibrant and healthy skin.


Recommended Dosage

–

Take 1 tablets twice a day with normal water.



Panchsakar Churna

– Panchsakar Churna is an ayurvedic formulation that consists of five ingredients named as – Saindhav Lavana (Rock Salt), Swarnapatri (Cassia angustifolia), Shatapushpa (Anethum sowa), Shunti – (Zingiber officinale), Balaharitaki  (Unripe fruits of Terminalia chebula). Panchsakar Churna is naturally detoxifying, thus it removes the toxins from the body. It relieves inflammation and useful in all types of skin problems.The powder has an anti – inflammatory properties due to which it can reduces the swelling.


Recommended Dosage

–

Take 1 teaspoonful with lukewarm water at bedtime.



Neem soap

– Neem soap is natural and herbal handmade soap prepared from the standard extract of herb Neem (Azadirachta indica). Neem herb is widely used to cure acute to chronic Skin problems such as Pimples, Itching, Dryness, Blemishes, Dark spots, Pigmentation, Scars etc. It is such a wonderful herb that is easily available and shows Anti-bacterial, Anti-inflammatory, Antioxidant, Anti-microbial, Antifungal, Antiseptic properties. Neem cleanses the pores and protects the skin from various infections, Psoriasis, Eczema, Leprosy, Skin ulcers. It restores the health of damaged skin, tones skin complexion, prevents premature ageing, Wrinkles, Fine lines can protect against UV rays, and acts as a natural moisturizer for the skin.


Method of Application

– Neem Soap can be regularly used on face and body, as a bath soap.



Trikatu Tablet

–

Trikatu Tablet helps to eliminate excess Kapha or mucous from the body, 

supports respiratory system

, manages weight, helps to

 take out impurities

or ama from the body, supports healthy detoxification, reduces swelling. It shows anti-inflammatory, analgesic, expectorant, antioxidant properties. This tablet is made up of equal parts of three herbs such as Pippali (Piper longum), Shunthi (Zingiber officinale), & Marich (Piper nigrum) that maintains the metabolism in the body.


Recommended dosage

– Take 1 tablet twice daily with normal water.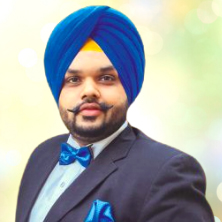 Dr. Vaidya Karanvir Singh is the younger Vaidya in Chandigarh Ayurved & Panchakarma Centre. He is the fourth generation in his family who is practicing as a general consultant in Ayurved & Panchakarma treatment at Chandigarh. In his practice, he had treated more than 1 Lakh Plus patients worldwide.
Article by Dr. Karanvir Singh (M.D in AYURVEDA, PANCHAKARMA FAGE) and reviewed by Vaidya Jagjit Singh (B.A.M.S)