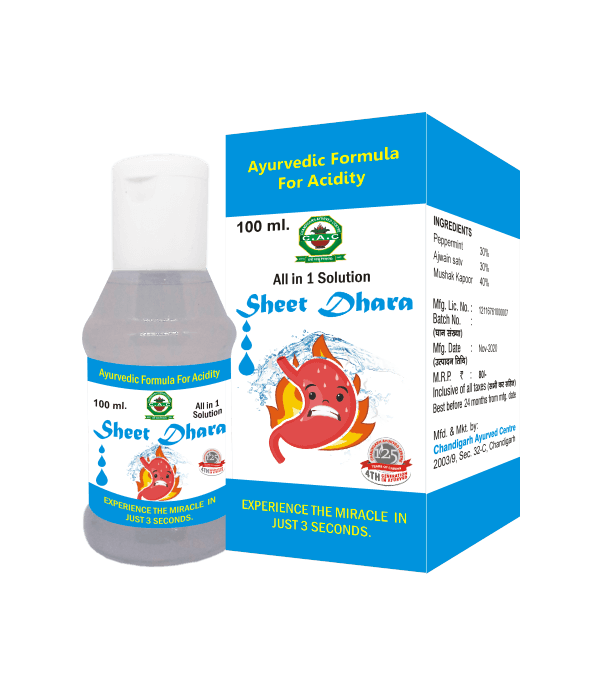 DESCRIPTION –
CAC Sheet Dhara is herbo mineral and purely ayurvedic formulation. It works on all the three doshas of body but mainly act on pitta dosha. It contains Ajwaion, Kapur (camphor) and Mint leaves that help reduce Acidity and burning sensation in chest region with its cooling effects. It relaxes your mind also maintains Blood pressure. CAC Sheet dhara help in controlling mood swings by which many women are affected nowadays. It also controls burping, nausea and bloating.

USES OF SHEET DHARA
Acid Reflux

Burning sensation in chest region

Bloating

Nausea

Burping

Hiccups

Maintain blood pressure

Control mood swings

Stomach ulcers

Improves Appetite



INGRIDENT
Ajwain satav—————————-30%

Kapur (Camphor) ———————-40%

Mint leaves (peppermint) ———–30%
DOSAGE – Take 1/2 or 1 teaspoon of sheet dhara twice daily empty stomach.

INGRIDENTS DESCRIPTION
Ajwain satav

–

Ajwain is good for abdominal discomfort that occurs due to indigestion. One of its crucial benefits is that it keeps stomach strong and provides instant relief from acidity and indigestion. The active enzymes in ajwain, thymol, helps in the secretion of gastric juices that improve digestion. Consume ajwain powder with water to relieve any kind of gastric problems. It also helps to treat common cold by relieving of nasal blockage. Ajwain also provides relief from toothache instantly.



Mushak Kapoor

– One of the reasons for indigestion is Agnimandya (weak digestive fire) and edible Camphor helps to improve the Agnimandya (weak digestive fire) because of its Deepan (appetizer) and Pachan (digestive) properties. It helps to improve the health of a weak digestive fire, which is one of the prime reasons for indigestion. It can also be helpful in solving issues such as gastroenteritis and diarrhoea. People regularly suffer from gastric problems can also find relief after consuming edible camphor. However, it is also essential to consume it in moderation.



Peppermint

– Stomach issues like constipation, motion sickness and IBS are very common. Menthol present in peppermint helps to soothe the stomach and relieve digestion process.  Menthol have antiseptic and antibacterial properties that make mint a good choice for improving digestion. Its adaptogenic properties balance the body in whatever way is needed.

Peppermint has antibacterial properties that help fight off disease causing illnesses and further improves immunity system.



ABOUT PRODUCT:
Chandigarh Ayurved Centre products are 100% safe and natural. MADE IN INDIA.
This product is formulated under the guidance of MD Ayurveda expert.

Natural and herbal products for overall health.

 Free from preservatives and chemicals.

125 years of serving mankind through ayurveda.

Serving society  4

th  

Generation in Ayurveda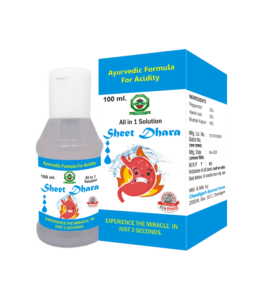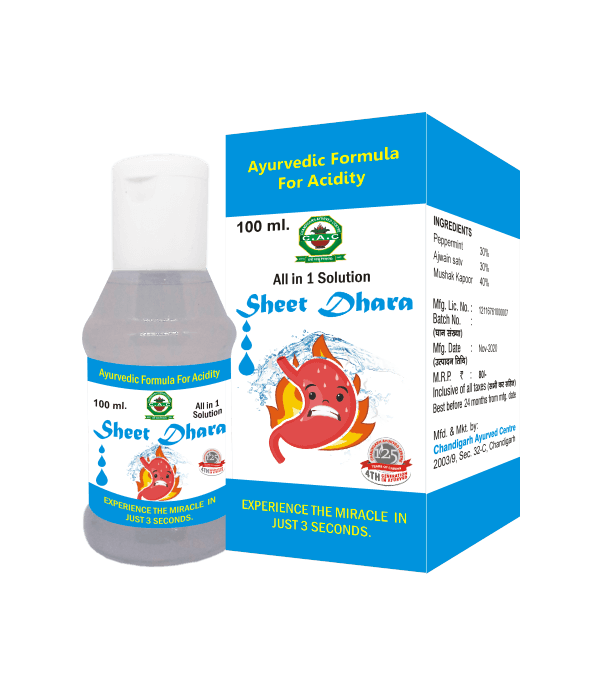 SHEET DHARA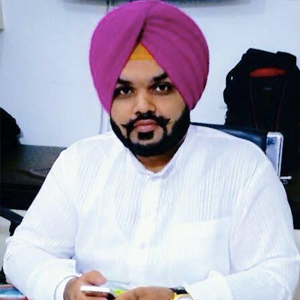 Vaidya Karanvir Singh is the younger Vaidya in Chandigarh Ayurved & Panchakarma Centre. He is the fourth generation in his family who is practicing as a general consultant in Ayurved & Panchakarma treatment at Chandigarh. In his practice, he had treated more than 1000 plus patients worldwide.
Article by Dr. Karanvir Singh (M.D in AYURVEDA, PANCHAKARMA FAGE) and reviewed by Vaidya Jagjit Singh (B.A.M.S)