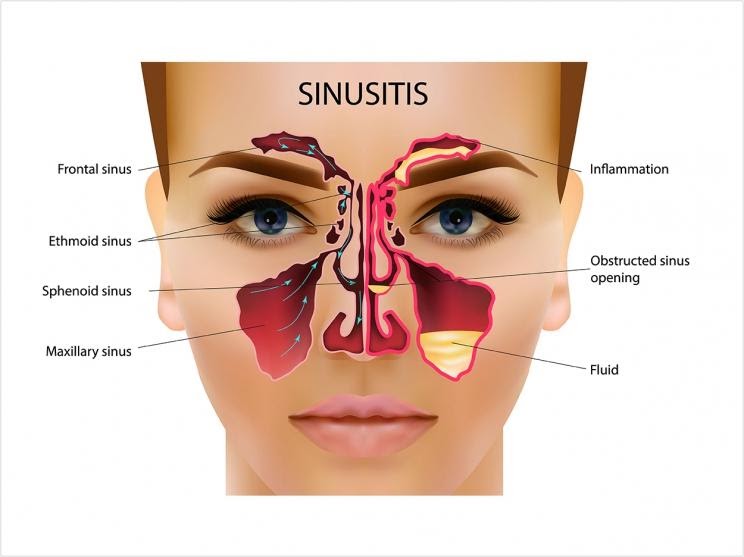 Sinusitis  is a condition in which the air passage i.e. sinuses of the nose become swollen and inflamed. Most commonly  it occurs due to an infection from a virus, bacteria, or fungus.
ABOUT  SINUS
A sinus is a hollow, air-filled  cavity. Sinuses those hollow   air passages in the skull and connected to the nasal  by a narrow hole or space in the bone (ostium). In Human body  four pair  of sinus are
Frontal sinus (in the forehead),

Maxillary sinus (behind cheeks),

Ethmoid sinuses (between the eyes), and

Sphenoid sinus (deep behind the ethmoids).
These sinus are known as PARANASAL SINUS. The sinuses produce mucus that protects the body by trapping and moving germs away. When blockage of these opening occur or too much mucus build up , then bacteria or virus grows up easily cause sinusitis.
TYPES  OF  SINUSITIS
ACUTE SINUSITIS 
 In acute sinusitis symptoms are present for 4 weeks or less. 
SUBACUTE SINUSITIS 
In Sub acute sinusitis symptoms are present for 1 to 3 months. This condition may occur due to infections or allergies.
CHRONIC SINUSITIS
Chronic sinusitis a condition in which sinusitis remain for three months or longer time although patient taking medication.
SYMPTOMS THAT YOU MAY NOTICE
Headache is most commonly found in sinusitis due to pressure in partially or completely blocked sinuses.

Pain, tenderness and swelling around your eyes, cheeks, nose or forehead

Discolored discharge from the nose

Congested and blocked nose

Stiffness around nose

Difficulty in breathing due to blockage

Loss of smell and taste

Post nasal drainage (PND)

Cough and sore throat

Bad breath due to infections 

Sometimes patient feel eye pain, ear pain also.
CAUSES FOR SINUSITIS
Any kind of bony growth in nose

Nasal polyps

Deviated nasal septum

Weak immune system 

Dental infection

Upper respiratory tract infections

Allergic rhinitis and hay fever
DIAGNOSIS OF SINUSITIS
Diagnosis of sinusitis is made on the basis of history of patient and by doing  physical examination of the patient. In chronic cases imaging techniques like CT-scan , MRI are helpful to examine nasal passage.
TREATMENT FOR SINUSITIS INCLUDES
Nasal sprays that contains steroids or brochodilaters are widely used . Nasal sprays help prevent and treat inflammation. For eg. fluticasone,  budesonide, beclomethasone etc. 

Medications are used to relieve inflammation and pain from severe sinusitis.

 
Antibiotics
Antibiotics are used for sinusitis in case of any kind bacterial infection.
Surgery
Surgery is to be done  to clear the sinuses, in case of  deviated septum, or to remove polyps or any bony growth.
AYURVEDIC VIEW FOR SINUSITIS
In Ayurveda, sinusitis can be correlated with Dushta Pratishyaya, in which the main dosha affected is Kapha along with dushti of prana vata.
Ayurveda Management
As Ayurveda is the ancient science which emphasize on balancing of tridosha and treat the root cause for any ailment. Like ways the Ayurvedic approach to sinusitis treatment  involve a combination detoxification processes through Panchakarma, oral medicines, dietary changes and life style modifications.
PANCHKARMA PROCEDURES FOR SINUSITIS
– Nasya
Nasya (shiro virechana): Nasya Karma is one of the five detoxification therapies mentioned in Ayurveda and  highly successful in treating Sinusitis.  In nasya karma medicated powders, oils and herbs are administered into the nostrils to stimulate the secretion of mucus and thereby dissolve and loosen mucus which reduce congestion and inflammation provide relief to patient.
– Dhumapana 
Dhumpana is considered as best treatment for vat-kaphaj disorders. In dhumpana dhum of medicated herbs given to patient in systematic way by which nasal passage can be cleared and reduce the kapha.
– Steam inhalation
is also useful in nasal congestion.
Chandigarh Ayurved Centre provide  the best and effective treatment for Sinusitis, which naturally cure this condition in a without causing any side effects. 
CAC provide you the  'Sinusitis Care Kit' that contains all the natural and ayurvedic medicine which are free from any kind of preservatives and adulteration , so that you can take effective ayurvedic treatment.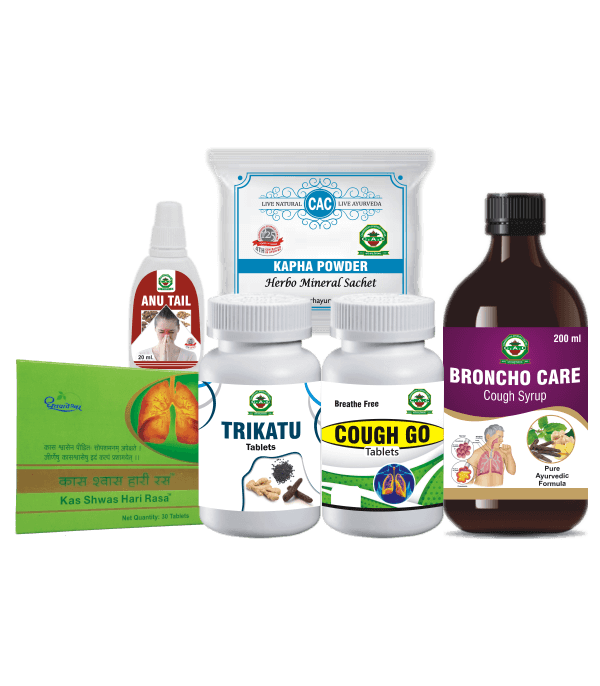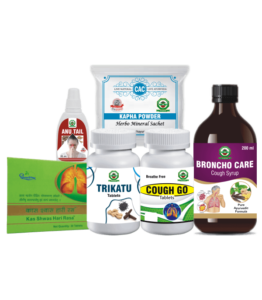 SINUSITIS  CARE  KIT
SINUSITIS CARE KIT CONTAINS–
Cough detox Powder   –   1 sachet twice daily

Kas Shwas Hari Rasa  –    1 tab. twice daily  

Cough Go Tablets        –    1 tab. twice daily  

Broncho Care Syrup    –   2 tsf twice daily

Trikatu Tablets             –    1 tab. twice daily  

Anu Tailam                    –    2-3 drops in each nostril daily
DESCRIPTION OF MEDICINES 
Cough detox Powder
This powder is the combination of ayurvedic herbs & minerals which contains – Abhrak bhasma, Sitopladi churna, Godanti bhasma, Laxmi vilas rasa, etc. The powder is beneficial in  respiratory diseases and strengthen the immune system, etc. 
Kas Shwas Hari Rasa
As the name indicates this Kas Shwas Hari rasa is very effective for upper respiratory tract related problems. This is combination of ayurvedic medicines like shwas kasa chintamani rasa, laxmivilas rasa and many more that are being used from the ancient time to treat sinusitis , bronchitis etc.
Cough go tablets
Medicated herbs used in this tablet are widely used in prevention of congestion, cough and in allergies. 
Broncho care syrup
Broncho Care syrup is purely ayurvedic formulation. It reduces kapha formation in the lungs and have expectorant action on the respiratory system. Broncho care syrup act as an  antioxidant, anti inflammatory, immuno modulator .
Anu Tailam
Anu tailam Ayurvedic nasal oil that is  effective used in  allergies, sinusitis, headache, etc. It cleanses and moistens the mucous membranes, kills bacteria and fungi.
Trikatu tablets
This tablet contains herbs like saunth, pippli , marich which have properties to clear any kind of blockage due to kapha dosha, so very effectively used in dushti of kapha dosha.
'Sinusitis Care Kit' is very effective in expelling the aggravated kapha dosha and balancing vata dosha.
For more details visit our website
https://www.chandigarhayurvedcentre.com/product/sinusitis-care-kit/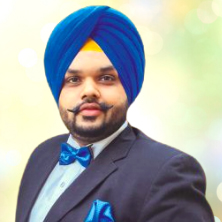 Dr. Vaidya Karanvir Singh is the younger Vaidya in Chandigarh Ayurved & Panchakarma Centre. He is the fourth generation in his family who is practicing as a general consultant in Ayurved & Panchakarma treatment at Chandigarh. In his practice, he had treated more than 1 Lakh Plus patients worldwide.
Article by Dr. Karanvir Singh (M.D in AYURVEDA, PANCHAKARMA FAGE) and reviewed by Vaidya Jagjit Singh (B.A.M.S)