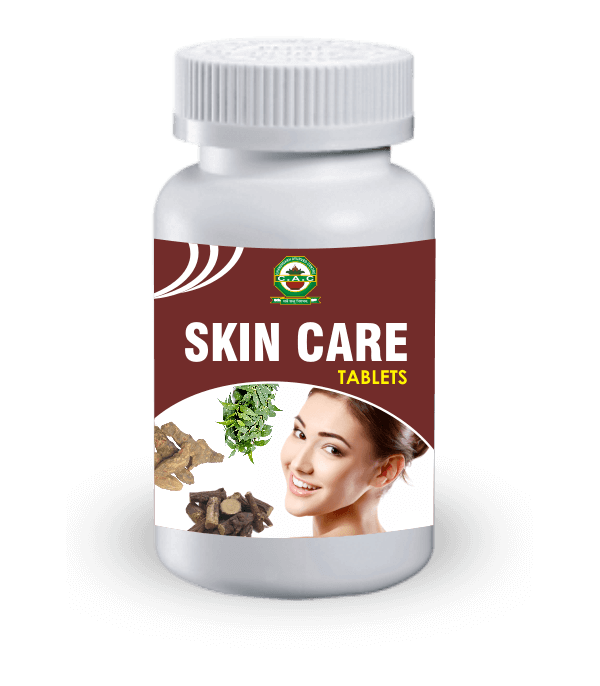 DESCRIPTION
CAC Skin care tablet is herbo mineral and purely ayurvedic formulation. It help to maintain the texture of your skin depending on the type of skin you have. It contains various herbs like Haridra khand, Panchnimb churna, Khadir chahal, Chirayta, Mulethi, Chopchini, Gandhak, Ajmoda that work very effectively on all skin types. Skin care is a blood purifying tablet. It cools and detoxifies the blood, removes stagnant blood and dissolves obstructions in the blood flow that further increase blood circulation of the skin. It minimises the blemishes, lighten sun tan, delay ageing of skin and heal skin problems.
USES OF SKIN CARE TABLET
Natural skin  moistuirizer

Delay ageing f skin

Improves blood circulation

Remove blemishes

Reduce itching and burning sensation of skin

Prevent acne and pimples

In allergic skin diseases

Relieves leucoderma

Help reduce inflammation
 INGRIDENTS
 Each 650mg tablet contains:
Haridra khand                                           100mg

Panchnimb churna                                   100mg

Panchtikt guggulu                                    100mg

Patol patra  (Trichocenthes diocia)         50mg

Ajmoda   (Apium graveolens)                   50mg

Khadir chhal      (Sanegelia catechu)        50mg

Chirayta (Swetria chirayta)                       50mg

Manjishtha   (Rubia cordifolia)                 50mg

Mulethi   (Glycyrrhiza glabra)                   50mg

Chopchini     (Smilax china)                       25mg

Gandhak       (Sulphur)                                25mg
DOSAGE
Take 1-2 tablets twice daily. 
INGRIDENTS DESCRIPTION
SCIENTIFIC NAME: TRICHOSANTHES DIOICA 
FAMILY: CUCURBITACEAE
IN CHARAKA SAMHITA – CHARAKA has mentioned this is one of the herb used in acne and urticarial.
MEDICINAL PROPERITY   It has bitter and pungent (katu) taste, easy to digest, potency hot, taste after conversion is pungent.
Patol patra is good for skin, improvrs complection. 
BLOOD PURIFIER – Patol patra quite beneficial for purification of blood. It works efficiently to regulate Kapha. It helps to clean your blood, tissues and thus offering skin care as well. Blood purification is really important for each and every human being and it will keep you free from all diseases.
SCIENTIFIC NAME: APIUM GRAVEOLENS                                                                                                                                  
FAMILY: UMBELLIFERS
MEDICINAL PROPERITY – It has pungent and bitter in taste,it is dry and light to digest , potency hot , taste conservation after digestion pungent.
EFFECTS ON TRIDOSHA – Kaphavatahar (balance kapha and vata). 
When it comes in contact with skin help in hydration and it is rich in sodium content help to
-> raises stomach acid  -> help to break down the food  -> improving the health of your gut                                                lowering stress level  -> brightening the skin.
SCIENTIFIC NAME: SENEGALIA CATECHU                                                                                                                             
FAMILY: FABACEAE 
MEDICINAL PROPERITY – It astringent and pungent in taste, dry and east to digest, cold in potency, pungent after digestion.
EFFECTS ON DOSHA – It balance pitta and kapha doshas.  
Khadir is mainly used for the skin disorders. Its decoctions, fermented liquids are used internally to treat a varity of skin disorders such as psoriasis, eczema, dermatitis etc.  Khadir may prevent bleeding due to its astringent property. It helps tighten the skin and decreases blood supply while also promoting clotting. Khadir is an effective herb to control bleeding in the body.
SCIENTIFIC NAME: SWERTIA CHIRATA                                                                                                                             
FAMILY : GENTIANACEAE
MEDICINAL PROPERITY – Chirayata has bitter in taste, dry and light to digest, cold in potency, pungent after digestion. 
EFFECTS ON DOSHA – It pacifies pitta kapha and vata dosha.
It have antioxidant, antimicrobial and anti-inflammatory properties.  Chirata offers blood purifying activity. It has Tikta (bitter) taste and Pitta balancing property that help to removes toxins from the blood and hence helps to manage skin diseases. It is also useful in managing rashes, inflammation, redness, and itching, burning sensation and thus helps in the treatment of skin eruptions, pimples, eczema, boils etc.
SCIENTIFIC NAME: RUBIA CORDIFOLIA                                                                                                                                 
FAMILY : RUBIACEAE
MEDICINAL PROPERITY – Manjistha has bitter, astringent, sweet in taste, dry and heavy to digest, hot potency, pungent after digestion. 
EFFECTS ON DOSHA – It is kapha and pitta shamak. Mainly it is pittahara.
It is a natural complexion enhancer. It has antioxidant, antimicrobial and anti-inflammatory properties. Manjistha have brilliant blood detoxifying properties that not only eliminate the toxins from the blood but also readily increases the excretion of the toxic or unwanted substances from the blood through the kidneys. Additionally, it also helps in treating different types of skin conditions like acne, pimples, boils, and even conditions like rheumatoid arthritis, hyperuricemia etc.
SCIENTIFIC NAME: SULPHUR 
MEDICINAL PROPERITY – Gandhak rasayan has following healing property.
Primary Action:-
Antibacterial

Antimicrobial

Antiviral

Broad spectrum Antibiotic

Anti-inflammatory

Antipruritic
SECONDARY ACTION 
Blood purifier 

Digestive stimulant (mild effects)

Aphrodisiac

Anti-leprosy

Antioxidant

Antipyretic (mild effects)

Analgesic (reduces tenderness and pain of soft tissues)
Gandhak rasayan useful in various skin condition such as urticarial and angioedema, eczema, psoriasis, boils, scabies, acne, pimple, ringworm etc.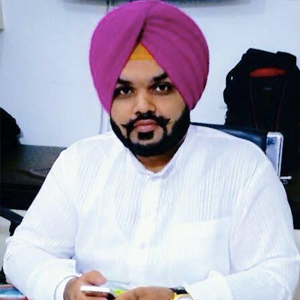 Vaidya Karanvir Singh is the younger Vaidya in Chandigarh Ayurved & Panchakarma Centre. He is the fourth generation in his family who is practicing as a general consultant in Ayurved & Panchakarma treatment at Chandigarh. In his practice, he had treated more than 1000 plus patients worldwide.
Article by Dr. Karanvir Singh (M.D in AYURVEDA, PANCHAKARMA FAGE) and reviewed by Vaidya Jagjit Singh (B.A.M.S)