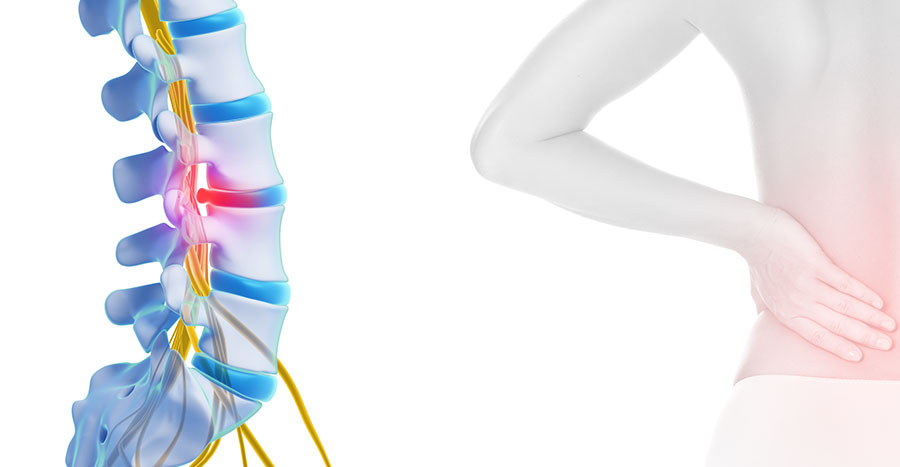 A Slipped disc is a common problem that usually takes place due to wrong posture & long-time sitting job. It is also known as a herniated disc that creates a problem with one of the rubbery cushion between the individual bones. A spinal disc is jelly donut with softer center within a tougher exterior. This condition occurs when a softer jelly pushes out, it irritates the nerves, & causes numbness, pain, or weakness in legs or arms. Many people with the slipped disc issue are gone through surgery but not get any proper relief.
What are the Signs & Symptoms of Slipped Disc?
The different signs & symptoms seen in slipped disc patients are:
Numbness, pain, tingling sensation, or weakness in the neck, arm, shoulder, or hand.
Pain in the lower back that radiates the both knees or thighs.
Tingling sensation & numbness around the genitals or anus.
Difficulty in controlling bladder function or bowel movements.
Pain occurs while raising legs, straining, or coughing.
What are the Causes of Slipped Disc?
A Slipped disc is gradually due to aging-related wear & tear known as disc degeneration. Lifting heavy objects, weights, turning or twisting while lifting, accident, fracture, etc are the cause for a slipped disc.
What are the Risk Factors for Slipped Disc?
 The risk factors that are related to Slipped disc are mentioned below:
Obesity: Excess weight in the body causes exertion on discs in the lower back.
Genetics: Most of the people inherit a herniated disc that is the reason for a slipped disc.
Occupation: People with prolonged sitting jobs, pushing or pulling heavy weights are at higher risk of developing herniated discs.
What is the Ayurvedic View of Slipped Disc?
In Ayurveda, Slipped disc is due to vitiation of Vata dosha that causes pain, inflammation, & stiffness in the body. So to balance vata dosha is necessary.
What is the Ayurvedic Treatment for Slipped Disc?
In Ayurveda, there are numerous herbs that deal with the imbalanced vata dosha responsible for slipped disc problem. Chandigarh Ayurved Centre introduces "Disc Care Kit" for the proper Ayurvedic treatment of Slipped disc problem. This kit contains five ayurvedic products.
Real Testimonial of Slipped Disc Patient
All products description in details:
1. Back Care tablet:
CAC Back Care tablet is an herbal and purely Ayurvedic formulation. This tablet helps by strengthening your back muscles in relieving back pain whether it be by sciatica, arthritis, kidney infections, infection of the spine and cancer of spinal cord. It helps to pacify Vata dosha and also helps in maintaining proper blood circulation. This is often used for mild to moderate pain all over the body and relaxes your muscles. It contains herbs that act as natural pain relievers.
Dosage: Take 1 tablet twice daily with normal water after 30 mins of meal.
2. Nerve Up Tablet:
It is pure herbo-mineral formulation which helps to balance the vata dosha. It act as nervine stimulator and also reduces Kapha doshas. It mainly acts on central nervous system. It contains natural ingredients like Shudha kuchala, Shudha shilajeet, Abhrak bhasma, Praval pishti, Shankh bhasma etc. These contains natural Vatahar properties and helps in curing vata diseases. It speeds up physical and mental processes. It helps in painful joints, stiffness , inflammation, swelling and general weakness.
Dosage – Take 1 tablet twice daily with normal
3. Pain-o-kill oil:
As the name suggests Pain-O-Kill Oil reduces pain, inflammation, stiffness, & weakness in slipped disc patients. Applying this herbal oil gives effective results in lower backache, weakness, relaxes muscles, stiffness, & swelling.
Method of usage: Take few oil in your hands gently massage over the affected of the body.
4. Trikatu syrup:
TRIKATU SYRUP is purely Ayurvedic formulation made up of three herbs. CAC Trikatu Syrup helps to eliminate excess Kapha or mucous from the body, supports respiratory system, manages weight, helps to take out impurities or ama from the body, supports healthy detoxification, reduces swelling. It shows anti-inflammatory, analgesic, expectorant, antioxidant properties.  This syrup is made up of equal parts of three herbs such as Pippali (Piper longum), Shunthi (Zingiber officinale), & Marich (Piper nigrum) that maintains the metabolism in the body. The regular use of this syrup balances the thyroxine hormone and treats hyperthyroidism naturally.
Recommended dosage: Take 2 teaspoonful twice daily.
5. Rasayan Vati:
Rasayan vati is herbo-mineral ayurvedic formulation, which is 100% natural. Rasayan vati contains various herbs such as Aswagandha, Shilajeet, Amla, Kesar, Musali, Shatavar, Brahmi Abhrak Bhasam, Swarn Makshik Bhasam, Yashad Bhasam, Mukta pisti, Praval pisti, Jaiphal, Vang Bhasam, Dalchini, Javitri, Gokhru, Kaunch Beej, Saunth, Mirch, Pipli, Amla, Kesar, Manjith, Anant Mool, Brahmi, Musali, Swarn Vang, etc. These ingredients show antioxidant, aphrodisiac, anti-inflammatory, antipyretic, analgesic, immuno-modulator properties.  These tablets provide good results in General debility, Psychological disorders, and improves immunity

Recommended Dosage: Take 1 tablet twice a day.
6. Pain O Kill Tablet:
As the name suggests Pain-O-Kill tablet reduces pain, inflammation, stiffness, & weakness in slipped disc patients. Applying this herbal oil gives effective results in lower backache, weakness, relaxes muscles, stiffness, & swelling.
Recommended Dosage – Take 1 tablet twice daily.
What is the Panchakarma Treatment for Slipped Disc?
Panchakarma treatment gives good & effective results to the Slipped disc patient as it balances vata dosha in the body. Along with ayurvedic medicines, panchakarma therapies provides relaxation to the stretched nerves & muscles. The therapies that are recommended to slipped disc patients are mentioned below:
Patra potli pind sweda: In this therapy, a bolus (potli) is prepared with the herbal leaves. These leaves are dipped in medicated oil, heat the oil, & use this over the affected part of the body.
Shashti shali pind sweda: In this therapy, a potli is filled with cooked shashti shali rice after that it is dipped in lukewarm medicated oil. This herbal potli is applied over the affected area of the body. After that massage of the body is done.
Kati vasti: In this procedure, a ring of flour is formed on the lower back after that lukewarm medicated oil is put in it. With the help of sponge this oil is removed & again lukewarm oil is put from four to five times. After that gentle massage is done.
Abhyangam: In this procedure, massage with lukewarm medicated oil is done over the whole body.
Healthy Diet & Lifestyle
For managing your slipped disc problem a healthy diet & lifestyle is necessary. So follow some healthy tips that are essential for everyone mentioned below in detail:
Include vegetables such as bottle gourd, bitter gourd, ridge gourd, carrot, beans, fenugreek, spinach, coriander, beet root, etc. Avoid vegetables such as potato, sweet potato, ladyfinger, yam, etc.
Eat fresh fruits like apple, papaya, peach, pear, pomegranate, watermelon, musk melon, & avoid fruits such as citrus fruits.
Drink plenty of water, drink green coconut water, fresh juices such as apple, carrot, pomegranate, beetroot, etc.
Do perform yoga poses like ushtrasana, bhujangasana, ardha salabhasana, dhanurasana, & meditation.
Also do perform walk or exercise daily.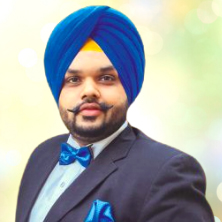 Dr. Vaidya Karanvir Singh is the younger Vaidya in Chandigarh Ayurved & Panchakarma Centre. He is the fourth generation in his family who is practicing as a general consultant in Ayurved & Panchakarma treatment at Chandigarh. In his practice, he had treated more than 1 Lakh Plus patients worldwide.
Article by Dr. Karanvir Singh (M.D in AYURVEDA, PANCHAKARMA FAGE) and reviewed by Vaidya Jagjit Singh (B.A.M.S)