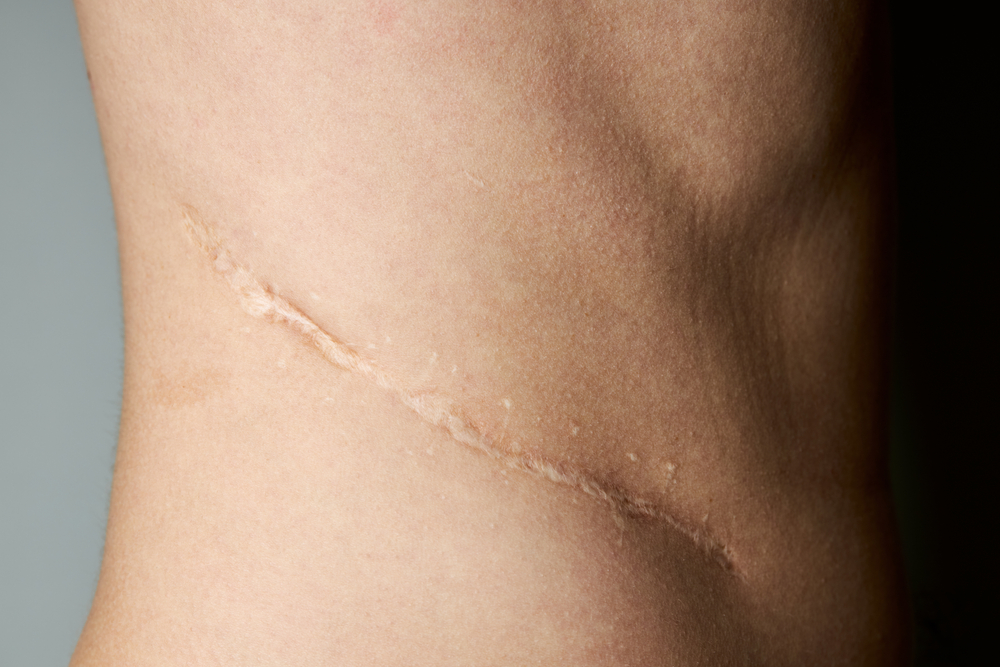 Whenever the skin gets damaged, there is possibility of scar formation at skin. Any kind of injury, burn, trauma can leads to scarring of skin.

Scars develop in all shapes and sizes. 

When this scar forms as a result of surgery then this is known as surgical scar. As in surgery incision requires cutting through all of the layers of the skin. As a result of this, surgery leads to scar formation.
Signs of a scar
A Scar is usually pink or red in starting. Over time, the scar becomes slightly darker or lighter than the color of the skin. In dark skin people, scars often appear as dark spots. 
A scar's appearance depends on many factors, Like:
Any kind of Injury or event like surgery, a burn or severe acne.

Size, severity and location of the wound.

Treatment you received for the wound, such as stitches or bandages.

Your age, genes, ethnicity and overall health.
How Does Scarring Happen?
Scarring is the part of the healing process after an injury. Its appearance and its treatment depends many factors like cause of scar, the depth and size of wound or cut, location of injury also the age, sex of individual also matters.

Skill of surgeon also influences the degree of scarring. When Surgery is performed by a less skilled surgeon then it may cause greater degree of scarring. 
Risk Factors for Scarring
With increasing age, skin becomes thinner and less elastic this is because collagen that reduces with increasing age. Therefore, skin does not heal as well or as quickly with age.
Other factors that make scarring more likely to occur with age include:
Sun exposure

Smoking

Pollutants
Some races are more prone to develop scar. How light or dark scar appear depends on your skin color. For example:
Light skin: Scars appears close to surrounding skin color and often fade away with time.
Dark skin: In darker skin people scars are usually darker than the surrounding tissue.
Size and Depth of Your Incision
The deeper and longer the incision or cut, longer will be healing process, hence chances of scarring are high. 
Sometimes slow-healing process of skin which can be due to any medical condition like diabetes can be the reason of scar formation.
Preventive measures
There are some factors which can be controlled and may help you prevent scars. Like follow the instructions that are given by surgeon after surgery. Others factors are 
Smoking not only increase the risk of scars, but it also affect the healing process. That's why surgeons usually advise to quit smoking for at least two weeks before surgery.
Not taking enough fluids leads to dehydration that can cause electrolyte imbalances and heart problems. It also affects the healing process.
So, stay hydrated to feel good and for suitable environment for healing. 
Proteins are the building blocks of healing skin. Therefore, it is important to take protein in adequate amount for your body to allow your skin to heal. So always take a balanced diet.
Maintain a Healthy Weight
Excess weight can be a great risk of scarring. Excessive fat under your skin can work against your surgeon's best efforts to close your incision seamlessly.
Diabetes and many other illnesses can slow healing. So should be managed with proper medical care.
Incision care includes
:
Patient should take proper rest after surgery for proper recovery.  
Perform proper wound care
Do not use of any kind of ointments and other remedies for application on scars unless your doctor prescribes them and follows other general incision care methods for fast healing without scars.
Identify infection quickly
If you notice any kind of infection,  then immediately proper treatment should be follow. An infection can seriously affect the healing process and contribute to scarring.
Avoid pressure on your incision
Avoid doing extra work like lifting, bending, or doing anything that stretches or puts stress on your incision, including driving. 
Avoid exposure to sunlight
Surgical Scar Treatments
Silicone wound dressings are similar to a thick plastic wrap that are used in the kitchen. There are many ways to apply silicone dressings like:
Silicone sheets

: These are applied directly to the wound and stay there.

Silicone gel

: This is for local use as these are applied over the scar and is left dry in place.
In many studies it has been proven that silicone is helpful to reduce scarring, and commonly prescribed by doctors after surgery. 
In some surgeries, surgeon can modify incision placement to reduce scar visibility.
When scarring area is large, your surgeon may prescribe cleansers, ointments as wound care routine for minimal chances of scarring .
Scar tissue massage is also useful and prescribed by doctors.  Physical therapists typically perform this type of massage. But it should be performed carefully after wound heals properly.
The Final word
Scarring after surgery varies from person to person and other factors also For eg., one person may have a procedure and have no scarring after procedure while another may have a noticeable scar for same procedure.
Scarring after surgical incision is inevitable in some cases. But, with the help of preventive measures and avoiding risk factors one can reduce the visibility of scarring. In addition to this, post-surgical care must be taken that will contribute to a scar that heals optimally.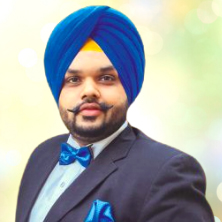 Dr. Vaidya Karanvir Singh is the younger Vaidya in Chandigarh Ayurved & Panchakarma Centre. He is the fourth generation in his family who is practicing as a general consultant in Ayurved & Panchakarma treatment at Chandigarh. In his practice, he had treated more than 1 Lakh Plus patients worldwide.
Article by Dr. Karanvir Singh (M.D in AYURVEDA, PANCHAKARMA FAGE) and reviewed by Vaidya Jagjit Singh (B.A.M.S)