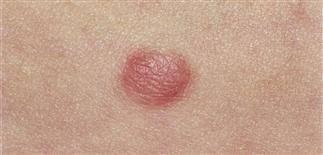 SYMPTOMS OF DERMATOFIBROMA
OVERVIEW:
DERMATOFIBROMA  is a common cutaneous, benign fibrous nodule, small, non cancerous skin growth on the skin that develop anywhere in the body and they are hard in touch

Also called cutaneous fibrous histiocytoma

Dermatofibroma are persist for life and they may heal after several years 

Dermatofibroma is common in adults and very rare in children 

LOCATION – It found anywhere in the body but most common  in legs and arms 

COLOR – Skin colored, pink, red, brown or slightly pigmented

In normal cases Dermatofibroma runs into dermis (middle layer of the skin) 

In rare cases – Growth runs into and extends to the subcutis which is very deep

They occur mostly in women ( Male to female ratio is 1:4 )

Dermatofibroma made of blood vessels, fibroblasts, macrophages, and mixture of tissues 

Dermatofibroma, are non cancerous growths
DURATION OF DERMATOFIBROMA:
They do not far away on their own unless they are removed
SYMPTOMS OF DERMATOFIBROMA:
usually it is asymptomatic :
Itching

Discomfort

Painless and harmless or sometimes painful

inflammation

main sign of dermatofibroma is – if a person pinches it will not comes towards the surface of skin (dimple inward when pinched)

Tenderness

DIMPLE SIGN – central portion puckers when lesion is compressed on the sides 

CAUSES OF DERMATOFIBROMA
–
Causes is unknown 
Local trauma(bug bite or any small injury)

multiple dermatofibromas develop in a person with weak immunity like HIV, and autoimmune conditions
COMPLICATIONS OF DERMATOFIBROMA
they are raised lesions and they traumatised (by razor)
DIAGNOIS OF DERMATOFIBROMA
Pinch test – pinch the surrounding of skin to check the signs of dimples

Dermatoscope – to see the surface growth

biopsy or diagnostic excision – if nodule is bleeding, irritated, or abnormal shaped 
TREATMENT
Freezing the growth with liquid nitrogen

injected with corticosteroids 

Dermatofibroma Surgical removal – simplest way to remove lesion 

Shaving flatten growth
FOOD TO AVOID
food with high in trans fats

processed food and fast food

food high in sugar ( sugar causes insulin level and can cause inflammation in skin)

FRUITS- blueberries, raspberries, blackberries, pomegranates tare rich in antioxidants and skin friendly 
CAC SPCIAL MEDICATIONS IN SKIN DISEASES-
1. Detox Premium Powder:
DETOX PERMIUM  POWDER  is a herbo-mineral ayurvedic preparation 
ingredients like Parwal Pishti, Giloy satv, Shukta Pishti, Kamdudha Ras, Gandhak Rasayan
Parwal Pishti: helps in reduce inflammation, itching in tha body
Shukta Pishti: It helps to balance the Pita dosha in the body. 
Giloy Satv: it has anti-inflammatory, antioxidant, and analgesic properties .
Kamdudha Ras: it balances Pita dosha in the body.
Gandhak Rasayana: helps to cure all skin disorders 
Tal Sindoor: helps to maintain balance of pitta dosha in body 
Dose: 1 sachet twice daily with normal water.
2
.
Blood Purifier Syrup :
This syrup contains Khadir Chall, Manjistha, giloy, nimb ,harad , Baheda, Amla this ayurvedic syrup purifies the blood and removing excess toxin
DOSE–  2 teaspoonful twice daily
3. Skin Care Plus tablet:
 it contains Haridra khand, Panchnimb churn, Khadir chahal, Chirayta, Mulethi, Chopchini, ajmoda
These ingredients helps to maintain the texture of skin, purifies blood, detoxifies the blood, increase blood circulation, reduce blemishes
Dose – 2 teaspoonful twice daily.
4. Panchatikta Ghrita Guggulu: 
this contains Nimb, Patola, Guduchi, Vasa ingredients 
 it detoxify the blood, natural source of antioxidants. 
Dosage–Take 1 tablets twice a day with normal water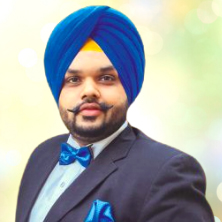 Dr. Vaidya Karanvir Singh is the younger Vaidya in Chandigarh Ayurved & Panchakarma Centre. He is the fourth generation in his family who is practicing as a general consultant in Ayurved & Panchakarma treatment at Chandigarh. In his practice, he had treated more than 1 Lakh Plus patients worldwide.
Article by Dr. Karanvir Singh (M.D in AYURVEDA, PANCHAKARMA FAGE) and reviewed by Vaidya Jagjit Singh (B.A.M.S)