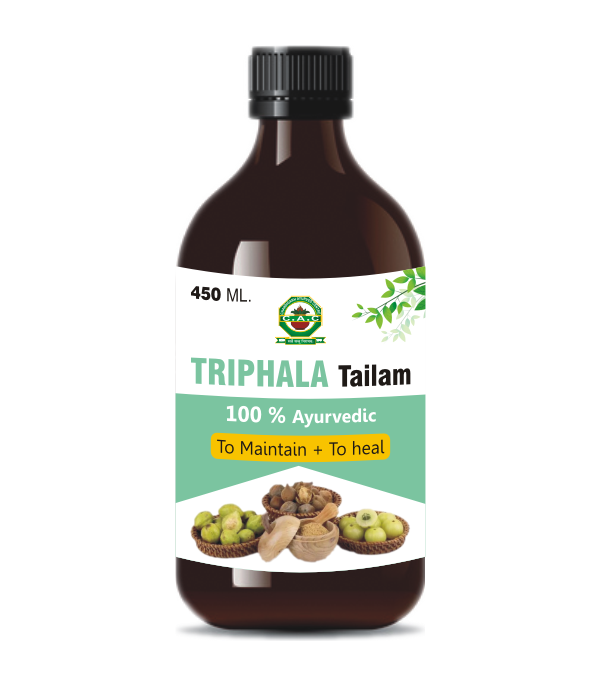 DESCRIPTION –
Triphala is a three-fruit combination of Amalaki fruit (Emblica Officinalis), Bibhitaki fruit (Terminalia Belerica) and Haritaki fruit (Terminalia Chebula) in equal proportions.  Triphala Tailam is a classical formulation available as Ayurvedic herbal oil. It is used in the treatment of headache, hair fall, grey hairs, etc. It also helps to relax the muscles and muscles cramps thus relieving pain. It balances all the three doshas of your body thus maintaining proper blood circulation. It provides soothing effect to the affected area of pain.  The herbs present in this oil are natural pain relievers. This herbal Tailam used for external application only.
TRIPHALA TAILAM INGREDIENTS:
Each 10 ml contains:-
Haritaki Svarasa (Terminalia chebula) ——————- 66 parts
Vibhitaki Svarasa (Terminalia bellirica) ——————– 10.67 parts
Amla Svarasa (Emblica officinalis) ————————— 10.67 parts
Tila Taila (Sesame Oil) ——————————————- 8 parts
TRIPHALA TAILAM USES-
It is used for all diseases pertaining to neck, eyes, ear and throat.
It is used for all diseases pertaining to neck, eyes, ear and throat.
Triphala tailam is useful in relieving headache, sinusitis and rhinitis.
It is used to treat split hairs, grey hairs.
It improves hair strength.
Effect on dosha- balances vata, pitta and kapha.
MODE OF USAGE
It is used in ayurvedic treatment such as shirodhara, shirobasti and Basti (medicated enema).
It is used for head massage
Triphala tailam is used as hair oil.
DOSAGE– As Directed By the Physician.
ABOUT PRODUCT:
Chandigarh Ayurved Centre products are 100% safe and natural. MADE IN INDIA.
This product is formulated under the guidance of MD Ayurveda expert.
Natural and herbal products for overall health.
Free from preservatives and chemicals.
125 years of serving mankind through ayurveda.
Serving society 4th Generation in Ayurveda.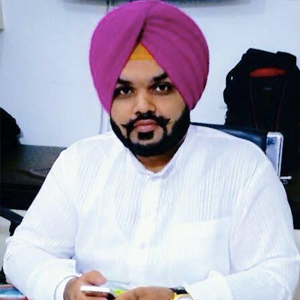 Vaidya Karanvir Singh is the younger Vaidya in Chandigarh Ayurved & Panchakarma Centre. He is the fourth generation in his family who is practicing as a general consultant in Ayurved & Panchakarma treatment at Chandigarh. In his practice, he had treated more than 1000 plus patients worldwide.
Article by Dr. Karanvir Singh (M.D in AYURVEDA, PANCHAKARMA FAGE) and reviewed by Vaidya Jagjit Singh (B.A.M.S)