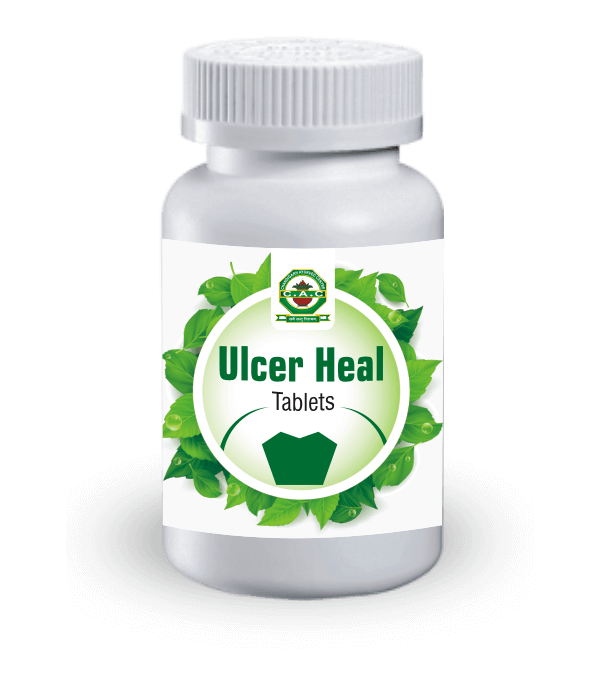 Ulcers are caused when the colon becomes inflamed and there is a formation of ulcers on the inner lining of the colon. the largest intestine is affected rather than the small intestine. these are painful, swollen, and leads to fullness and a perpetual feeling of going to pass stools. It also has a psychological effect. it comes under Purishavaha srotas and causes raktatisar due to imbalanced Vata, pitta, and Kapha doshas. Ulcers heal tablets of CAC protect the endothelial layer, cure ulcers, and restores body metabolism.
Ingredients:
Each 1000mg. tablet contains:
Kehrewa Pishti   –  100 mg

Prawal Pishti      –   100 mg

Kamdudha          –   150mg

Guduchi satva    –   150 mg

Anar dana          –    200mg

Amaltas              –    200mg

Aloe vera           –    100 mg
DESCRIPTION  OF  INGREDIENTS
Keharwa Pishti prevents too much bleeding in blood dysentery, from wounds or uterine bleeding. It is made from natural extracts that have antibacterial and coagulation properties. It eliminates the bacteria from intestines that cause dysentery and also helps clots form quickly to prevent much blood loss.
Praval pishti is a traditional remedy for treating a wide range of gastrointestinal disorders as well, like indigestion, heartburn, flatulence, peptic ulcer, gastroesophageal reflux disease, constipation, flatulence and stomach pain
Kamdudha Ras relieves chronic acidity, heartburn, stomach ulcers and colic pains. It soothes hyperacidity, provides cooling relief in ulcers, stimulates production of digestive enzymes and boosts your digestive system.
Commonly termed as guduchi satva, this magical powder hails immense health benefits towards rectifying all sorts of Pitta aggravating disorders like indigestion, constipation, burning sensation of hands and feet, fever, gout, fatigue, jaundice, diabetes, liver problems, general debility etc  With strong antitoxic, anti-pyretic, anti-inflammatory, anti-gout, carminative, immunomodulatory, antioxidant and hematogenic properties, this classical medicine is an ultimate answer to all health anomalies.
 Anardana obtained from pomegranate and is used as an antiparasitic agent, a blood tonic, to heal ulcers, also possesses anticancer, anti inflammatory, antioxidant, anti-viral, neuroprotective activity, hepatoprotective, reproductive function, anti-atherogenic effect, hypoglycemic and antiglycemic effect.
The anti-inflammatory and anti-ulcer properties of amaltas leaves hold high significance in treating different types of ulcers like ulcerative colitis, peptic ulcer.
It is widely known for its antibacterial and skin-healing properties. Interestingly, aloe vera also effective against  ulcer. Aloe vera consumption significantly reduced the amount of stomach acid produced in rats suffering from ulcers. 
Medicinal properties:
Anti-inflammatory

Anti-bacterial

Anticoagulant

Analgesic
Benefits:
In ulcerative colitis

IBS

Gastritis

Restore body metabolism

Pacifies Pitta and Vata doshas

Provide cooling effect

Heals ulcers

Rectal bleeding

Abdominal cramps

Removes bacterial infection

Effective in inflammation and swelling
ABOUT PRODUCT:
Chandigarh Ayurved Centre products are 100% safe and natural. MADE IN INDIA.
Under the guidance of the 

MD Ayurveda expert, 

this product is formulated.

Natural and herbal products for overall health.

Free from preservatives and chemicals.

131 years of serving mankind through Ayurveda.

Serving society 

4th Generation in Ayurveda.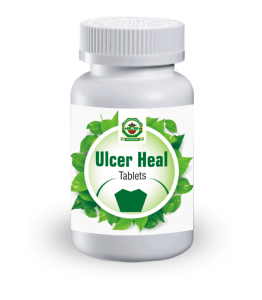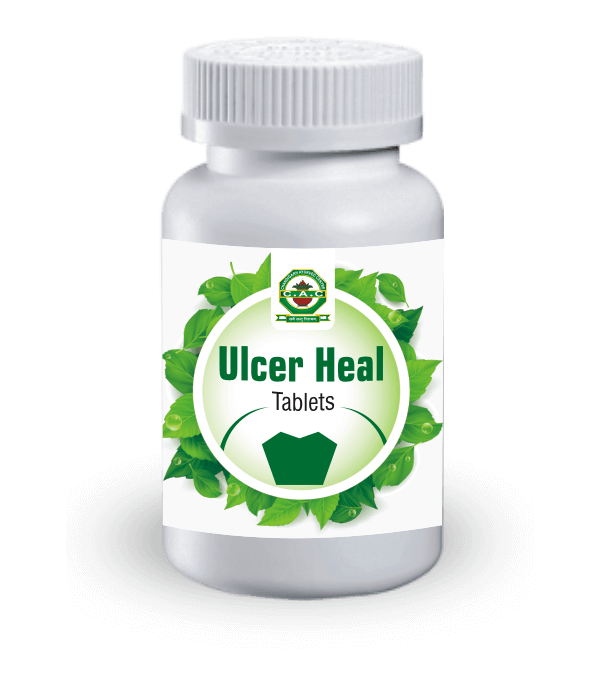 ULCER HEAL TABLET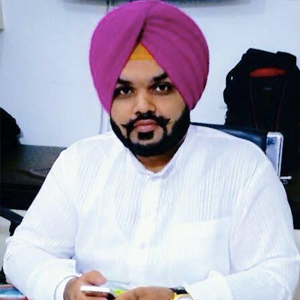 Vaidya Karanvir Singh is the younger Vaidya in Chandigarh Ayurved & Panchakarma Centre. He is the fourth generation in his family who is practicing as a general consultant in Ayurved & Panchakarma treatment at Chandigarh. In his practice, he had treated more than 1000 plus patients worldwide.
Article by Dr. Karanvir Singh (M.D in AYURVEDA, PANCHAKARMA FAGE) and reviewed by Vaidya Jagjit Singh (B.A.M.S)