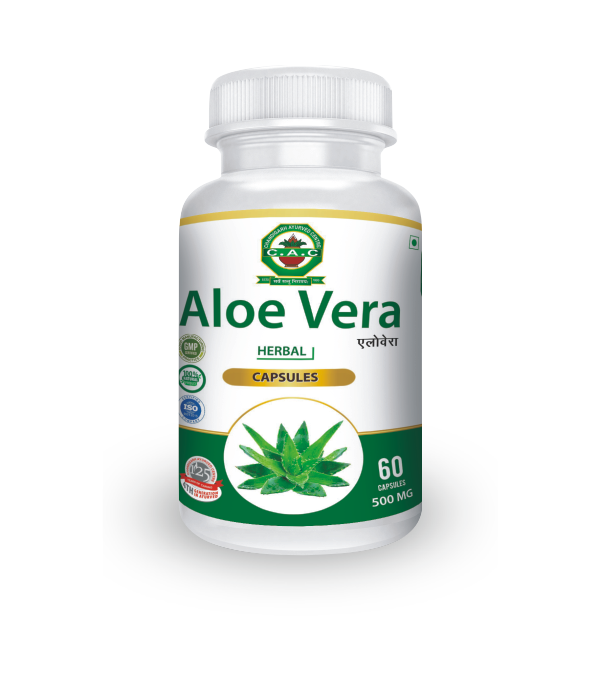 USES AND HEALTH BENEFITS OF ALOE VERA CAPSULES
Description
Aloe Vera common name aloe and latin name Aloe Vera, Aloe africana, Aloe arborescens, Aloe barbadensis.

It is a cactus-like plant that grows in hot and dry climates. 

It is cultivated in subtropical regions. 

Historically, it has been used for skin conditions, improve baldness and promote wound healing.

It can be used topically and orally topical use of aloe Vera treat acne, lichen planus (a very itchy rash on the skin or in mouth), oral sub mucous fibrosis, burns, and radiation-induced skin toxicity. 

Orally it promoted weight loss, diabetes, hepatitis, and inflammatory bowel disease. 
Ingredients
Aloe Vera (aloe barbadensis) – 500mg
USES OF ALOE VERA CAPSULES
Psoriasis

Dandruff

Constipation

Immuno modulator

Prevent wrinkles

Lower blood sugar levels

Anal fissure

Acne 

Herpes sores

Minor burn

Skin abrasions

Seborrhea  
Parts of Aloe Vera People Use
There are two useful parts of the aloe Vera plant. 
First the leaves which are filled with a clear gel. This gel is extracted from the plant and usually used on the skin to treat burns and various skin conditions.

The second substance is aloe Vera latex. This is the yellow pulp that found just under the outer surface of the plant leaf. It has been shown laxative properties and it is usually taken orally to treat constipation.
Mechanism of action
Healing property

Effects on skin exposure to UV and gamma radiation

Anti-inflammatory action

Effects on the immune system

Laxative effects

Antiviral and anti-tumor activity

Moisturizing and anti-aging effect

Antiseptic effect
HEALTH BENEFITS OF ALOE VERA CAPSULE
Aloe Vera Help to Lower Blood Pressure

: – High blood pressure is a silent killer. High blood pressure can slowly damage blood vessels, putting them at risk for a stroke, heart attack, and other complications. Study shows that aloe Vera powder helped reduce the systolic and diastolic blood pressures. 

Aloe Vera Help to Stabilize Blood Sugar

:- A healthy diet, weight loss and physical activity help to lower the risk of diabetes and improve blood sugar. Aloe Vera improved sugar control in people with pre-diabetes and type 2 diabetes it can administered orally as crushed leaves, juice, a powder, or an extract. It lowered fasting plasma glucose in those with pre-diabetes. Researchers show that aloe Vera has ability to reduce glucose absorption in the gastrointestinal tract and lower glucose production.

Aloe Vera Can Improve Dental Health: –

Aloe Vera useful in oral health regime due to its anti-plaque and anti-gingivitis properties.

Heartburn Relief: –

Researchers found that aloe Vera extract in a syrup helped in several symptoms of gastro esophageal re flux disease (GERD), including heartburn, belching, and vomiting. This may be due to Aloe Vera has anti-inflammatory properties as well as antioxidant and anti-ulcer. 

Aloe Vera Fight against Skin Aging

: – Aloe Vera has been used in skin care product as an ingredient for moisturizers the skin. This is due to its gel moisturizing and anti-aging properties. Applying a moisturizer in skin is an important step because it traps water in the skin and helping it to appear more youthful. ; Dry skin causes plump skin cells to shrivel, leading to premature wrinkles. Aloe Vera contain high number of mucopolysaccharides this is a hydrating molecule that keeps moisture in the skin. Hyaluronic acid keep skin hydrating and exhibit anti-aging properties.

 

Aloe Vera Gel Soothing Sunburn Inflammation

: – Aloe Vera gel has cooling and anti-inflammatory properties that provide relief from discomfort associated with a sunburn. After sunburn apply plant gel over skin for relief. Researchers concluded that aloe Vera potentially reduce wound recovery times, infections, and skin redness. They also noted that aloe Vera gel most effective on first and second degree burns. 

Aloe Vera treat Acne Naturally

: – Aloe vera gel has anti-inflammatory properties play excellent role to treat acne. Whether it is applied to pimples or to general areas of redness and irritation it has been found to soothe and diminish the appearance and prominence of acne and even acne scars.

Aloe Latex Ease Constipation

: – Aloe latex is the part of the aloe plant suggested to have laxative properties study shows that aloe vera gel does not have the same laxative effect, as it lacks anthraquinones. Constipation is defined as fewer than three bowel movements in a week. But laxatives, a fiber-rich diet, and increased water intake can improve bowel irregularity. Some evidence shows that orally intake of aloe Vera improve IBS symptoms and constipation. It acts as a natural laxative via two mechanisms — it provides hydration with its high water content, and it contains anthraquinones which act as a stimulant laxative. If aloe Vera latex taken improperly it can cause abdominal cramps, diarrhea, potassium deficiency and kidney damage. 

Natural Antidote for Skin Irritation

: – Aloe Vera does not treat acne it can potentially improve skin conditions. Aloe Vera gel have anti-inflammatory effects and also beneficial in the treatment of psoriasis and eczema.

Act as a pain reliever

: – Salicylic acid found naturally in aloe Vera. It is a compound that gives anti-inflammatory effects. More studies explore the effectiveness of aloe Vera in treating pain, one suggests that oral aloe Vera intake help to reduce chronic pain.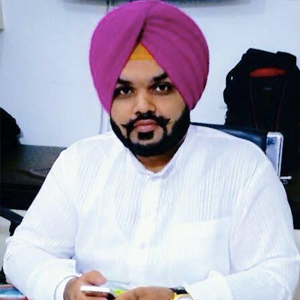 Vaidya Karanvir Singh is the younger Vaidya in Chandigarh Ayurved & Panchakarma Centre. He is the fourth generation in his family who is practicing as a general consultant in Ayurved & Panchakarma treatment at Chandigarh. In his practice, he had treated more than 1000 plus patients worldwide.
Article by Dr. Karanvir Singh (M.D in AYURVEDA, PANCHAKARMA FAGE) and reviewed by Vaidya Jagjit Singh (B.A.M.S)