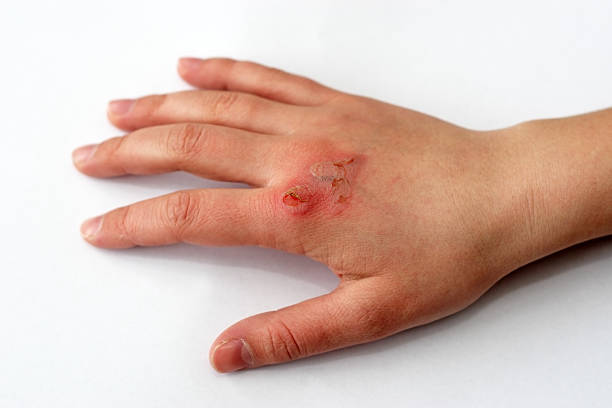 A skin ulcer is an open sore or wound. Any kind of Injury, blood circulation disorders, and prolonged pressure can cause skin ulcers.

Skin ulcers can affect any area of the body. Most commonly seen on the legs, feet, mouth, back and hips.

A small, uninfected wound do not cause much problems and heals with home remedies.

On the other side, medical treatment is required for deep or infected wounds. If treatment is delayed then it can cause potentially fatal complications, especially if the infection has spread to the bloodstream.
Is it contagious?
Skin ulcers and secondary bacterial infections are not contagious. However, bacteria that cause secondary infections, such as bone infections may sometimes spread from one person to another.
Symptoms of skin ulcers
The symptoms of skin ulcers vary widely depending on the type and severity of the wound. Symptoms that are commonly noticed in people include:
Skin discoloration

Itchy skin

Crusty dark brown covering on the wound

Swelling around the wound

Flakes around the wound

Pain or tenderness in the nearby areas

Watery, bloody, or pus-filled wound drainage

A foul-smell from wound

Fever may be present
If a patient presents with foul smelling wound, having pain, high fever, and wound drainage that will indicate an infection. If the wound lasts for more than 3 weeks is almost always infected.
Skin ulcers types
There are mainly four types of skin ulcers. Each one has different causative factor and different symptoms. Skin ulcer types include:
Decubitus (pressure) ulcers
Decubitus ulcers are caused due to continuous pressure or friction on the skin parts.  They're also known as pressure ulcers and pressure sores.

These ulcers are usually seen on bony areas, because the bones place extra pressure on the skin.

Common areas that include pressure ulcers are back, hips, buttocks, ankles, heels.
Venous skin ulcers
Venous skin ulcers are caused due to poor or low blood circulation in the leg veins. They usually found on the legs between the knee and ankle.

About 80 to 90 percent of all leg ulcers are venous leg ulcers.
Arterial skin ulcers
Arterial ulcers occur when poor blood flow is caused by blocked arteries. 

These are commonly found on the lower leg, heels, toes, and feet. These ulcers are usually painful.
Neuropathic skin ulcers
Neuropathic ulcers are caused when there is nerve damage and narrow arteries. They're also called diabetic foot ulcers.

There is no pain in these ulcers because of nerve damage.
Risk Factors Include
Certain factors that can increase the risk of getting a skin ulcer. These are :
Age.

With increased age blood vessels become narrow and due to this blood accumulation occurs in the legs. These factors can increase the risk of skin ulcers.

Limited movement

. Many kind of medical conditions like Joint problems, paralysis, leg injuries and being bedridden cause pressure on the skin that leads to skin ulcers.

Obesity

. Obesity is also one of the factors that can cause skin ulcers as extra weight   increases pressure on the leg veins. Besides, the excess weight can problems with blood flow.

Smoking

. Tobacco smoking hardens blood vessels and causes poor blood flow.

High blood pressure

. High blood pressure gradually damages the blood vessels. This causes problems with blood flow.

High levels of fat in the bloodstream

. Having high levels of fat in the bloodstream cause narrowing of the blood vessels that leads to obstruction in blood vessels.

Blood clotting disorders

. Blood clots that form when the blood is flowing through the body disrupt proper blood flow.
Diagnosis of skin ulcers
Diagnosis is important to treat the condition properly. Several investigations are helpful to diagnose your sore. These may include:
Medical history

. History will help to better understand your symptoms.

Physical examination

. By examining the size and depth of sore and look for blood, fluid, or pus type of sore can be determined.

Blood test

. Blood investigations are helpful to know about the underlying problems.

Tissue or fluid culture.

This is important to know about the type of bacteria is causing your infection.

Imaging techniques

. An X-ray, CT scan, or MRI helps your doctor look at the tissue and bone under the sore.
Treatment options
The primary goal of any skin ulcer treatment is to heal the wound. In any case, treatments aim to reduce pain and swelling, prevent complications, and relieve psychological issues.
Cleansing includes the removal of dead tissue from the wound that is the first step to healing. Then dressing is done, which protects the wound. Some dressings may contain antimicrobial agents that help prevent infection.
Topical antibiotics are used as the primary treatment for skin ulcers. They are applied in the form of gels, ointments and creams. 
Oral antibiotics – If there is not any improvement with topical antibiotics or in severe cases oral antibiotics are provided. 
Pain medications are needed in case of severe pain.
When other treatments fail or not any kind of improvement is seen then surgery is prescribed by doctor. In patients with leg ulcer due to defective veins, surgery may be done to remove the veins from the legs.
Some home remedies that can be used for treating miner skin ulcers
.
These include wash the wound with saline solution, use of compression socks.

Leg elevation is helpful to help blood flow out of your leg.

Application of turmeric paste or honey to the wound.

Lifestyle changes that may speed up recovery include quitting smoking, eating a balanced diet, and staying active.
Ayurvedic treatment for Skin Ulcers
In Modern science, use of medicinal as well as surgical treatment may not give permanent treatment but in Ayurveda you can get the permanent cure from these kinds of conditions. So you should start treatment with Ayurveda natural herbs that will deal with the root cause of disease. Chandigarh Ayurved Centre provides Combination of medications for the natural and safe treatment of skin ulcers are
Medicines used are 
Detox premium powder

Curcumin capsule 

Trikatu syrup

Skin care tablet

Nerve up tablet

Twak tail
For more details you can visit our website 
www.chandigarhayurvedcentre.com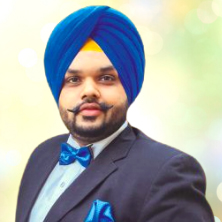 Dr. Vaidya Karanvir Singh is the younger Vaidya in Chandigarh Ayurved & Panchakarma Centre. He is the fourth generation in his family who is practicing as a general consultant in Ayurved & Panchakarma treatment at Chandigarh. In his practice, he had treated more than 1 Lakh Plus patients worldwide.
Article by Dr. Karanvir Singh (M.D in AYURVEDA, PANCHAKARMA FAGE) and reviewed by Vaidya Jagjit Singh (B.A.M.S)