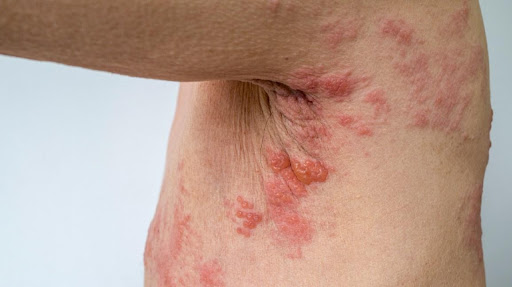 Shingles is also known as herpes zoster. This type of viral infection is leads to a red skin rash that results in pain and burning. Shingles mostly appears as a stripe of blisters on one side of the body, mainly on the neck or face.

Shingles is a viral infection in which a painful rash occur. Shingles is caused by the varicella-zoster virus (that is the same virus that leads to chickenpox). Even after the full treatment of chickenpox when infection gets treated, this virus may live in nervous system for years before reactivating as shingles.

In most of the cases of shingles usually clear up in 2-3 weeks. Shingles rarely seen in the same person if affected once.
Symptoms of shingles
The first symptoms of shingles that are seen in people are pain and burning. The pain is usually on the one side of the body. Then after rash appears. Color of the rash depends upon skin tone. The rash can be red, dark pink, dark brown or purplish. Rashes from shingle
have fluid-filled blisters that may break easily

having red patches

can itch

be on your face and ears
Shingles of the eye
The rash of shingles can affect every part of the body but mainly it follows dermatomes. When shingles affects the eye then this is referred as ophthalmic herpes zoster or herpes zoster ophthalmicus.

In ophthalmic herpes zoster, blistering rash may appear on your eyelids, forehead, and sometimes on the tip or side of your nose.
Patient may experience symptoms such as:
Swelling and redness in the eyes

Burning sensation or throbbing pain in the eye

Redness and tearing

Blurred vision

Pain can persist in your eyes even after rash disappears due to nerve damage. The pain eventually gets better for most people.
Shingles of the eye can be responsible for the serious problems that include vision loss and permanent scarring in the cornea due to swelling if not treated well
Shingles on your back
Shingles rashes oftenly affect the one side of your body; a stripe of blisters is noticed on one side of back or lower back.
Shingles on your buttocks
Shingles rash also occur on your buttocks.  Rashes may occur on one buttock but not the other. Patient may experience symptoms like tingling sensation, itching or pain.
Shingles causes
Shingles is infection that is caused by the varicella-zoster virus. If you've history of chickenpox in past, you can develop shingles when this virus reactivates in your body.
How contagious is shingles?
Shingles is not contagious, but the virus varicella-zoster that causes it can be spread to one person to another who hasn't had chickenpox, and they could develop the disease. You can't get shingles from the person who suffered from shingles, but you can get chickenpox from that person.

The varicella-zoster virus is not airborne. This cannot spread through coughing or sneezing or by sharing drinking glass or any utensils of affected persons.

The virus spread when someone comes into contact with an oozing blister. If the blisters are covered or scab formation occurs then this condition is not contagious.
Shingles diagnosis
Shingles can be diagnosed by doing physical examination of rashes and blisters. Medical history also plays a role in making diagnosis.

In some cases, your doctor takes sample of your skin or the fluid from your blisters and tests.
Shingles treatment
There's no cure for shingles, but treatment can help to prevent complications and better recovery. Doctor may prescribe medications to treat the symptoms and infection.
Medications
The medications that are usually prescribed may vary from person person , Commonly used medicines  include 
| | | | |
| --- | --- | --- | --- |
| Type | Purpose | Drug frequency | Method |
| antiviral medications, including acyclovir, valacyclovir, and famciclovir | to reduce pain and speed recovery | 2 to 5 times daily, as prescribed by your doctor | Oral |
| anti-inflammation drugs, including ibuprofen | to ease pain and swelling | every 6 to 8 hours | Oral |
| Narcotic medication or analgesics | To reduce pain | Once or twice daily | Oral |
| anticonvulsants or tricyclic antidepressants | To treat prolonged pain  | Once or twice daily | Oral |
| numbing creams, gels, or patches, such as lidocaine | to reduce pain | applied as needed | Topical |
| Capsaicin | To reduce the risk of nerve pain | Applied as needed | Topical |
Shingles mostly clears up within a 2-3 weeks and rarely recurs. If symptoms have not decreased within 10 days, you should consult your doctor for a follow-up. 
Risk factors for shingles include:
Emotional stress

A weakened immune system

Aging

Undergoing cancer treatments or major surgery
Shingles home remedies
Home treatment can help ease your shingles symptoms. These remedies include
Application of cold, wet compresses on the rash to reduce pain and itching

Taking cool baths or showers to clean  your skin

Applying calamine lotion to reduce itching

Taking foods with:

vitamin A

vitamin B12

vitamin C

vitamin E

Taking supplements that strengthen your immune system
Shingles complications
When symptoms of shingles are not managed well then these leads to many kind of complications. These complications include:
Bacterial skin infections, that can occur from open blisters and can be severe.

Eye damage, can occur if you have a rash or blister too close to your eye (the cornea is particularly vulnerable)

Pneumonia

In severe case brain or spinal cord inflammation can occur like encephalitis or meningitis, that are serious and life threatening
Preventing shingles
Vaccines can help to keep you away from developing severe shingles symptoms or complications from shingles. So it is must for every child that he should receive two doses of the chickenpox vaccine, also known as a varicella immunization. 

Adults who are 50 years or older than 50y, they should get a shingles vaccine, that is varicella-zoster immunization. This vaccine is helpful to prevent severe symptoms and complications that occur with shingles.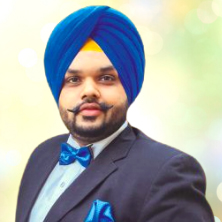 Dr. Vaidya Karanvir Singh is the younger Vaidya in Chandigarh Ayurved & Panchakarma Centre. He is the fourth generation in his family who is practicing as a general consultant in Ayurved & Panchakarma treatment at Chandigarh. In his practice, he had treated more than 1 Lakh Plus patients worldwide.
Article by Dr. Karanvir Singh (M.D in AYURVEDA, PANCHAKARMA FAGE) and reviewed by Vaidya Jagjit Singh (B.A.M.S)