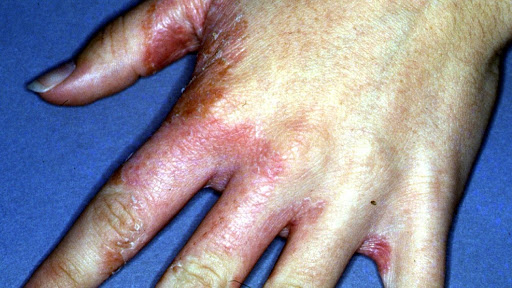 Tinea manuum is the fungal infection of hands. The word tinnea means ringworm and mannum is for hands, so basically tinea manuum is the ringworm of hands. When this kind of infection occurs on feet then this is known as tinea pedis.

In Tinea manuum (ringworm of the hands) red and scaly rash occur which have a raised border. These rashes begin as a pruritic, circular or oval, erythematous patch or plaque with some scaling.

Body parts that can get affected  with tinea or ringworm. Those parts include: hands, feet, groin, scalp, beard ,toe nails and finger nails

This is a contagious condition. This rash spreads outwards and having a flat center appearance and healthy skin is surrounded by raised border. This further results in the occurrence of ring-shaped rashes sometimes which can combine. Pus-filled bumps may also be noticed sometimes. 
Causes Of tinea manuum
Tinea manuum is caused by a dermatophyte infection that is one kind of fungi. Infection is usually spread through direct contact with the causative organism.
Any individual can be affected by this common condition. There is a greater prevalence in the following individuals:
Past dermatophyte infections

Those that use public showers

Those who sweat excessively

Those that frequently engage in gardening and yard work

Those who handle or are around animals frequently

Those who play sports in which there is close contact with skin
There are number of causes for tinea. 
As tinea is contagious condition , so one can easily get it by making contact with the skin of someone with the fungus. 

This infection can spread from some animals, including dogs, cats, cows, and hedgehogs. 

One can even get tinea from contaminated soil. 

Wearing tight cloths or shoes, especially on sweating, can make you more prone to tinea.
Symptoms
Symptoms of tinea manuum that are commonly noticed in patients include
The infection normally start small and gradually become larger over time.

The infection starts from the palm of the hand and may spread to fingers and the back of hand.

The area affected with this infection have itchy, red, and scaly appearance.

The infected area may also peel and flake.

Tinea manuum usually occur on one hand and both feet. Depending on the type of fungus that is causing the tinea, there may also blister formation that contain a clear liquid.
How is it diagnosed?
This condition is diagnosed by using several different methods. 
Mainly involved taking history of patient and doing examination.

Examination of scales from the infected area under a microscope is done to diagnose tinea. 

This condition is also examined by taking a culture of a sample of the infected skin. 
Treatment of   tinea manuum
Tinea mannum is treated by using a number of OTC topical medications. These medications include miconazole (Lotrimin), terbinafine (Lamisil), and others. 

When this infection is not get treated by topical medications and in severe cases oral medications are also prescribed.

This condition generally gets resolved after 3-4 weeks of treatment. But in people with a weakened immune system or medical conditions such as diabetes, tinea manuum will take longer to resolve.
Other treatment Options
Use of Topical keratolytics such as salicylic acid combined with antifungal treatment in those with hyperkeratotic tinea manuum

Burow's wet dressings (1% aluminum acetate or 5% aluminum subacetate) may be applied for 20 minutes 2-3 times a day.
Differential diagnose of Tinea manuum
Hand dermatitis: This condition affects both hands and is more  itchier than Tinea Manuum.
Psoriasis: In this there is occurrence of red patches on skin. These patches are silvery and but do not have an annular (ring-like) appearance.
Exfoliative Keratolysis: This condition mainly affects the palms of your hands and produces blisters that peel.
Preventative measures
As this condition can easily spread so it is very important to follow some recommendations to avoid any kind of infection or to limit the spread:
Do not share your cloths, sports equipment, or towels with others.

Avoid taking showers at public places like gym, local pool, or other public areas.

Keep your body clean. Use soap and shampoo after any sport involving skin-to-skin contact.

Always dry yourself completely after bathing. Keep skin clean and dry. 

Avoid contact with animals. Take your pet to the vet if you notices any patches of missing hair or a rash. That may be a sign of a tinea infection.

Consult with doctor if anyone in your family has fungal infection.
AYURVEDIC TREATMENT OF TINEA MANNUM
Chandigarh Ayurved centre provides effective Ayurvedic treatment of this skin condition. CAC provides a kit named 'Fungal care kit'. This kit contains medications that are very effective to treat any kind of fungal infection.
Description of medicines
Detox Premium Powder:
Detox premium powder is a very effective ayurvedic medicine to cure blemishes as it purifies the whole body by removing excess toxins from the body. The powder is composed of shukta pishti, giloy satv, gandhak rasayan, moti pishti, akik pishti, shankh bhasma, etc. The ingredient reduces all the signs and symptoms associated with the blemishes.
Twak Churana:
This herbal powder is prepared from two herbs Manjistha (Rubia cordifolia) & Chopchini (Smilax malabarica) that in combination reduces uneven pigmentation. Manjishtha mainly helps in deep detoxification and blood purification. It can also be used for hand lotion to treat dry, cracked hands, or feet. This herbal powder is good for dry skin, rashes, acne. This powder is used in infectious conditions like, eczema, pimples, and chronic skin disorders.
Twak Tailam:
Twak tailam is very effective for the skin as it deeply nourishes the tissues and improves the skin luster. The tailam is composed of yashtimadhu (Glycyrrhiza glabra), manjistha (Rubia cordifolia), etc. The tailam supports skin health, helps in reducing uneven pigments, improves complexion, and helps in deep detoxification and blood purification without any side effects.
Skin care tablet:
Skin care tablet is a pure ayurvedic formulation. It help to maintain the texture of your skin depending on the type of skin you have. Skin care is a blood purifying tablet. It cools and detoxifies the blood, increase blood circulation of the skin. 
Itch Care Tablet:
Itching is related to various skin problems like dermatitis, fungal infection or irritates such as nickel in jewelry, infected cut. Chronic skin condition like psoriasis, acne and due to internal conditions like blood, lungs and liver. 
Handmade Neem Soap:
Neem leaves are rich in Vitamin-E, Fatty acids & emollients. It is such a wonderful herb that is easily available and shows Anti-bacterial, Anti-inflammatory, Antioxidant, Anti-microbial, Antifungal, Antiseptic properties. Neem cleanses the pores and protects the skin from various infections, Psoriasis, Eczema etc.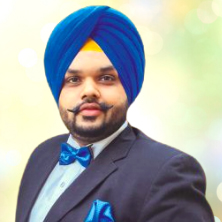 Dr. Vaidya Karanvir Singh is the younger Vaidya in Chandigarh Ayurved & Panchakarma Centre. He is the fourth generation in his family who is practicing as a general consultant in Ayurved & Panchakarma treatment at Chandigarh. In his practice, he had treated more than 1 Lakh Plus patients worldwide.
Article by Dr. Karanvir Singh (M.D in AYURVEDA, PANCHAKARMA FAGE) and reviewed by Vaidya Jagjit Singh (B.A.M.S)