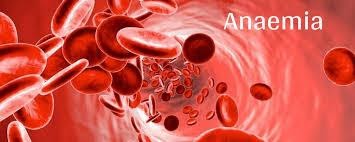 WHAT IS ANAEMIA?
Anaemia is the medical term for the condition of decreased hemoglobin percentage. It means, there are not enough healthy red blood cells (RBCs) to carry oxygen to your body's organs. The hemoglobin count in an individual's body falls below its normal level of 15gm/100ml (in female) and 17 gm/100ml (in male) of blood. It causes shortness of breath, fatigue, palpitation and weakness.
AYURVEDIC ASPECT OF ANAEMIA-
In ayurveda science, anaemia is known as "Pandu Roga". naemia is a disease that typically imbalances. The pathology of Anaemia disease finds its roots in the imbalances Agni of the body (Digestive fire) , low digestive activity leads to the formation of Ama (Toxin). This disruption is caused by pitta that is circulated around the body by aggravated vata.
NUTRITION AND ANAEMIA-
Anaemia caused by lack of vital nutrients include-
Vitamin B12

Iron 

Vitamin A

Folic acid
SIGN AND SYMPTOMS-
Dizziness or weakness

fatigue

Headache.

Tongue swelling and soreness

Chest pain

Dyspnea on exertioN

Pale or yellowish skin 

Cold feet and hands

Dry skin or easily bruised skin.

Irregular  heartbeat(palpitation)

Unintended movement in the lower

leg (

restless legs syndrome

)
TYPES OF ANAEMIA
Iron Deficiency Anaemia

Thalessemia

Vitamin Deficiency Anaemia

Aplastic Anaemia 

Sickle Cell Anaemia
CAUSES OF ANAEMIA-
Red blood cell loss
Sudden bleed from trauma

Bleeding from gastrointestional system e.g. ulcers.
Red blood cell destruction
Immune mediated body attacks the red blood cells

Destruction from any  infection or parasites
Inadequate production of red blood cell
Iron deficiency

Folic acid deficiency

Anaemia of chronic diseases

thalassemia
Decreased red blood cell production
Bone marrow diseases

Cancer disease

Kidney diseases

Other chronic disease
RISK FACTERS OF ANAEMIA
A diet lacking in certain vitamins and minerals

Frequently donating blood

Family history

Intestional disorders

Malnourishment

Menstruation

Pregnancy

Chronic diseases

Heavy alcohol intake

Age 
DIAGNOSIS-
A test to determine the size and shape of your red blood cells.

Complete blood count (CBC)

Reticulocyte count

Peripheral smear
MANAGEMENT OF ANAEMIA –
Treatment for iron deficiency anemia is usually involves taking iron supplements and changing your diet plan. Iron supplements can help to restore the iron levels in your body. If the cause of iron deficiency is loss of blood then 

blood transfusion

 can replace iron and blood loss quickly.

Treatment for Vitamin deficiency anemia (folic acid and vitamin C deficiency) involves dietary supplements and increasing these nutrients in your diet

.

There's no specific treatment for 'Anemia of chronic disease'. Doctors focus on treating the underlying disease. 

Treatment for Aplastic anemia can include blood transfusions to increases levels of red blood cells. You might need a bone marrow transplant if your bone marrow can't make healthy blood cells.

Treatment of these Anemias associated with bone marrow disease can include medication, chemotherapy or bone marrow transplantation.

Treatment for hemolytic anaemias includes avoiding suspect medications, treating infections and taking drugs that suppress your immune system.

Sickle cell anemia treatment might include oxygen, pain relievers, and oral and intravenous fluids to reduce pain and prevent complications. Doctors might also recommend blood transfusions, folic acid supplements and antibiotics.

Most forms of thalassemia are mild and require no treatment. More severe forms of thalassemia generally require blood transfusions, folic acid supplements, and medication, removal of the spleen, or a blood and bone marrow stem cell transplant.

If anaemia is left untreated, the risks of developing complications that affect the heart and the lungs get higher.
AYURVEDIC FORMULATIONS FOR ANAEMIA-
Navayasa loha churna

Saptamrita loha churna

Bhringraja asava

Lohasava

Kumaryasava

Dhatri loha

Draksharishta 

Mandoora vataka

Ayaskrutu

Mandooradyarishta

Punarnavashtaka kwatha

Drakshadyavaleha 
SINGLE DRUGS IN ANAEMIA-
Amalaki

-Emblica officinalis

Bhringraja

-Eclipta alba

Punarnava

– Boerhavia diffusa

Pippali-

Piper longam

Draksha-

Vitis vinifera

Musta

-Cyperus rotundus

Haritaki

-Terminalia chebula

Vidanga

-Embelia ribes

Giloy-

Tinospora cordifolia

Kumari

– Aloe vera

Shaunthi-

Zingiber officinale

Shatavari

-Asparagus racemosus

Shilajit-

Asphaltum punjabinum
BEST HOME REMEDIES FOR ANAEMIA
Soak one to two tablespoonfuls of fenugreek (Methi) seeds overnight. Add these to a handful of rice and cook in the pressure cooker. Add salt to taste. Eat methi rice daily for a month.

Mix 1/2 a cup of apple juice with 1/2 a cup of beetroot (chukandar) juice. Add a tsp of honey and shake well. Drink this juice twice daiy.

Soak black sesame (Tila) seeds in warm water for 2-3 hours then grind it to make a paste and add honey or jaggery (gur) to it. Mix well. Drink it daily with milk.

Consume fresh pomegranate (Anar) daily because it boosts blood count.

Have one or two bananas every day. It promotes the production of hemoglobin in the blood.

Amla (Indian Gooseberry) and red beetroot juice should be taken daily. It strengthens the body, reactivates red blood cells and supplies the body with fresh oxygen.
CAC  Anemia Care Kit
KUTKI CAPSULES- Take one capsule twice daily.

DETOX PREMIUM SACHET- Take one sachet twice daily.

NONI CAPSULES- Take one capsule twice daily

PLATEFER TABLET- Take one tablet twice daily

Power BLOOD SYRUP- Take 2 Teaspoon twice daily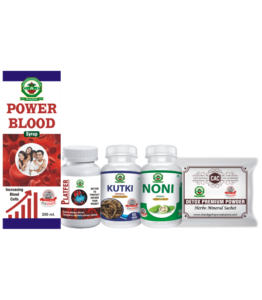 ANEMIA CARE KIT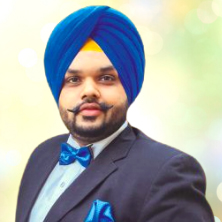 Dr. Vaidya Karanvir Singh is the younger Vaidya in Chandigarh Ayurved & Panchakarma Centre. He is the fourth generation in his family who is practicing as a general consultant in Ayurved & Panchakarma treatment at Chandigarh. In his practice, he had treated more than 1 Lakh Plus patients worldwide.
Article by Dr. Karanvir Singh (M.D in AYURVEDA, PANCHAKARMA FAGE) and reviewed by Vaidya Jagjit Singh (B.A.M.S)