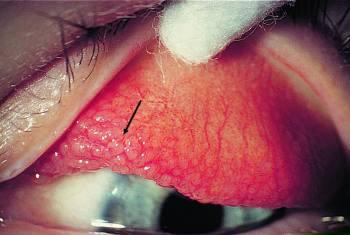 ATOPIC KERATOCONJUNCTIVITIS
OVERVIEW
Atopic keratoconjunctivitis is a chronic inflammatory condition of the eye. 

In atopic keratoconjuncitivitis, the conjunctiva of the eyelids gets swollen and red. The lower lid is more commonly affected than upper eyelid.

Atopy is the reason of its occurrence. It is a genetic condition in which immune system produces more than normal antibodies in response to a given allergen.

It can occur in any part of the year but it most commonly affects in winter. It is a perennial disease.

It is more commonly seen in males than females. It appears during adolescence and adulthood.

If not treated, it can lead to scarring, ulceration, keratoconus, cataract and corneal vascularization.
CAUSES OF ATOPIC KERATOCONJUNCTIVITIS
Atopic keratoconjunctivitis is a genetic disease in which immune system of the body gets overactive.

Due to this atopy occurs. Atopy leads to an excessive production of antibodies in response to an allergen. 

It causes inflammation of the inner lining of eyelids and surface of the eyes.
RISK FACTORS OF ATOPIC KERATOCONJUNCTIVITIS
There are several factors which increases a person's chances of developing the disease. These risk factors:
Family history of atopic keratoconjunctivitis

Personal history of atopic dermatitis

Patient is suffering from asthma

Personal history of eczema
SYMPTOMS
A person with atopic keratoconjunctivitis develops the following symptoms:
Increased sensitivity to light

Burning sensation in eyes

Itching

Hardened and discolored eyelids

Tearing sensation

Blurred vision

White discharge from eyes

Reddish color of eyes
DIAGNOSIS
A doctor will begin the diagnosis by taking patient's medical history. He will ask him about the signs and symptoms of the disease.

He will ask about his family history. 

He will do physical examination of the patient's eyes.

He may also carry out a conjunctival biopsy.
TREATMENT
The treatment of atopic keratoconjunctivitis involves the following:
Topical antihistamines

Oral antihistamines

Mast cell stabilizers
AYURVEDIC TREATMENT OF ATOPIC KERATOCONJUNCTIVITIS
According to Ayurveda, eye is the site of pitta dosha. Atopic conjunctivitis is caused due to imbalance of pitta and kapha dosha. It thus causes redness, watery discharge, itchiness, etc. in eyes.

It is called

Abhishyanda

in Ayurveda.
Following are the home remedies for the treatment of atopic keratoconjunctivitis:
1. COLD COMPRESS
Cold compress provides immediate relief to the patient.

It reduces swelling and itchiness in eyes.

Do it 4-5 times in a day.
2. SALINE SOLUTION
Wash your eyes with saline water is a very good treatment for atopic conjunctivitis.

Saline water is prepared by mixing salt with water.

It helps in reducing irritation and inflammation in eyes.
3. ROSE WATER
Rose water is anti-inflammatory in nature. It has soothing properties. 

Pour 2-3 drops of rose water in eyes.

It minimizes inflammation in eyes.
4. ALOE VERA GEL
Aloe vera is rich in aloin and amodin components. These have antibacterial and antiviral properties.

It heals allergic conjunctivitis due to any foreign substance.

Apply aloe vera gel around the infected area. It speeds up the healing process against allergy.

It doesn't have any bad effect on cornea of the eyes.
5. TURMERIC
Turmeric is known since times immemorial for healing properties.

It is a very good anti-inflammatory agent and thus reduces redness in eyes.

It has antibacterial properties and cures infection in eyes.
6. CHAMOMILE TEA
Chamomile tea is used as eyewash or as a cold compress.

It gives relief from itching and swelling.

It is having anti-microbial properties and thus good for allergic conjunctivitis.
CHANDIGARH AYURVEDA CENTRE'S MEDICATIONS

Here are some of the medications of Chandigarh Ayurveda Centre's medications which are used for the treatment of atopic keratoconjunctivitis:
1. TRIPHALA GUGGULU
Triphala guggulu is a traditional Ayurvedic herbal formulation consisting of the dried fruits of three medicinal plants –Haritaki (Terminalia chebula), Amalaki (Emblica officinalis), and Bibhitaki (Terminalia bellirica). 

Triphala can correct the imbalance of doshas as well as bring them to normalcy along with a specific vision promoting effect. 

It helps in the conjunctivitis. 

Triphala is very beneficial for the improvement of eye vision, relieves the headache, eye strain, burning sensation in the eyes etc.
Recommended Dose – 1 tablet twice a day with normal water
2. DETOX PREMIUM POWDER
The powder contains a combination of natural and pure herbs which is the best remedy for the treatment of all eye problems.

This mixture contains ingredients such as – Tal sindoor, Gandhak rasayan, Akik pishti, Jahar mohra, Moti pishti. 

The powder is used for the treatment of eye floaters and eye infections.

It helps to treat cloudy vision, blurred vision, difficulty in seeing in the dark, fuzzy spots etc.
Recommended Dose –1 sachet twice a day with normal water
 3.
AMRIT TULSI RAS
This herbal preparation is in drops form prepared from five types of Tulsi. Shama Tulsi (Ocimum sanctum), Rama Tulsi (Ocimum gratissimum), Kapoor Tulsi (Ocimum canum), Shwet Tulsi (Ocimum basilicum), Nimba Tulsi (Ocimum citriodorum) that provides good result in all allergic reactions. 

This is effective in Dry eye, eye infection and conjunctivitis.
Recommended Dose – Two to three drops twice a day
 4. ROSHANI EYE DROPS
Roshani eye drop is pure Ayurvedic formulation used in problems like frequent travel, work on a computer, and lack of sleep. 

This eye drops contains herbal ingredients like Nimba (Azadirachta indica), Bhringraj (Eclipta alba), Punarnava (Boerhavia diffusa), Haritaki (Terminalia chebula), Shwet Chandan, Rakta chandan, Tulsi (Ocimum sanctum), Haridra( Curcuma longa), Gulab (Rosa damascena), Adrak (Zingiber officinale), Bahera (Terminalia bellirica), Pudina (Mentha spicata), Saindhavan lavan, Phitakari, etc. 

This eye drop soothes up the eyes, prevents infections and clears off particles in the eyes, improves vision. 

This eye drop is beneficial in diseases like conjunctivitis, double vision, night blindness, cataract or glaucoma, etc.
Recommended Dose – put one drop in each eye in the morning and at bed time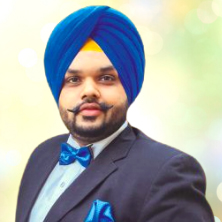 Dr. Vaidya Karanvir Singh is the younger Vaidya in Chandigarh Ayurved & Panchakarma Centre. He is the fourth generation in his family who is practicing as a general consultant in Ayurved & Panchakarma treatment at Chandigarh. In his practice, he had treated more than 1 Lakh Plus patients worldwide.
Article by Dr. Karanvir Singh (M.D in AYURVEDA, PANCHAKARMA FAGE) and reviewed by Vaidya Jagjit Singh (B.A.M.S)