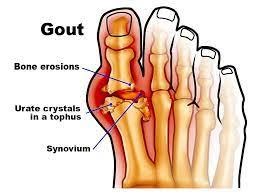 AYURVEDA TREATMENT FOR URIC ACID
INTRODUCTION-
When the human body breaks down the chemicals called purines, it produces uric acid. Purines are found naturally in the human body. Normally, uric acid gets dissolved and gets released out of our body through urine. But if the body is producing too much uric acid or if the body is not excreting enough uric acid, it starts accumulating in the body. This results in the formation of sharp needle like crystals which accumulates around the small joints. Accumulated crystals cause swelling inflammation, and pain and this condition is known as gout.
PRE-MONITORY SIGNS AND SYMPTOMS (POORVAROOPAM)-
Excesive or absence of sweating.

Discolouration (Blackish) of the joints. 

Sparshagytatawam and Supti: Insensibility to touch and numbness in the affected joints.

Excessive pain if there is injury to the afflicted part.

Itching over the joints. 

Burning sensation in the affected part.

Looseness of the joints.

feeling of  tiredness or laziness 

Pricking pain, twitching sensation, splitting pain, heaviness and numbness in the knees, calf region, thighs, umbilical region, shoulders, hands, feet and other joints in the body.

Appearance of circular patches in the body.

Intermittent claudication

sudden disappearance and appearance of pain
CAUSES-
Production of excess uric acid

Reduced Excretion of uric acid from the body.

Hereditary

Medications Intake of diuretics, aspirin, blood pressure lowering medications, cyclosporine, etc for a longer period often results in high levels of uric acid. 

Sedentary life style.

Lack of exercise or physical inactivity. 
CLASSIFICATION OF VATARAKTA-
Vatarakta has 3 different classifications in Ayurveda as follows-
Uttana Vatarakta (superficial) 

Gambhira Vatarakta (deep) 

Ubayasrita Vatarakta
DIAGNOSTIC CRITERIA –
A detailed history taking

Physical examination

Blood examination

Joint fluid test

X-ray

ultra sonography

dual energy CT scan
COMPLICATIONS-
Dyspnoea or difficulty breathing 

Tastelessness and excessive thirst 

 stiffness in the head,  fever and state of confusion 

Wasting of muscles and trembling 

Giddiness and mental fatigue 

Damage to vital parts 

 prana kshaya: diminution of general wellness

Indigestion necrosis of the tissue 

Paraplegia 

Cellulites 

Suppuration 

Pricking pain and burning sensation

Disfigurement of the digits 

Eruptions 

Insomnia 

Highly coloured and scant urine  (very rarely in few patients)
 MANAGEMENT OF VATARAKTA IN AYURVEDA-
 Since vatarakta is caused by vitiation of vata and rakta dosha. For treating vatarakta, Ayurveda recommends Vata hara and Rakta prasadaka measures. Treatment of vatarakta can be classified into 3 stages: 
Shodana/purification therapies

Shamana/Pacifying therapies 

Rasayana/Rejuvenating therapies
1.SHODANA CHIKITSA-
Shodhana is a purification therapy. In this procedure, aggravated Doshas are expelled out from the body and restores the equilibrium of Dosha.  
 RAKTAMOKSHANA (BLOOD-LETTING) 
Blood-letting is considered to be the first line of treatment in severe cases of Raktavata.

The aggravated vata creates obstruction to the channels of rakta in the afflicted regions.

Bloodletting is most effective method to remove these obstructions. 

Bloodletting using leeches is a common elimination therapy in Ayurveda. 

Frequent raktamokshana in smaller amounts is done here. 
VIRECHAN/PURGATIVE THERAPY-
Snehapana- Internal administration of medicated oil or ghee is done here. 

This is done prior to other elimination therapies in order to prepare the body for the elimination. After the body is properly oleated, purgation is induced in the patient.

Mrdu virechana (soft purgation) is indicated in vatarakta patient.

Virchaka aushadh-Eranda taila, avipatikar choorna, etc.
 VASTI KARMA (ENEMA THERAPY)-
Vasti is considered as the ideal treatment for vata dosha.
 Type- 2 type
1. Asthapana  Vasti-
It is known as niruha or yapana basti.
In this procedure, vatashamaka and pitashamaka medicated decoctions are administered into anal canal. E.g.-Ksheera vasti 
 2.Anuvasana Vasti–
 Administration of medicated oils for enema which is vatahara and pittahara in nature.
 E.g Balataila, madhuyasti taila, ksheerabala taila, etc.
2. SHAMANA CHIKITSA-
The extremely aggravated doshas are eliminated by shodhana therapy and remaining doshas are pacified here. 
Palliative is further classified to
Dhanyamladhara

Kashayadhara

Choornapinda Sweda

 Patrapinda Sweda

 Vestana

 Pradeha

Abhyanga( Pinda taila, madhuyasti taila, bala taila, ksheerabala taila, etc. are used)
Kashayam-
Kokilaksha kashayam

Patolakaturohinyadi kashayam

Manjistadi kashayam

Tiktakam kashayam
Tablets-
Amrita Guggulu

Kaishora Guggulu

Punarnavadi Guggulu
 Choorna –
Avipathi choorna

Hinguastakam choornam

Amrita choornam

Shaddharanam choornam
  Asavaristas–
Dashamoolarista

Dathryarista, asokarista
3. RASAYANA CHIKITSA-
Rejuvenating treatments provides nourishment to the joints. Also they restore the natural strength and vitality of the body. 
A. BAHYA CHIKITSA (EXTERNAL)-
 Shastika shalipinda Sweda-
 In this procedure, Shastika shaali rice is prepared in milk processed with herbal medicines is made into poultices (upanaha) and rubbed on the affected body part, this gives nutrition and strength to the region.
Uro, Greeva, Kati or Janu Vasti- 
Involves specially prepared warm herbalaised oil being poured and retained inside flour dough boundary kept in the thorax, back of neck, lower back, knees, respectively for 40 to 45 minute. 

It gives strengths the muscles and connective tissue.

Basti lubricates the joints and also makes them more flexible. 

Dhanwantaram tailam, Mahanarayanatailam can be used.
 Nasyam-
In this procedure, medicated oils are administered into both nostrils. 

Nasya karma improves the functioning of the nervous system

E.g.- Ksheerabala taila, Anutailam etc.
 Parisheka-
A procedure in which warm made out of specific herbs is poured with a specific vessel from a certain height in rhythmic manner and is rubbed into the body.

Again act as nourishing in nature.
B. ABHYANTARA CHIKITSA-
Grithayogas (Ghee) such as guduchigruta, satavatigruta, amruthaprasham etc. can be used.

Avalehas such as chyavanaprasam, mudhusnuhirasayanam

Vardhamana pippali Rasayana is an ideal choice in vatarakta.
BEST HERBS FOR VATARAKTA–
Kokilaksha (Asteracantha longifolia)

Guduchi (Tinospora cordifolia) 

Hareetaki (Terminalia chebula) 

Aragwada (Cassia fistula)

Ashwattha (Ficus religiosa) 

Trivrit (Operculina turpethum) 

Shunti (Zingiber officinale)

Guggulu (Commiphora mukul)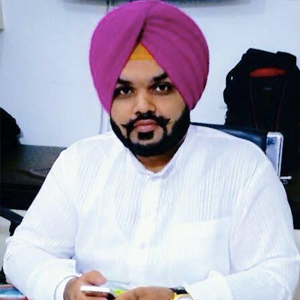 Vaidya Karanvir Singh is the younger Vaidya in Chandigarh Ayurved & Panchakarma Centre. He is the fourth generation in his family who is practicing as a general consultant in Ayurved & Panchakarma treatment at Chandigarh. In his practice, he had treated more than 1000 plus patients worldwide.
Article by Dr. Karanvir Singh (M.D in AYURVEDA, PANCHAKARMA FAGE) and reviewed by Vaidya Jagjit Singh (B.A.M.S)