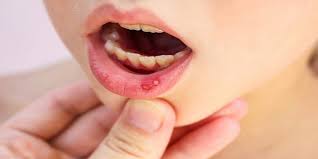 AYURVEDIC TREATMENT FOR MOUTH ULCERS
DEFINITION OF MOUTH ULCER
–
Mouth ulcer occurs on the mucous membrane of the oral cavity. Mouth ulcer cause loss or erosion of part of the delicate tissue that lines the inside of the mouth
CAUSES
–
The exact cause of mouth ulcers is still unknown and varies from person-to-person. There are some common causes and factors that may aggravate mouth ulcers including:
Quitting smoking

Citrus fruits and foods with spice

Biting the tongue or inside of the cheek

Braces, poor-fitting dentures and apparatus that may rub against the mouth and gums

A deficient filling

Stress or anxiety

Hormonal changes during pregnancy, puberty, and menopause

Medications including beta-blockers and pain killers

Genetic factors

Ulcers also occur as a result of a different medical condition or nutritional deficiency.

Celiac disease, Crohn's disease, iron deficiency or weakened immune system. 
TYPE OF MOUTH ULCERS
There are three main types of mouth ulcers include:
Herpetiform ulceration (HU) –

These ulcers are a subtype of aphthous ulcers and resemble with herpes. This type of ulcers is not contagious and recur quickly.

Minor ulcers –

Minor ulcer range in size from about 2 mm up to 8 mm. These ulcers typically take up to 2 weeks to get better and cause minor pain.

Major ulcers –

Major ulcers are irregular in shape and bigger in size than the minor ulcers. These ulcer may be raised and penetrate deeper into the tissue than minor ulcers. They can take several weeks to go away and leave scar tissue when they clear.
SIGN AND SYMPTOMS
Extreme pain in the mouth

Recur very quickly but infections seem continuous

Increase in size and coming together to form a large, ragged ulcer

Take time to heal

Occur anywhere in the mouth
FACTORS THAT TRIGGER MOUTH ULCERS
There are some certain factors that trigger mouth ulcers include:
Minor mouth injury during dental work, hard brushing, sports injury, or accidental bite

Toothpastes and mouth wash that contain sodium lauryl sulfate

Acidic foods like strawberries, citrus, and pineapples, and foods like chocolate and coffee.

Lack of essential vitamins in food like B-12, zinc, folate, and iron

Allergic response to mouth bacteria

Dental braces

Hormonal changes during menstruation

Emotional stress or lack of sleep

Bacterial, viral, or fungal infection
HOW TO TREAT MOUTH ULCERS ITSELF
DO'S
Use a soft-bristled toothbrush

Drink cool drinks through a straw

Eat softer foods

Get regular dental check-ups

Eat a healthy, balanced die
DON'T
Don't eat very spicy, salty and acidic food

Don't eat rough and crunchy food such as toast or crisps

Do not drink very hot or acidic drinks such as fruit juice

Do not use chewing gum

Do not use toothpaste containing sodium lauryl sulphate
AYURVEDIC TREATMENT FOR MOUTH ULCERS –
Ayurveda provides the best treatment for mouth ulcer. The various herbs mentioned in Ayurveda helps to relieve pain, inflammation, and burning sensation in the mouth. There are many herbal remedies that give fast relieve from ulcers and also removes the associated pain. Chandigarh Ayurveda Center provides best way to cure mouth ulcers by using the "Mouth ulcer care kit". This kit contains pure herbs that heal the ulcers quickly. Products include in this kit are: Detox premium powder, Panchsakar churna, Rama tail, Trikatu tablet, Panchtikta ghrita guggulu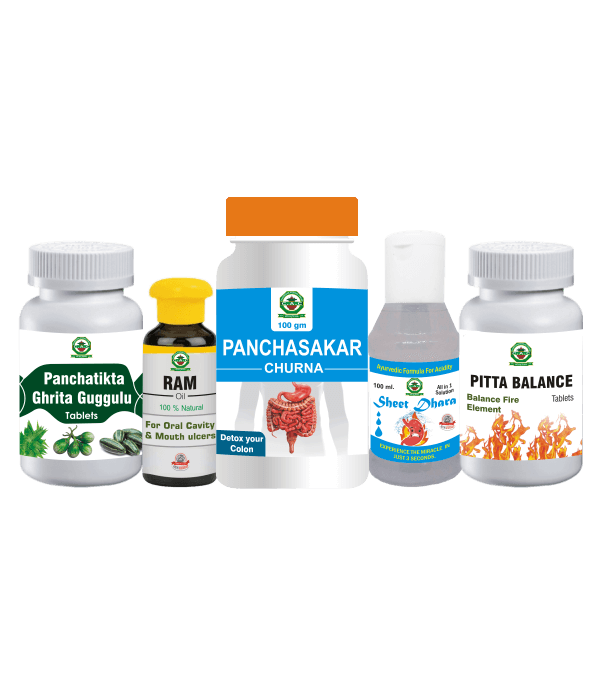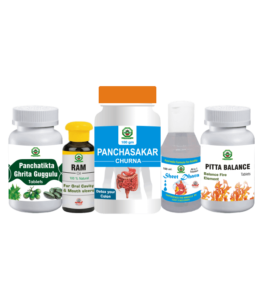 Mouth Ulcer Care Kit
Panchatikta Ghrita Guggulu –

The tablet cures almost all the oral problems by pacifying aggravated doshas and helps in recovering the normal skin The tablet is composed of Shuddha guggulu (Commiphora mukul), Neem (Azadirachta indica), Amrita (Tinospora cordifolia), Gajapippali (Piper chaba), Shunthi (Zingiber officinale), etc. The tablet is Tridoshahara, thus is very effective in maintaining the hormonal level in the body. It thus helps in the healing of the ulcers natural. 
Recommended Dosage – Take two tablets twice a day with normal water
Sheet Dhara –

CAC Sheet Dhara is herbo mineral and purely ayurvedic formulation. It works on all the three doshas of body but mainly act on pitta dosha. It contains Ajwaion, Kapur (camphor) and Mint leaves that help reduce Acidity and burning sensation in chest region with its cooling effects. It relaxes your mind also maintains Blood pressure. CAC Sheet dhara help in controlling mood swings by which many women are affected nowadays. It also controls burping, nausea and bloating. 
Recommended Dosage: Take 1/2 or 1 teaspoon of sheet dhara twice daily empty stomach.
Panchasakar churna –

Panchsakar churna is very effective as it shows antioxidant, anti-inflammatory, laxative, & analgesic properties. It is a classical herbal churna prepared from ingredients like Shatapushpa, Balaharitaki, Shunthi, Swarnapatri, & Saindhav lavana. This herbal churna helps in removing all toxins from the body & provides good results. As in mouth ulcers, patient constipation is seen so the use of this churna gives effective results.
Recommended Dosage: Take 1 teaspoonful at bedtime with lukewarm water
Pitta Balance Tablet –

Pitta doshas is responsible for digestion, metabolism, blood quality, thirst, appetite, eyesight, skin color and quality, body temperature, and mental abilities of intelligence and courage. Pitta doshas is composed of a fire element that digests almost everything that a person eats or drink. The eaten food is transformed into energy for the body to use in various functions of the body.
Recommended Dosage: Take 1 tablet twice daily with normal water.
Rama tail –

Rama tail is an Ayurvedic preparation containing clove oil, fennel seeds, cumin, etc. These ingredients show antioxidant, anti-inflammatory, analgesic, cooling, carminative, & immuno-modulator. The use of this oil on mouth ulcers gives a cooling effect.
Recommended Dosage: Take 2 drops of this oil & apply over the affected area.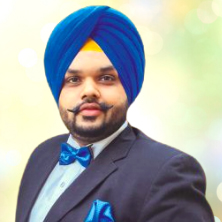 Dr. Vaidya Karanvir Singh is the younger Vaidya in Chandigarh Ayurved & Panchakarma Centre. He is the fourth generation in his family who is practicing as a general consultant in Ayurved & Panchakarma treatment at Chandigarh. In his practice, he had treated more than 1 Lakh Plus patients worldwide.
Article by Dr. Karanvir Singh (M.D in AYURVEDA, PANCHAKARMA FAGE) and reviewed by Vaidya Jagjit Singh (B.A.M.S)