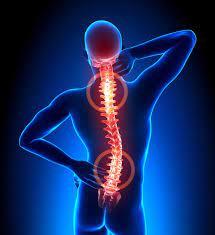 Back pain is one of the most common problems.  It is referred as Pain of any nature felt in any region ranging from the thoracic spine to the pelvis.

Generally back pain is classified as mechanical or non- mechanical and can be sub divided into regional involvement

Typically , the commonest area of back pain is Lower back pain or pain in limbo- sacral region which  is triggered by overuse, muscle strain and injury to the muscles, ligaments and disc that support the spine.
CAUSES
There can be numerous causes of back pain

Generally, pain can be attributed to:
Nerve root compression and subsequent inflammation

Mechanical damage and inflammation of spinal components

Degenerative and bony changes
Back pain can be idiopathic too.

common Causes of lower back pain are – vertebral fracture, osteo arithritis, herniated disc etc.

kidney stones or kidney problems can also cause back pain

osteoporosis

Genetic 
RISK FACTORS
Age

: Onset of pain is relatively even from 16 to early 40s. As people get older, chances of developing lower back pain increases.

Co- morbidities

– Back pain is usually associated with osteo arithritis

Occupation

: Back pain is more common in  people who undertake heavy lifting

Obesity 

excess weight

sedentary life style

pregnancy
SYMPTOMS
Persistent pain

Numbness around buttocks

Pain radiating to legs

Stabbing and shooting pain 

Urinary incontinence

Pain that worsens with standing , lifting and bending

Indigestion
DIAGNOSIS
CT Scan

MRI

X- rays

electromyography

Bone scan

Myelogram

DEXA scan
TYPES :
It is basically of two types- Acute and Chronic
ACUTE BACK PAIN

: if the pain persists for less than 6 weeks then it comes under acute

CHRONIC BACK

PAIN

: If the pain lasts for  three months or longer then it will be considered chronic.
PREVENTION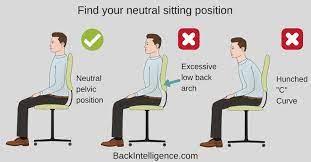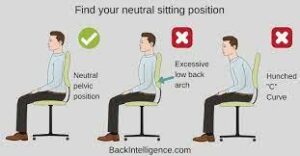 Standing

: Standing for long periods of time can put a lot of stres on your back.

Sitting posture

: sit in firm seats with striaght backs, keeping your back flat/ straight with knees bend to about 90 degrees and Rest your feet flat on the floor or on a footstool. Throw head well back , then bend if forward to pull in the chin, this will straighten the back.

Sleeping

: sleep on a firm, flat mattress. Its best to keepsleep on your side with your knees and hips bent and apillow under yopur head.
AYURVEDIC TREATMENT:
Ayurveda contains various herbs that balance vata dosha naturally. Ayurvedic medicines act on the root cause of disease & relieve all symptoms without causing any side-effects.

CHANDIGARH AYURVED CENTRE

contains a complete

BACKACHE SOLUTION KIT  

for the natural and

ayurvedic treatment of Back Pain

.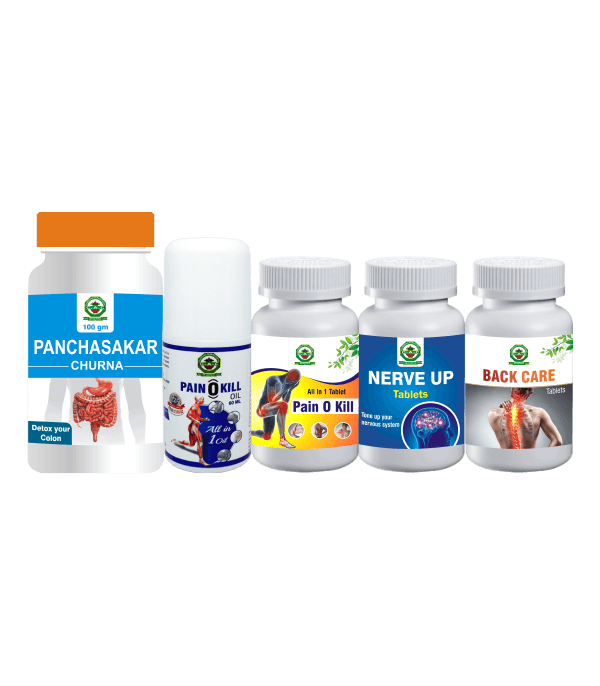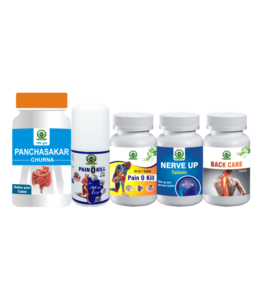 BACKACHE SOLUTION KIT
These tablets are pure ayurvedic formulation. Nerve up tablets help in balancing the vata doshas and kapha dosha.
INGREDIENTS: shudha kuchala, shudha shilajeet, praval pishti, shankh bhasma etc.
BENEFITS:
It acts as nervine stimulant. 

It shows effective results in improving the central nervous system.

 This tablet helps in:  Backache, knee pain, headache, bronchitis, depression.
Recommended Dosage– Take 1 tablet twice daily.
2. BACK CARE TABLET
Back Care tablet is an herbal and purely Ayurvedic formulation. This tablet helps by strengthening your back muscles in relieving back pain whether it be by sciatica, arthritis, kidney infections, infection of the spine and cancer of spinal cord.
BENEFITS :
 It helps to pacify Vata dosha and also helps in maintaining proper blood circulation

This is often used for mild to moderate pain all over the body and relaxes your muscles. 

It contains herbs that act as natural pain relievers.
Recommended Dosage – Take 1 tablet twice daily.
3. PANCHSAKAR CHURNA:
INGREDIENTS:  Saindhavan Lavana – (Rock Salt), Swarnapatri – (Cassia angustifolia), Shatapushpa – (Anethum sowa), Shunti – (Zingiber officinale), Balaharitaki – (Unripe fruits of Terminalia chebula).
BENEFITS:
Panchasakar Churna is naturally detoxifying, thus it removes the toxins from the body. 

The churna has an anti – inflammatory properties due to which it can reduces the swelling.

It is also effective in reducing the weight, which can help to reduce the pressure on lumbar area.
Recommended Dosage – Take 1 teaspoonful with Luke warm water at bedtime.
4. PAIN-O-KILL OIL
INGREDIENTS: Rasna (Pluchea lanceolata), Kustha (Saussurea lappa), Jyotishmati (Celastrus paniculatus), Vatsnabh (Aconitum ferox), Devdaru (Cedrus deodara) etc.
This oil is an Ayurvedic medicine which gives best result in all types of pain.
BENEFITS: 
It is beneficial for the muscle relaxant

 Helps in sports injury

 Cures low back pain

 Improves weakness etc. 

This oil has a good result in reducing the inflammation.
Recommended dosage – It is applied on the affected portion of the body and massage with light pressure. Do this procedure twice a day.
5. PAIN-O-KILL TABLET
INGREDIENTS:  Jivanti, Musta, Usher, Bilwa, Shatavri  and Kantakari.
BENEFITS:
It help to 

relax your muscles

 and muscles cramps thus relieving pain. 

It balances all the three doshas of your body thus maintaining proper blood

 

circulation

.

 

It provides soothing effect to the affected area of pain.

It contains various herbs like All these herbs are natural pain relievers.
Recommended Dosage – Take 1 tablet twice daily.
PANCHKARMA TREATMENT
Kati Basti

is a very effective panchkarma  treatment used for lower backaches and lumbo sacral region including slip discs etc.

It pacifies one of the primary sites of vata 
 BACK EXERCISES
Ankle pump

Heel slides

Abdominal contractions

Wall squats

Heel raises

Straight leg raises

Knee to chest stretch

Hamstring stretch

Exercise with swiss ball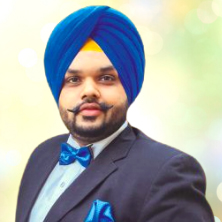 Dr. Vaidya Karanvir Singh is the younger Vaidya in Chandigarh Ayurved & Panchakarma Centre. He is the fourth generation in his family who is practicing as a general consultant in Ayurved & Panchakarma treatment at Chandigarh. In his practice, he had treated more than 1 Lakh Plus patients worldwide.
Article by Dr. Karanvir Singh (M.D in AYURVEDA, PANCHAKARMA FAGE) and reviewed by Vaidya Jagjit Singh (B.A.M.S)