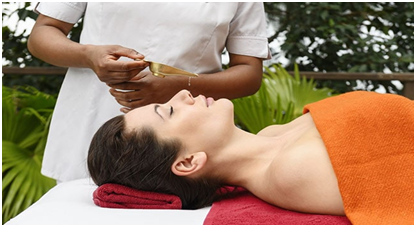 BENEFITS OF PANCHKARMA TREATMENT IN WINTERS
INTRODUCTION-
As per Ayurveda, a healthy person is composed of three bioenergetics forces which are vata, pitta and kapha. These three not only regularize the metabolism of an individual but also manifest in certain physical traits. That means any imbalance in these forces can cause mental and physical disease.
The Panchakarma treatment is a complete bio-purificatory programme with long-lasting health benefits. Panchkarma is most renowned Ayurvedic treatments in India, with its basic principle of detoxification of the body through five actions or pancha-karma.
According to Ayurveda science, there are two main concepts of disease management – shodhana and shamana, where shaman takes care of imbalances in the body and shodhana expels the accumulated toxins from the body. Panchakarma treatment comes under the shodhana chikitsa.
Read More : Best Panchakarma Treatment for Neck Pain
Read More: Panchakarma – What is It and What are its Benefits?
BENEFITS OF PANCHKARMA TREATMENT IN WINTERS
Winter is the time when problems such as sinusitis, arthritis, and bronchitis aggravate.  According to Ayurveda this is the norm time to undertake a Panchkarma treatment, an Ayurvedic technique using herbal medicated oils and herbal decoctions.
Ayurveda recommends that a healthy person should undergo seasonal bio purification. There is a definite relation of seasonal variations and influences that leads doshas accumulation in the body and the resultant illnesses. These influences are best treated by the Panchakarma therapies. This cleaning therapy has many health benefits and improves mental ability.
ABHAYANGA (OIL MASSAGE)
Abhyanga is a key Ayurvedic practice, especially in winters, when we need stability and warmth to counteract the Vata-aggravating season. The Sanskrit word Abhyanga means massaging the body's limbs" or "glowing body."
Ayurveda physicians recommend sesame oil for Abhyanga in the winter  season, as it is inherently warming. Start your day with a warm oil massage to hydrate the skin, warm the body and improve blood circulation. Abhyanga helps the body get back to a state of balance and harmony.
Including warm oil massage into your daily routine will alleviate exhaustion and lethargy common in the winter, making you more active.
Oil massage enhances skin complexion and reduces excess fat. It revitalizes the body by improving blood circulation, digestive power and other physiological functions of the body.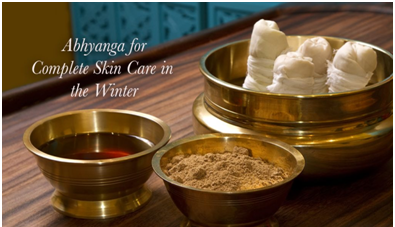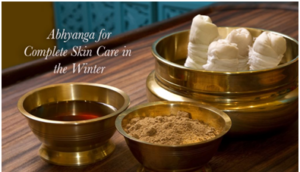 NASYAM:
Nasya is a part of Panchakarma treatment for body cleansing used in Ayurvedic medicine. In this procedure medicated oil is administered into both nostrils to remove accumulated kapha toxins from head and neck region.
During winters when we have heaters running in the house, especially in the northern hemisphere, our nose bleeds sometimes as it dries up.  Nasyam treatment can help moisturize our nasal passage and prevent bleeding from the nose.
Nasya treatment can be benefits in tension headache, migraines, sinusitis, bronchitis, sinus congestion, allergies, nose bleeds, dry nasal passages, and sleeping disorder.
It Pacifies Vata Dosha and impacts are wide-ranging.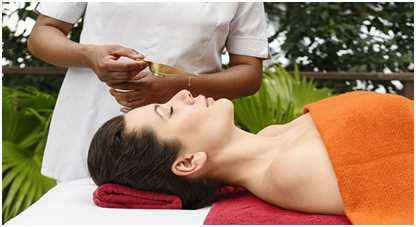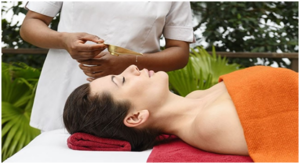 SHIRODHARA:
Shirodhara is traditional Ayurvedic healing technique that has been use in ancient time to treat a host of disorders. In this technique warm medicated oil is poured over the forehead of patient and then a gentle and soothing head massage is done.
Benefits of shirodhara-
Relaxes mind and body
Pacifies vata dosha
Nourishes hair and scalp
Promotes better sleep
Reduces anxiety and stress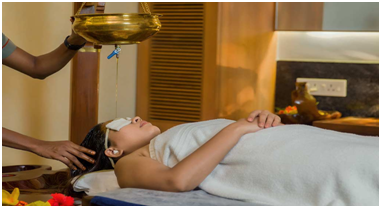 PATHRA PINDA POTTALI SWEDA:
In this technique, different medicinal leaves along with other drugs are backed in medicated oil, made into bolus (pinda) form by tying them in a cotton cloth and used for Swedana after performing Abhyanga (mild massage).
This type swedana provide relieves ache, stiffness, heaviness, and coldness in the body. This treatment procedure eliminates the bodily toxins through sweating. It provides better therapeutic efficacy in orthopedic disorders especially in diseases such as Osteoarthritis, Rheumatoid Arthritis, Cervical spondylosis, Lumbar spondylosis, Ankylosing Spondylitis, musculoskeletal pain as well as in neuro-muscular diseases.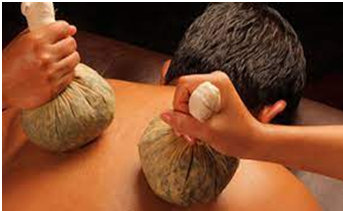 SHASHTIKA SHALI PINDA SWEDA
SSPS, a method of massage using medicinal packs and oil, can cure even severe rheumatic complaints completely. The medicinal packs, prepared by filling shashtika shali rice cooked in cow's milk mixed with medicinal herbs are rubbed over the patient's body after the application of medicated oils. Besides rheumatism, this treatment has proved to be effective for polio, paralysis and muscular dystrophy.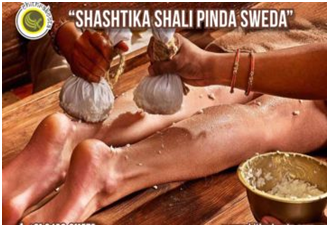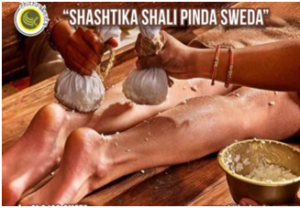 SHIRO BASTI-
In this procedure, a barrel shaped cap is fitted on to the patient's head and warm medicated oil is poured into it and allowed to remain there for a certain period of time and then followed by shiro abhyanga (head massage).
Shiro basti helps improve dryness and hair loss while calming the nervous system and strengthening the mind. It can also provide relief to sufferers of migraine, facial paralysis and other nerve disorders.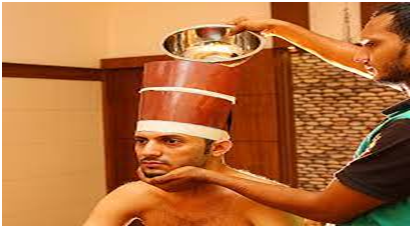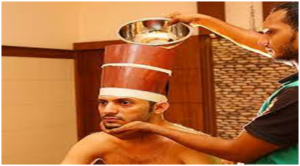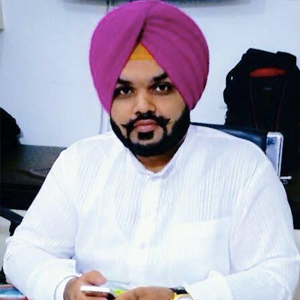 Vaidya Karanvir Singh is the younger Vaidya in Chandigarh Ayurved & Panchakarma Centre. He is the fourth generation in his family who is practicing as a general consultant in Ayurved & Panchakarma treatment at Chandigarh. In his practice, he had treated more than 1000 plus patients worldwide.
Article by Dr. Karanvir Singh (M.D in AYURVEDA, PANCHAKARMA FAGE) and reviewed by Vaidya Jagjit Singh (B.A.M.S)