Best Panchakarma Treatment for Neck Pain
In Ayurveda, neck pain is described as Manyastambha, which is one of the vatavyadhi (Vata dosha related conditions) caused due to increased state of vata dosha. When the vitiated vata invades the muscles of neck, it leads muscle stiffness, fixedness of the neck, and intense ache in the neck muscles.
Neck pain is incredibly common in middle-aged and elderly people causing spinal disks dehydration and shrinkage affecting the flexibility of the neck joint movement.
Ayurveda, the treatment method that has an indelible connection with India, has herbal medicines available for almost all of the ailments. The thousands of years old ayurvedic scriptures have solutions for neck pain (Manyastambha) as well.
Symptoms of neck pain-
Headaches
Stiffness in neck
Tightness in neck
Dull, ache in muscles
Loss of balance
Tingling in arms
Weakness in hands
Weakness in grip
Shoulder blade pain
Unable to control bladder or bowels
CAUSES OF NECK PAIN:
Neck Pain can be caused by
An activity that harms the neck.
An injury.
A medical condition.
PANCHAKARMA FOR NECK PAIN
Panchakarma therapies such as Greeva basti, Abhyanga swedam, Nasyam, Shirovasti or shirodhara, Sarvangadhara and pathra pinda sweda etc are usually done based on the persons presentation and severity of the neck pain.
GREEVA BASTI-
Greeva basti is a specialized treatment for neck pain and diseases related to cervical spine.
A ring of dough is placed on the neck to act as a reservoir.
Medicated Luke warm oil is poured there for some time.
Medicated oil is poured into the reservoir and retained there for some time.
When oils cools down it is squeezed out with a cotton gauze or a sponge.
This procedure is repeated a couple of times.
The treatment lasts 30 to 45 minutes.
Greeva basti is helpful for conditions such as cervical spondylitis, stiff neck, shoulder and upper back pain, tension headache and many others.
ABHYANGAM:
In this procedure whole body massage with specific medicated oils, achieves deepest healing effects by naturally harmonizing Body, Mind, Soul and the Senses.
NADI SWEDANAM:
Nadi swedana is a type of Ayurvedic medicated steam bath.
PATHRA PINDA POTTALI SWEDA:
Materials required
Leaves
Arka pathra-Calotrpis gigantean
Chinchapathra Tamarindus indicus
Eranda pathra- Ricinus communis
Sigru pathra-Moringa oleifera
Nirgundi pathra-Vitex negundo
Vatagna pathra-Justicia gendarussa
Dathura pathra-Datura alba
Grated coconut – 100 gm
Sliced lemon-2
Saindhava Lavana 10gms
Oil
For Frying leaf – 100 ml Nimba Taila
For heating potali – 250 ml oil
Cotton cloth (45 x 45 cms), 4 pieces.
Procedure- The oil is heated and the potali is dipped in to the warm oil and rotated 2 to 3 times. The pottli is removed and the excess oil sticking to the sides are wiped out and hot pottali is applied to the affected part. The treatment lasts 30 to 45 minutes. After that Oil in the body should be wiped off and the body should be covered with blanket for 5 to 10 minutes.
SHIRODHARA:
In this panchkarma procedure stream of medicated oil is allowed to flow over the forehead of patient and then a gentle and soothing head massage is done.
Nasyam:
Administration of hearbaliazed oil in both nostrils, cleanses accumulated kapha toxins from the head and neck region.
AYURVEDIC TREATMENT FOR NECK PAIN
Ayurveda recommends herbal medications, panchkarma therapy and Yoga exercises for the management of neck pain. The right combination of these treatments not only reduces pain but also ensure that there is no further recurrence of neck pain.
HERBAL MEDICATION
                                           "CAC SPECIAL CERVICAL RELIEF KIT"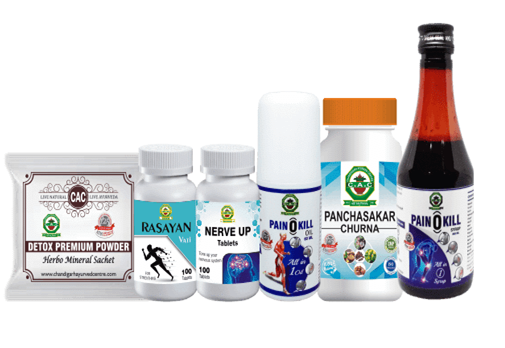 NERVE UP TABLET:
These tablets are pure ayurvedic formulation. Nerve up tablets help in balancing the vata doshas and kapha dosha. It acts as nervine stimulant. It shows effective results in improving the central nervous system. This tablet helps in Backache, knee pain, headache, bronchitis, depression.
Recommended Dosage- Take 1 tablet twice daily.
RASAYAN VATI:
Rasayan vati is herbo-mineral Ayurvedic formulation which contains various natural herbs. These herbs i show antioxidant, anti-inflammatory, antipyretic, analgesic, immune-modulator properties. rasayan vati provides good results in General debility, Psychological disorders, and improves immunity and helps in cervical pain.
Recommended Dosage: Take 1 tablet twice daily.
PAIN-O-KILL OIL:
This herbal oil provides good results in body pain, swelling, stiffness, & inflammation. Massage with this oil relieves pain, stiffness, & swelling. Its anti-inflammatory & analgesic properties reduce inflammation & pain in the body.
Method of Application: Take few drops of oil in your hands after that gently massage over the affected area of your body pain.
PAIN–O-KILL SYRUP:
It is an herbal remedy that helps to get relief from the severe pain which is associated with cervical spondylitis. This syrup helps in reducing the stiffness & rejuvenates the body tissues. It helps to improve muscle tone. This syrup has a good result in reducing the inflammation.
Recommended Dosage – Take 2 teaspoonfuls twice a day before meal with normal water.
PANCHSAKAR CHURNA:
Panchsakar Churna is an Ayurvedic formulation that consists of five ingredients named as – Saindhav Lavana, Swarnapatri, Shatapushpa, Shunti, and Balaharitaki. It is naturally detoxifying, thus it removes the toxins from the body. Panchsakar churna helps to relax the muscles around the neck and also reduces the inflammation.
Recommended Dosage – Take 1 teaspoonful once a day with Luke warm water at bedtime.
PREMIUM DETOX POWDER:
Detox herbal sachets are prepared from ingredients such as Shankh bhasma, Sutshekhar ras, Parwal pishti, Sukta pishti, Giloy, Kamdudha ras, Shwet parpati that gives calming effect on the stomach. These sachets have anti-inflammatory, antioxidant, and antacid like properties. It mainly affects in lowering the pitta dosha of the body and maintains proper digestion of the body.
Recommended Dosage: Take one sachet twice daily with normal water.
PANCHKARMA THERAPIES-
Abhyangam
Nadi Swedana
Pathra pinda pottali swedana
Greeva vasti
Shirodhara
Nasyam
 DIET PLAN FOR NECK PAIN:
Eat Plenty of Green leafy vegetables
Eat seasonal fruits.
Having a powder of ginger reduces inflammation.
Sesame seeds, Pumpkin seeds and Flax seeds can be included in the diet.
Junk Food should be avoided
YOGASANAS FOR NECK PAIN 
Shavasana
Supta vajrasana
Bhujangasana
Matsyasana
Purvottanasana
BEST PANCHKARMA FOR NECK PAIN
Grreva basti is best ayurvedic panchakarma treatment for neck pain.
Greeva Basti:
Greeva basti is a specialized treatment for neck pain and diseases related to cervical spine. In this procedure a ring of dough is placed on the neck and medicated Luke warm oil is poured into it. This procedure is repeated a couple of times. It is helpful for conditions such as cervical spondylitis, stiff neck, shoulder and upper back pain, tension headache and many others.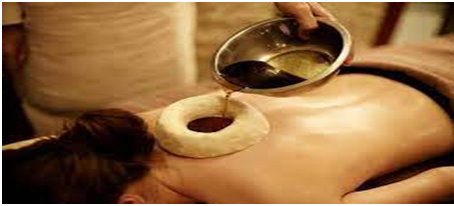 AYURVEDIC TREATMENT FOR CERVICAL SPODYLOSIS
Imbalance in the Vata is considered as the main cause of any kind of irregularity in the body's vital functions affecting the daily routines.
At Chandigarh Ayurvedic center specialist diagnoses and finds out the abnormality in the body caused and tailors treatment plans that help to pacify the aggravated Vata.
Along with the treatment plan, proper meal plans and physical activities are also incorporated for faster and better treatment results.
In cases of cervical spondylitis, the Ayurveda specialist tailors customized treatment plans according to the health condition of the patient.
The aggravated vata are balanced through various combinations of Ayurvedic decoctions and with a proper and adequate diet plan to improve digestion and enhance the digestive fire.
The administration of herbal medicines fastens the body tissue rejuvenation followed by panchakarma abhayanga therapy to help the body get back to a state of balance and harmony.
The treatment plan also includes Ayurvedic therapies for stress relief, yoga asanas and medications that help complete body and mind rejuvenation.
Ayurveda Panchakarma therapies for treating cervical spondylosis include Abhyanga swedam, nadi swedana, Nasyam, Shirovasti or shirodhara, Sarvangadhara, Greeva vasti, patra pinda pottli swedana, etc. to relieve pain, inflammation of muscles and ligaments and to improve the flexibility of neck bone joints.
All treatment therapies are managed to depend upon the condition of the patient and severity of the disease.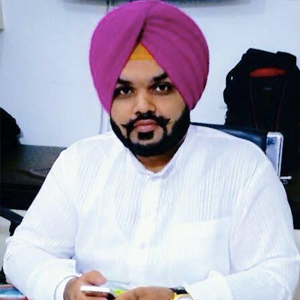 Vaidya Karanvir Singh is the younger Vaidya in Chandigarh Ayurved & Panchakarma Centre. He is the fourth generation in his family who is practicing as a general consultant in Ayurved & Panchakarma treatment at Chandigarh. In his practice, he had treated more than 1000 plus patients worldwide.
Article by Dr. Karanvir Singh (M.D in AYURVEDA, PANCHAKARMA FAGE) and reviewed by Vaidya Jagjit Singh (B.A.M.S)