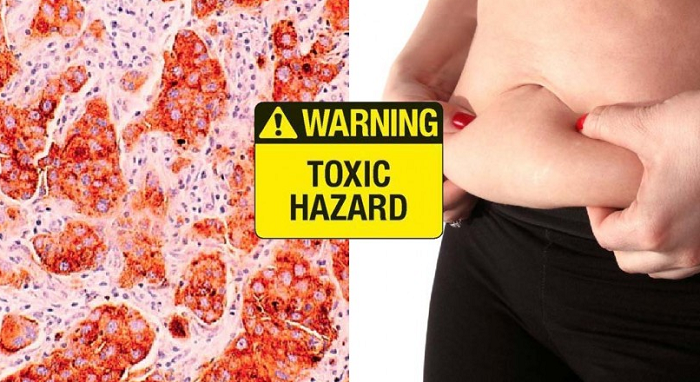 BODY TOXINS AND ITS AYURVED CONCEPT
Body toxins or metabolic toxins are natural by-products of metabolism that occurs throughout the body systems that must be eliminated from the body. There is long list of metabolic pathway that creates variety of metabolic toxins in body like :
Amino acid metabolism
Intestinal dysfunctions
Neurotransmitter metabolism
Toxin metabolism
Vitamin metabolism
Detox dysfunctions and impairments
Carbohydrate metabolism
If  there is hindrance in elimination of toxins from the body it can lead to damage  to organs and development of various health conditions . Like excessive production of ammonia in urea cycle leads to serious health problems .
ACCUMULATION OF  VARIOUS BODY TOXINS
Certain body toxin which are not flushed out from body due to any cause accumulates in body. Some of the body toxins are :
Hyperammonemia :
Ammonia is a waste product which is normally processed in liver and excreted through urine. High level of ammonia in blood is called as Hyperammonemia and can be toxin to CNS .
What are the causes of Hyperammonemia ?
Common causes are :
Decreased blood flow to liver
Liver diseases
Renal failure
Hepatic encephalopathy
Reye's syndrome
What are the symptoms of Hyperammonemia ?
Common symptoms of hyperammonemia includes :
Abdominal pain
Irritability
Headaches
Nausea and vomiting
Behavioral changes
Ataxia
Seizures
Coma
Hyperventilation
Symptoms of mild hyperammonemia in children are :
Hypotonia
Failure to thrive
Neurodevlopment delays
Uremia  :
Build up of toxins like urea and creatinine  in blood because kidneys stop filtering toxins out through urine. Untreated uremia can lead to serious health conditions or even death.
What  are the causes of Uremia ?
Uremia is caused due to extreme and irreversible damage to kidneys .This is mainly from chronic kidney disease where kidneys are no longer able to filter waste of body and flush it out through urine.  Common cause of Chronic kidney disease includes :
Polycystic kidney disease
Inflammation of glomeruli
High bload pressure
Diabetes
Inflammation of kidney 's tubules and structure around them.
Enlarged prostate.
Recurring kidney infections
What are the symptoms of Uremia ?
Common symptoms of uremia includes :
Muscle cramps
Fatigue
Shortness of breath from accumulation of fluid
Cognitive dysfunction
Nausea
Itching
Unexplained weight loss
Hyperuricemia :
Accumulation of too much uric acid in body leads to condition called Hyperuricemia . If left untreat can lead to permanent damage to bones, tissues and joints etc.
What are the causes of Hyperuricemia ?
Individual is producing to much uric acid due to :
Excessive intake of purine rich diet like meat, sea-food , beer etc.
Break down of body cells due to certain conditions and exercise.
Not able to excrete uric acid from body due to :
Acid and base imbalance
Improper kidney functions
Down syndrome
Certain medications like cyclosporin, ethambutol, niacin etc
Hypothyroidism
What are the symptoms of Hyperuricemia ?
Common symptoms of Hypreuricemia are :
Joint pain mainly in big toe
Nausea
Vomiting
Kidney stones
AYURVEDIC APPROACH :
In ayurveda accumulation of body toxins is correlated to Formation and accumulation of Ama in the body.
Ama is a product of indigestion in stomach which causes many systemic diseases. The immature digestive juices stagnated for longer duration sourness due to fermentation and decay is called ama which gets absorbed in system and put in circulation . When put in circulation it reaches various channels and tissues in body leading to their blockage giving rise to various health conditions.
What are the properties of ama ?
Asamyuktam : It is non-homogenous compound of food which is not accepted by body cells. So it is nor absorbed neither processed thus becomes toxic and dangerous to body .
Avipakum : Improper digested food forms ama so it is also in improperly digested form.
Durgandham : It has natural foul smell due to unprocessed form of digestive juices.
Pichchila : It is sticky in nature thus adheres to wall of cells and channels of body causing their blockage.
Dravam : It is in liquid state.
Guru : It is heavy in nature
Tantumat : Has thready like appearance
Nana varna : It has various colors
Snigdha : It is very similar to fat and kapha in appearance and unctuous in nature.
Sadanam sarva gatrani : It causes severe debility and heaviness in body.
Srotamsi abhishyandayati : It cause oozing and blockage in body channels
Ashukari : It is quick to spread in whole body
What are the causes of Ama formation in body ?
Some common causes of formation of ama in body are :
Improper food combinations
Fried food intake
Overeating or emoitional eating habits
Intake of highly processed food
Excessive intake of sour, sweet or salty food.
Lack of exercise
Eating or sleeping before proper digestion of food
Detrimental life style
Sleeping in day time
Irregular eating habits
What are the symptoms produce by ama in body ?
Ama causes various digestive symptoms like :
Diarrhea
Constipation
Bloating
Indigestion
Fatigue after eating
Gas
Sinking stool and mucus in stool
Other symptoms produced in body by Ama  are :
Poor circulation
Joint inflammation and pain
Depression and other disorders related to mood
Deficiencies of vitamins and minerals
Skin dryness and blemishes
Fever
Fatigue in body
Healthy conditions may caused due to Ama accumulation in body
Gout
Gallstones
Rheumatoid arthritis
Late-onset Diabetes
Leukocytosis
Glaucoma ( increased intraocular pressure )
Kidney stones
Tumors
Treatment Principles of Ama :
Apatarpana (Depletion )treatment is used for treatment of ama and diseases caused by ama in body. it includes :
Langhan
Pachana
Dosha avasechana
PANCHAKARMA THERAPIES FOR AMA :
Panchakarma treatments are cleansing and detoxification treatments which not only treats ama and conditions associated with ama dosha but also rejuveniates and revitalize whole body . Some of the panchakarma procedures helpful in ama dosha are :
Swedan
Vaman
Virechan
Vasti
Leech therapy
HERBS
Cinnamo
Kutaja
Neem
Turmeric
Ginger
CHANDIGARH AYURVED CENTRE MEDICATION FOR body detox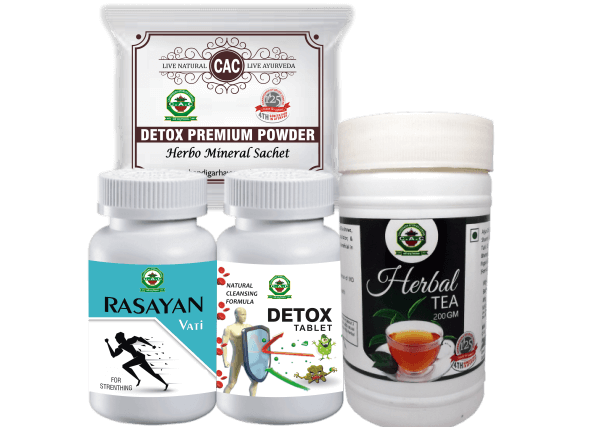 1. Detox Premium Powder:
The powder contains all the Ayurvedic herbs which strengthen the immune system of the body and prevents the complication of dengue by potentiating immune system. It helps in controlling the disease within a period of 4 to 8 days. The powder includes.
Parwal Pishti – Parwal pishti is prepared from Coral calcium. It is mainly used in Pitta related disorders and helpful in bleeding disorders. This pishti relieves Ama dosha and improves the digestion power. It also improves the strength and immunity.
Shukta Pishti – It is prepared from Pearl oyster shell. Shukta pishti pacifies Pitta and Kapha dosha. It is the best ant-acid and relieves the abdominal distention. Shukta pishti reduces the rashes on the arms and legs.
Giloy Satva–Giloy satva includes water-soluble extract of Giloy/Guduchi (Tinospora Cordifolia). It balances the aggravated pitta and acts as a mild-antipyretic, antacid, and immuno-modulator. It also reduces burning sensation in the hands, feet, and body.
Kamdudha Ras–According to Ayurveda principles, Kamdudha Ras has Sheeta Virya thus it is beneficial in every Pitta Roga classified in Ayurveda. It is beneficial in the symptoms like burning sensation, restlessness, bleeding tendencies, excessive thirst, and hot flashes, vomiting with yellowish or sour water.
Akik Pishti – Akik bhasma contains Silicon Dioxide and some herbal extracts derived into in during processing with Aloe vera and Rose water. It is used in General debility, Restlessness. It works well in loss of appetite, weight loss, and feeling of excessive heat in the body.
Ghandak Rasayan – Ghandak Rasayan is a great antibacterial, antiviral ayurvedic medicine. It acts as an anti-pyretic, analgesic, & blood purifier.
Sutshekhar Ras–It is an important medicine used in Ayurveda, which acts on Pitta dosha and reduces the symptoms like nausea, vomiting, fever, headache, sour taste of mouth, restlessness, etc.
Recommended Dosage – Take 1 sachet twice a day with normal water.
2. Rasayan Vati:
Rasayan vati is herbo-mineral ayurvedic formulation, which is 100% natural. Rasayan vati contains various herbs such as Aswagandha, Shilajeet, Amla, Kesar, Musali, Shatavar, Brahmi Abhrak Bhasam, Swarn Makshik Bhasam, Yashad Bhasam, Mukta pisti, Praval pisti, Jaiphal, Vang Bhasam, Dalchini, Javitri, Gokhru, Kaunch Beej, Saunth, Mirch, Pipli, Amla, Kesar, Manjith, Anant Mool, Brahmi, Musali, Swarn Vang, etc. These ingredients show antioxidant, aphrodisiac, anti-inflammatory, antipyretic, analgesic, immuno-modulator properties.
Recommended Dosage: Take 2 tablet twice daily.
3. Detox tablets:
This Tablet is herbo-mineral pure Ayurvedic preparation. It contains ingredients like Parwal Pishti, Shukta Pishti, Giloy Satav, Kamdudha Ras, Jahar Mohra, Akik Pishti, Gandhak Rasayan, Shankh Bhasma, Sutshekhar Ras, Sudhyog Tab, Shwet Parpati, Yavakshaar, etc. This tablet increases overall immunity, improves digestion, relieves acidity, helps in fever, nausea, vomiting, high blood pressure, mental diseases and eye diseases. It also helps in removing impurities and detoxifies the body.
Recommended Dosage: Take 1 tablet twice daily.
4. Herbal Tea:
HERBAL TEA is a herbo-mineral preparation and is purely Ayurvedic formulation. CAC Herbal Tea helps in detoxification of the body, helps in Weight loss, Improves brain functions, fights cold, reduces heavy cough, and lowers cholesterol. Herbal Tea shows Anti-hypertensive, Anti-inflammatory, Antioxidant, Anti-ageing, Anti-depressant, and Immune-modulator properties.
Recommended Dosage: For 1 cup of herbal tea- boil 1 teaspoon of Herbal Tea in about 2 glasses of water and boil it until remaining half glass. For slimming purpose prefer this herbal tea with lemon on an empty stomach.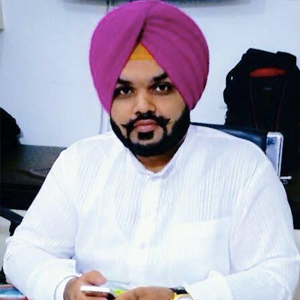 Vaidya Karanvir Singh is the younger Vaidya in Chandigarh Ayurved & Panchakarma Centre. He is the fourth generation in his family who is practicing as a general consultant in Ayurved & Panchakarma treatment at Chandigarh. In his practice, he had treated more than 1000 plus patients worldwide.
Article by Dr. Karanvir Singh (M.D in AYURVEDA, PANCHAKARMA FAGE) and reviewed by Vaidya Jagjit Singh (B.A.M.S)