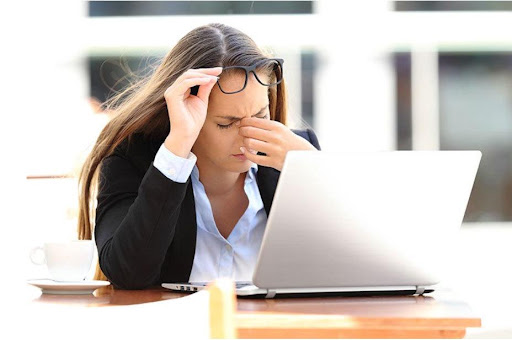 Computer Vision Syndrome

– it is a problem related to eyes or vision due to working on the computer for a long time. But it includes many other problems related to body and health and if not treated on time, the problem can also increase

These days, due to the coronavirus pandemic, children's school, elders' office, everything is going on from home and due to this, people's screen time has increased significantly. 

According to the data of the year 2020, on an average, every person in India uses gadgets like smartphones, laptops, computers or tablets for at least 7 hours a day.
CAUSES:
When a person constantly looks at the screen without TV, mobile, laptop etc., that too without blinking, then the strain on eyes increases

If do this for more than three hours every day, then you may be suffering from computer vision syndrome. 

Working without blinking can cause problems like watery eyes, burning sensation, redness of eyes. By ignoring it  become prone to CVS
RISK OF CVS:
Computer vision syndrome (CVS) is also called digital eye strain because it puts too much strain on the eyes. Apart from this , problems like headache , pain in neck and pain in shoulder can also occur. if a person uses a computer or any other digital screen continuously for 2 hours or more daily, then he is at high risk of digital eye strain or computed vision syndrome.   
SYMPTOMS
Stiffness in the eyes, pressing too hard to see anything

Itchy eyes – Dry eyes

Blurred vision – Double vision (seeing everything double)

Difficulty in focusing

Myopia or myopia

Headache

Pain or stiffness in the neck – Pain in the shoulders

Back pain
WAYS TO PREVENT CVS
Work only with glasses.

Do not use computer, TV, mobile in the dark.

Keep desktop, laptop, mobile at right distance from eyes.

If you feel dryness in the eyes, then use eye-drops.

When working on the computer, take breaks.

To give rest to the eyes, remove the eyes from the computer in half an hour gap. Sitting with eyes closed for a minute or two would also be right.

In such a situation, take a break from work in between. By doing this the eyes get rest. If you look at the computer screen, keep blinking your eyelids in between

Artificial Tear Drop to avoid these problems, doctors give artificial tear drops Which removes the problem. But do not use any drop without doctor's advice.

Blink the Eyelashes According to the doctor, the blinking of the eyes decreases while working on the computer. That's why it is necessary to blink at least 20 times (Blink)

Take Intermittent Rest If you want to keep the eyes healthy, then give rest to the eyes in between. This will increase your working efficiency. Eyes will get tired less.

Close the eyes According to the doctor, while working, close the eyes for 15-20 seconds. and give them rest.

Wear anti-reflective coating glasses and blue coated glasses Computer screens emit harmful radiations, which should be filtered by wearing anti-refractive coating glasses (ARC) and blue-coated glasses

Eat Yellow Fruit People who have to spend a lot of time in front of computer or screen should eat more yellow fruits.

Drink more fluids Apart from water, other fluids should be consumed. 

Wash eyes with cold water To remove eye fatigue, pain, burning, keep washing the eyes with water in between. This will give relief to the eyes and the eyes will remain clean.

Computer and Room Light If the brightness of the computer is not correct, then due to the strong light, there is a strain on the eyes, which will cause pain and swelling in the eyes. So in the place where you are working, even if the light is slow there, the eyes will shrink, so it is necessary to have the right light for the eyes.

Massage the eyes if there is pain or swelling in the eyes. For this, you rub your hands together rapidly. When the hands become very warm, then place them on the closed eyes, doing so relaxes the eye muscles. Eye pain, swelling, burning, etc. are caused due to computer vision syndrome. This problem can be avoided at home with some precautions.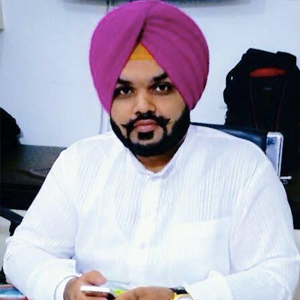 Vaidya Karanvir Singh is the younger Vaidya in Chandigarh Ayurved & Panchakarma Centre. He is the fourth generation in his family who is practicing as a general consultant in Ayurved & Panchakarma treatment at Chandigarh. In his practice, he had treated more than 1000 plus patients worldwide.
Article by Dr. Karanvir Singh (M.D in AYURVEDA, PANCHAKARMA FAGE) and reviewed by Vaidya Jagjit Singh (B.A.M.S)