Dementia occurs when the brain is damaged by diseases such as Alzheimer's disease or a series of strokes

Alzheimer's disease is the most common cause of dementia, but it is not the only reason. It is also called dementia.

Dementia is not the name of a single disease but it is the name of a group of symptoms, which are related to brain damage. The word Dementia is made up of 'de' meaning without and 'mentia' meaning mind.

A person also has problems in daily work and these problems increase with age.

The disease affects one in 10 people over the age of 65 and one in four people over the age of 85. People under the age of 65 are also prone to the disease which is known as early onset Alzheimer's. Let us study through this article what is dementia, how many types it is, what are its symptoms etc

This disease can vary in severity from the mildest stage and in this more severe stage the person becomes completely dependent on others even for his daily activities.
THESE 5 FACTORS INCREASE THE CHANCES OF DEMENTIA:
Age –

With increasing age chances of dementia also increase. Alzheimer's disease is the most common form of dementia. The symptoms of which appear in about a third of people aged 85 years and older. While genetics also play a role, your diet, exercise, and many daily lifestyle habits also play a role.

Heart disease –

Heart disease can lead to a heart attack or stroke, which makes dementia more likely. Heart disease is usually caused by a buildup of plaque in the arteries around your heart, which is medically called atherosclerosis. This can slow blood flow to your brain and put you at risk of stroke, making it harder for you to think well or remember things

Diabetes –

Health experts are still not exactly sure why people with diabetes often get dementia. But they do know that people with diabetes are more likely to have damaged blood vessels. This can slow or block blood flow to the brain, and damage areas of the brain, known as vascular dementia. Some people may be able to slow brain decline if they keep diabetes under control with medication, exercise, and a healthy diet.

High cholesterol levels –

High levels of cholesterol, especially in middle age, are associated with obesity, high blood pressure and diabetes. All of these increase your risk of dementia. Research suggests that high cholesterol in midlife may increase the risk of Alzheimer's disease later in life.

High BP –

High levels of blood pressure can play a role in increasing your dementia in several ways. Even if you don't have any other health problems, having high blood pressure makes you more likely to get vascular dementia and Alzheimer's. This is probably because high blood pressure damages the blood vessels in your brain. It can also lead to other conditions that lead to dementia, such as stroke.
SYMPTOMS OF DEMENTIA:

Major symptoms are seen in a person suffering from this disease:
Loss of memory, forgetting important things

Difficulty in thinking 

Unable to solve even small problems

Loss of mind

Change in personality

Not seeing a picture of an object to understand what it is

Difficulty in adding and subtracting numbers, Difficulty in counting 

Difficulty in management

Difficulty in problem solving or language and concentration

Even people with dementia are not able to control their emotions. That is, a change in mood or behavior.
CAC MEDICATIONS:
BRODLEY SYRUP

: This syrup maintains the overall activity of the brain. As the herbs used for the preparation of this syrup are Brahmi (Bacopa monnieri), Shankhpushpi (Convolvulus pluricaulis), Dhania (Coriandrum sativum), Ashwagandha (Withania somnifera), Saunf (Foeniculum vulgare), etc. These all acts as a mind relaxant. The use of this syrup provides good results to the dementia patient. This syrup has the best memory boosting power and helps in increasing the blood flow to the brain. It is used as an antioxidant that increases retention power
Recommended Dosage: Take 2 teaspoonful twice daily.
MANN MITRA TABLET

: Mann Mitra tablet is herbal and purely ayurvedic medicine. It is used in Ayurvedic treatment for psychiatric conditions and help to balance all the three doshas of body i.e vata, pitta, kapha. CAC Mann Mitra tablet improves intelligence and speech problems. It is helpful for making the nervous system strong and nerves as well. It contains various herbs like Bala, Vacha, Shankhpushpi, Nagkeshar etc that help you fight insomnia, anxiety, and stress.
Recommended Dosage: Take 1 tablet twice daily.
CALM SLEEP TABLET

: CAC calm sleep tablet is an amazing combination of natural herbs like bhang, Brahmi, Tagar, jatamansi. It helps to relieve stressful conditions. They help to pacify the nervous system and also helps to calm minds and make your body relax and light.
Recommended Dosage: Take 1 tablet twice daily.
RASAYAN VATI

: Rasayan vati is herbo-mineral Ayurvedic formulation which contains various herbs such as Aswagandha, Shilajeet, Amla, Musali, Shatavar, Brahmi, Abhrak Bhasam, Mukta pisti, Praval pisti, , Kaunch Beej, Saunth, Mirch, Brahmi, etc. These ingredients show antioxidant, anti-inflammatory, antipyretic, analgesic, immune-modulator properties. These tablets provides good results in General debility, Psychological disorders, and improves immunity.
Recommended Dosage: Take 1 tablet twice daily.
DETOX PREMIUM POWDER:

This formulation act at the level of the nervous system and facilitate proper conduction of signal impulse from the nerves to the muscles. The powder contains – Moti pishti, Parwal pishti, Shukta pishti, Giloy satva, Kamdudha ras, Jahar mohra, Akik pishti, Gandhak rasayan, Tal sindoor, etc. These ingredients balance all the Tridosha (Vata, Pitta, Kapha). It provides relief in psychosis, helps in mental weakness like short temper, decreased the ability to think, improves the memory power, and reduces the calcium level that hampers the brain functions.
Recommended dosage: Take 1 sachet twice a day with normal water.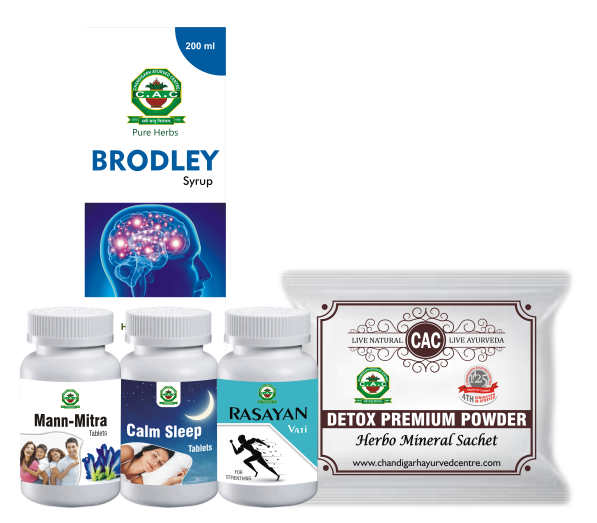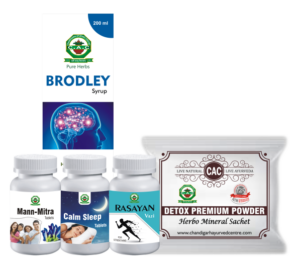 DEMENTIA GO KIT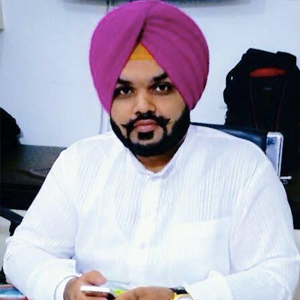 Vaidya Karanvir Singh is the younger Vaidya in Chandigarh Ayurved & Panchakarma Centre. He is the fourth generation in his family who is practicing as a general consultant in Ayurved & Panchakarma treatment at Chandigarh. In his practice, he had treated more than 1000 plus patients worldwide.
Article by Dr. Karanvir Singh (M.D in AYURVEDA, PANCHAKARMA FAGE) and reviewed by Vaidya Jagjit Singh (B.A.M.S)