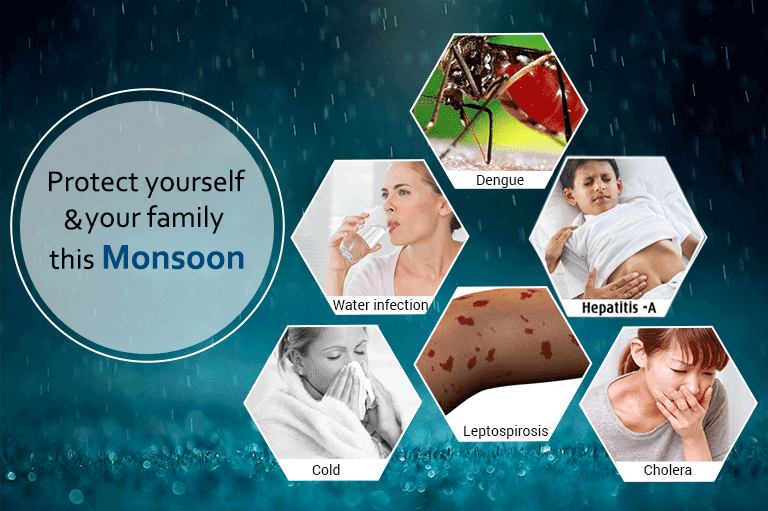 DISEASES OF VARSHA RITU (RAINY SEASON) AND THEIR PRECAUTIONS
INTRODUCTION-
According to Ayurveda Varsha Ritu falls in the two hindu months of shravana and bhadrapada (Utarayana kala) and the general body strength of an individual is weak. One must follow a specific Diet and lifestyle schedule in varsha ritu (rainy season) as the chances of having metabolism issues is great during this season. Monsoon is the season where so many diseases can occur in our body due to vitiation of Vata and accumulation of Pita dosha. Imbalance of vata and pita dosha is the major cause of various diseases occurring during the varsha ritu (rainy season).
COMMON MONSOON DISEASES –
COMMON COLD AND FLU-
The sudden change in climate, causing fluctuations in temperature, is the major cause of flu and cold during the monsoon. During rainy season, the immune system weakens and becomes vulnerable to cough, cold and flu. Some symptoms include Fever, Aching muscles, Sneezing, Runny nose and Congestion etc.
VIRAL FEVER-
Through the years viral fevers are a common symptoms, but during rainy season, they are the most common viral fevers last from 3 to 7days, however, it is always good to consult your physician before diagnosing anything. 
TYPHOID-
It is highly infectious monsoon-related disease. The most common virus known to cause typhoid is salmonella typhi. The typhoid is usually transmitted through unsanitary food or water, and best part is that it is curable. The most common symptoms of the typhoid are a sore throat, cough, loss of appetite and constipation. 
DIARRHOEA
During rainy season diarrhea (Atisaara) is one of the most common health complaints. Diarrhea can be caused due to the consumption of unhygienic food and water. 
Some symptoms include- 
Loose watery stools

Bloating

Abdominal 

cramps

Nausea and Fever
MOSQUITO BORNE DISEASES- 
Dengue:
Dengue is the most common disease which spread through mosquito bites of Aedes aegypti mosquito caused during rainy season. 
Some symptoms include –
High fever

Rashes

Headache

Decreased platelets count

Joint and muscle pain

 Hypersensitivity 
Malaria-
Case of malaria disease rise in rainy season (varsha ritu) as there is a problem of water clogging in many areas. It is spread through Anopheles mosquitoes.
 Some symptoms include-
High grade fever

Body ache

Body chills (shivering)

Sweating 
DIET AND LIFE STYLE IN VARSHA RITU-
DIET TO FOLLOW–
Water available in the reservoirs during rainy season is comparatively heavy to digest and the digestive fire is sluggish during this period.

An individual is likely to experience loss of appetite in rainy season.

Avoid consuming stale food. 

Avoid leafy vegetables during rainy season.

Take light and fresh foods prepared from barley, rice and wheat Include cow's ghee, lean meat, lentils, green gram, rice and wheat in daily diet.

Before every meal small piece of ginger with rock salt should be consumed.

 If the days are cooler due to heavy rains, take a diet that is sour, salty and oily.

Take Sour and salted soups of vegetables.

Onion, lean meat and vegetables may also be used in soups.

 Drink boiled and cooled water mixed with honey.

Avoid eating uncooked foods and salads and eat warm food 

Don't drink excess of fluids at this further slows down the metabolism.

Avoid curds, red meat and any foodstuff, which are heavy to digest.

One may have buttermilk instead of curds.

According to Bhavaprakash states that consuming Haritaki with rock salt in Varsha Ritu is beneficial to health.
 LIFE STYLE TO FOLLOW–
Avoid Sleeping in daytime as it interrupt digestion and slows down the metabolism

Panchkarma therapies can be done.

 Avoid over exertion and over exposure to sun.

Avoid moving out in afternoon sun.

Always keep the surrounding dry and clean.

Stop the water accumulation around you.

Keep body warm as viruses attack immediately when body temperature goes down.

Do not enter air-conditioned room with wet hair and damp clothes

During monsoon walking in dirty water should be avoided

 Avoid getting wet in the rains, keep your feet dry and clean.

Wear dry clothes to avoid getting infections as immunity is low during this season.

Use of Perfumes is advocated in varsha ritu.

Drying clothes with fumes of loban and dry Neem leaves is also recommended in Ayurvedic texts.
PANCHAKARMA THERAPY-
Varsha Ritu is the perfect time for body detoxification. Panchkarma is bio purification methods that cleanse your body through five treatments include basti, nasya, swedana, abhyanga, and snehana.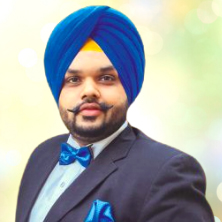 Dr. Vaidya Karanvir Singh is the younger Vaidya in Chandigarh Ayurved & Panchakarma Centre. He is the fourth generation in his family who is practicing as a general consultant in Ayurved & Panchakarma treatment at Chandigarh. In his practice, he had treated more than 1 Lakh Plus patients worldwide.
Article by Dr. Karanvir Singh (M.D in AYURVEDA, PANCHAKARMA FAGE) and reviewed by Vaidya Jagjit Singh (B.A.M.S)