Fibromyalgia Ayurvedic treatment – Safe, Natural and effective
What is Fibromyalgia?
Fibromyalgia is a syndrome which mainly affects soft tissues and muscles in the body. It is a long-term (chronic) condition. It is characterized by –
General fatigue

Pain and tenderness in the muscles and bones (musculoskeletal pain)

Sleep and cognitive disturbances
The patient does not know about the main cause of the pain and tried various treatments to get relief from symptoms. This condition of fibromyalgia more commonly affects women than men.
The Ayurvedic concept to treat fibromyalgia is very specific and scientific. In Ayurveda fibromyalgia is treated  from the root cause and management of the  condition is done with ayurvedic treatment, diet and lifestyle.
Symptoms of fibromyalgia
Most common symptoms that are noticed in patients of fibromyalgia 
Fatigue

Trouble sleeping

Headaches

Depression & anxiety

Sleep disturbances

Pain in all over the body or  lower abdomen

Dry eyes

Bladder problems, like interstitial cystitis
In people with fibromyalgia, due to chemical imbalance or abnormality in the brain the brain and nerves may misinterpret or overreact to normal pain signals. Due to which patient feels symptoms like 
Difficulty in concentrating 

Memory lapses etc.
This condition can also affect your emotions and energy level.
Fibromyalgia symptoms in females
Fibromyalgia symptoms are more severe in females than in male people. Female patients have more widespread pain, IBS symptoms, and morning fatigue than male people. Painful periods are also seen in women. After menopause symptoms of fibromyalgia worse. 
Fibromyalgia in males
Male patients also have severe pain and emotional symptoms from fibromyalgia. 
Fibromyalgia pain
Pain is the hallmark fibromyalgia symptom. Patient may feel pain in various muscles and other soft tissues around your body.
The range of pain can vary from a mild achiness to an intense and almost unbearable discomfort. 
Chest pain 
Chest pain due to fibromyalgia is sharp, stabbing in nature. The pain may be radiating in nature that may radiate to shoulders and arms.
Back pain
Back pain is most commonly found symptom in fibromyalgia. 
Leg pain
You can also feel fibromyalgia pain in your legs. Leg pain may be burning and throbbing in nature.
Causes of Fibromyalgia
The cause of fibromyalgia involves genetic changes (hereditary characteristics) other factors that involves or triggers the condition may involve  infection, trauma, and stress.
Infections
Any kind of past illness could trigger the condition or make its symptoms worse. The infections like flu, pneumonia, GI infections, like those caused by Salmonella and Shigella bacteria can lead to fibromyalgia.
Genes
Fibromyalgia often runs in families. In patients of fibromyalgia family history is also found.
Stress & trauma
Factors like stress and trauma can also affect your body for long time. 
Fibromyalgia risk factors
Fibromyalgia flare-ups can be the result of:
Injury

Stress

Any illness like the flu
Other risk factors of fibromyalgia include:
Gender

– Most cases are diagnosed in women

Age

– Mostly diagnosed in middle age, and with increased age risk increases 

Family history

– There is more chances of developing fibromyalgia, with family history
Diagnosis
Diagnosis of fibromyalgia is made by taking history of patient. Pain is common symptom that is found and on the basis of which diagnosis is made. There is not any investigation or imaging techniques which can confirm the diagnose.
Treatment of Fibromyalgia
Currently, there is not any cure for fibromyalgia. Treatment is mainly done to reduce symptoms and improving quality of life with:
Medications

Self-care strategies

Lifestyle changes
Fibromyalgia medication that are used
Pain relievers like ibuprofen

Antidepressants

Antiseizure drugs
Ayurvedic treatment for Fibromyalgia
Panchakarma is the detoxification method that is used in Ayurveda. It is an ideal treatment that is used to manage fibromyalgia as it cleanses the cells and treats the root cause of the disease. This therapy mainly includes three main stages: preparing the body, releasing and eliminating the impurities, and rejuvenating the tissues. 

Treatments include ayurvedic massage with  medicated oil, nervous system strengthening  shirodhara, herbal paste massage (udvartana), full body herbal steam bath (swedana), and medicated enemas (vasti).

Panchakarma procedures mainly involving the Cleansing the gut and intestine that includes purgation therapy (cleansing of upper gut) and enema (cleansing of lower gut).
Diet, nutrition and digestion
The diet that is advised for patients of fibromyalgia is a modified vata-pacifying diet. It includes:
Coconut water and coconut milk

Vegetable soups

Cooked vegetables like zucchini, sweet potato, squash and pumpkin

Foods that contain cumin, coriander, black pepper, ginger, garlic and turmeric

Green salads with simple dressings of lemon juice, olive oil and a pinch of salt

Warm milk containing spices like cinnamon, cardamom, ginger and clove.
Fibromyalgia patients should avoid
Bitter and astringent foods

Hot (spicy) and fried foods

Processed and packaged food

High amount of black tea, coffee, alcohol, chocolate and cocoa.
Managing lifestyle
Set your routine to ensure healthy diet, good sleep, and a balance of work, exercise, and family, friends and fun.

Avoid worry, stress and anxiety.

Practices like meditation, yoga are helpful in your stress management.

Exercise regularly according to your energy. Breathing exercises and yoga poses are helpful.
TREATMENT AT CHANDIGARH AYURVED CENTRE
In Modern science, use of medicinal as well as surgical treatment may not give permanent treatment but in Ayurveda you can get the permanent cure from these kinds of conditions. So you should start treatment with Ayurveda natural herbs that will deal with the root cause of disease. Chandigarh Ayurved Centre provides Combination of medications for the natural and safe treatment of fibromyalgia.  Medications include
Detox Premium Powder

Nerve Up Tablets

Pain O Kill Tablets

Pain O Kill Oil

Active Plus Tablet

Vata Balance Tablets
For more details you can visit our website
www.chandigarhayurvedcentre.com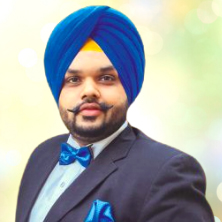 Dr. Vaidya Karanvir Singh is the younger Vaidya in Chandigarh Ayurved & Panchakarma Centre. He is the fourth generation in his family who is practicing as a general consultant in Ayurved & Panchakarma treatment at Chandigarh. In his practice, he had treated more than 1 Lakh Plus patients worldwide.
Article by Dr. Karanvir Singh (M.D in AYURVEDA, PANCHAKARMA FAGE) and reviewed by Vaidya Jagjit Singh (B.A.M.S)