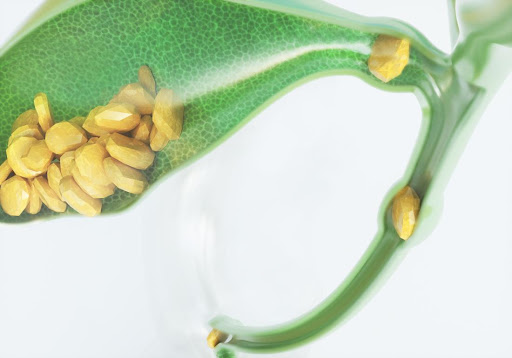 OVERVIEW
Gallstones are deposits of digestive fluids inside of the gall bladder. Gall bladder is a small, pear shaped organ present on the lower side of liver on the right side of abdomen. Liver is the second largest gland in our body. It is made up of liver cells known as hepatocytes. These hepatocytes make a yellowish fluid called bile. This bile juice is stored in gall bladder and is secreted by it during the process of digestion. Bile juice consists of bilirubin and biliverdin salts and cholesterol. These are the waste products formed by the breakdown of red blood cells and are excreted as urine or faeces.
Gall bladder stones range from the size of a grain to that of a golf ball. They can be either single or multiple in number. They do not grow rapidly. The smaller stones are more dangerous as they tend to travel and thus can blockage. The bigger stone remains at its place.
In most of the cases, gallstones produce no symptoms but those who develop symptoms require medical treatment or removal of gall bladder.
CAUSES OF GALLSTONES
The cause of its occurrence is not known but it is believed to be due to the following reasons:
Bile containing excessive amount of bilirubin

Increased amount of cholesterol in bile

Gall bladder doesn't get completely emptied 
TYPES OF GALLSTONES
There are two types of gallstones:
Cholesterol gallstone: It is yellow in color. Cholesterol gallstone consists of undissolved cholesterol.

Pigment gallstone: The gallstone contains excessive amount of bilirubin. It is dark brown or black in color. 
RISK FACTORS OF GALLSTONES
Following are the factors which make a person more vulnerable to gallstones:
Having sedentary lifestyle

Obesity

People above the age of 40 years

Females are more prone to developing gallstones than males

Pregnancy

Eating low fiber diet

Having a genetic disposition to gall stones

Suffering from diabetes

Rapid weight loss

Certain blood disorders like leukemia

Fatty liver
SYMPTOMS OF GALLSTONES
Usually gallstones show no symptoms. But if it causes blockage, following are the signs and symptoms:
Nausea 

Vomiting

Sudden intense pain in the upper right part of abdomen

Pain in the center of abdomen

Pain in right shoulder

Indigestion

Heartburn

Bloating

Fever and chills

Yellow skin

Dark colored urine
DIAGNOSIS OF GALLSTONES
The doctor will do a proper physical examination of the patient. He will ask patient about the signs and symptoms of the disease. He may suggest some of the following tests to the patient to evaluate other conditions:
Blood tests

Ultrasound

MRI scan

CT scan

HIDA scan

Endoscopy 
CHANDIGARH AYURVED CENTER'S MEDICATIONS FOR THE TREATMENT OF GALLSTONES
Here are some of the medicines of Chandigarh Ayurved Center which are used for the treatment of gallstones:
1. Detox Premium Powder
These herbal sachets mainly detox the body and helps in proper metabolism of all the functions. These sachets have anti-inflammatory, antioxidant, and anti-bacterial, anti-fungal, and immune-modulator. The ingredients present in it are moti pishti, parwal pishti, shukta pishti, Giloy satv, kamdudha ras, Jahar Mohra, akik pishti, gandhak rasayan, sutshekhar ras, etc. These ingredients helps in blood purification, reduces burning sensation, weakness, and hot flashes in ulcerative colitis patients. It reduces the level of high uric acid in the body. The powder is very beneficial in relieving discomfort, numbness, muscle ache, and reduces swelling of the pelvic region.
Recommended Dosage: Take 1 tablet twice a day with normal water.
2. Digestion Support tablets
This tablet is unique blend of best digestive herbs like kutaz chal, bilav, dhania, mustak, shankh bhasm, piper mint, and dadim that maintain natural Ph balance in the stomach and aid digestion of all types of food. The herbs present in this control acidity, gas, flatulence and constipation. These all complex problems are root cause of all diseases. If digestive system is proper it leads to proper assimilation of the nutrients in the body.
Recommended Dosage: Take 1 tablet twice a day.
3. Sheet Dhara Syrup
Sheet Dhara Syrup is an herbal preparatory which neutralizes the excess stomach acid to relieve heartburn, burping, loss of appetite, indigestion, an upset stomach, etc. This syrup works differently from other acid reducers as it prevents the secretion of stomach acid in a natural way and helps to overcome nausea, vomiting, abdominal pain, heaviness, etc.
Recommended Dosage: Mix 1 teaspoonful in 30 ml of water and take early in the morning on an empty stomach
4. UTI Care Tablet
UTI Care Tablets helps to treat Urinary tract infections along with the diseases related to kidney, ureters, urinary bladder, and urethra. This tablet contains pure herbal ingredients which are Yavakshar (Hordeum vulgare), kalmi Shora (Pottasium nitrate), Naushadar (Ammonium chloride), Swarna Gairik (Red ochre), etc. UTI Care Tablets are also beneficial in kidney stones, chronic kidney disease, renal colic, burning sensation or pain during micturition, Hypertension. This herbal tablet detoxifies the gallbladder & maintain natural functioning.
Recommended Dosage: Take 1 tablet twice a day with normal water.
5. Kapha Balance tablet
Kapha tablet is a healthy blend of herbs formulated to balance Kapha doshas without aggravating Pitta and Vata doshas. It can also be used to alleviate any temporary Kapha imbalance. It is very effective in Kapha season that is late winter and spring. It consists of warming and astringent herbs that help to balance the system throughout the cold season. The main use of Kapha tablets is to remove excess Kapha doshas from the system and helps in the management of weight, healthy lungs, and the immune system.
Recommended dosage: Take 1 tablet twice daily.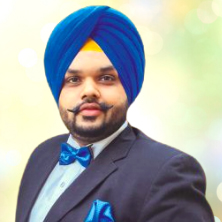 Dr. Vaidya Karanvir Singh is the younger Vaidya in Chandigarh Ayurved & Panchakarma Centre. He is the fourth generation in his family who is practicing as a general consultant in Ayurved & Panchakarma treatment at Chandigarh. In his practice, he had treated more than 1 Lakh Plus patients worldwide.
Article by Dr. Karanvir Singh (M.D in AYURVEDA, PANCHAKARMA FAGE) and reviewed by Vaidya Jagjit Singh (B.A.M.S)