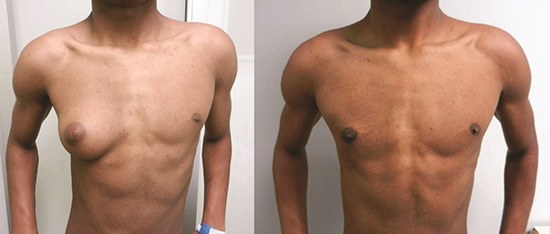 DESCRIPTION
Gynecomastia is the abnormal non – cancerous condition of one or both breasts by which males develop breast tissue due to an imbalance of estrogen and androgen hormone activity. It is usually a benign disease but breast cancer can develop in about one percent of cases.  Pseudogynecomastia is different from gynecomastia where there is an excess of skin and adipose tissue in the male breasts without the development of true breast glandular tissue. Pseudogynecomastia is commonly present in obese men.
PHYSIOLOGIC GYNECOMASTIA
In gynecomastia there is breast development in males can occur during three phases of life.
The first occurs shortly after birth in both males and females. This is partly caused by the high levels of estradiol and progesterone produced by the mother during pregnancy, which stimulates newborn breast tissue. Another situation is due to the increased conversion of steroid hormone precursors to sex steroids. It can stay for several weeks after birth and can cause mild discharge in the breast called "witch's milk".

Puberty marks the second situation where gynecomastia can occur physiologically. In fact, up to 60 percent of boys have clinically diagnosed gynecomastia by the age of 14. It is mostly bilateral, asymmetrical, and can occur unilaterally. Pubertal gynecomastia usually disappears within 3 years of onset. At an early age, the pituitary gland releases gonadotropins at night and stimulates testicular production of testosterone during the early morning. Estrogens rise throughout the whole day.

The third situation in which gynecomastia is frequently seen in older age. Although the exact mechanisms by which this can occur have not been fully identical, evidence shows that it may result from increased peripheral aromatase activity.
SIGNS AND SYMPTOMS
Signs and symptoms of gynecomastia include:
Swollen breast tissue

Breast tenderness

Swelling

Pain or tenderness

Nipple discharge in one or both breasts
CAUSES
Gynecomastia is catalyzed by a decrease in the amount of the testosterone hormone as compared with estrogen. Several things can interfere with the hormone balance, including the following.
Natural hormone changes 
The hormones testosterone and estrogen control sex characteristics in both males and females. Testosterone controls male traits, such as body hairs and muscle mass. Estrogen controls female traits that include the growth of breasts. Most people think of estrogen as a female hormone, but men also produce it is normally small quantities. If male estrogen levels are too high or out of balance with testosterone levels can cause gynecomastia.
Medications
Anti-androgen medicines used to treat prostate cancer, enlarged prostate, and other conditions

 AIDS medications. 

Anti-anxiety medications, such as diazepam

Tricyclic antidepressants

Antibiotics

Ulcer medications, such as cimetidine 

Cancer treatment.

Heart medications, such as digoxin and calcium channel blockers.

Stomach-emptying medications, such as metoclopramide

Street drugs and alcohol

Alcohol

Amphetamines used to treat hyperactivity disorder

Heroin

Methadone (Methadose, Dolophine)

Health conditions
Hypogonadism-

This condition interferes with normal testosterone production, such as Klinefelter syndrome or pituitary insufficiency can also be associated with gynecomastia.

Aging

– Hormonal changes that occur within normal aging can cause gynecomastia, especially in men who are overweight or obese.

Tumor-

Some tumors, like those involving the testes, pituitary gland or adrenal gland, can produce hormones that alter the male-female hormone balance.

Hyperthyroidism –

The condition in which the thyroid gland produces too much thyroid hormone called thyroxine.

Kidney failure

– People treated with dialysis have experience gynecomastia due to hormonal changes.

Liver failure and cirrhosis –

Changes in hormone levels related to liver problems and cirrhosis medications are associated with gynecomastia.

Malnutrition and starvation –

When the body is deprived of proper nutrition, the testosterone levels decrease while estrogen levels remain the same this causing hormonal imbalance. Gynecomastia can also occur when normal nutrition resumes.

Herbal products –

Plant oils, such as lavender or tea tree, used in shampoos, lotions, or soap have been associated with gynecomastia.
RISK FACTOR
The risk factors for gynecomastia include:
Adolescence

Older age

Use of anabolic steroids 

Health conditions, like liver and kidney disease, hormonally active tumors, thyroid conditions, and Klinefelter syndrome.
COMPLICATION
The gynecomastia includes:
Psychological 

Emotional problems 
TREATMENT
Detox premium powder

– CAC DETOX PREMIUM POWDER are herbo-mineral sachets which are purely Ayurvedic formulation. These sachets mainly detox the body and eliminate toxic substances and helps in proper metabolism of all the functions. This formulation act at the level of the nervous system and facilitate proper conduction of signal impulse from the nerves to the muscles. These sachets have anti-inflammatory, antioxidant, and anti-bacterial, anti-fungal, and immune-modulator. The ingredients present in it are moti pishti, parwal pishti, shukta pishti, Giloy satv, kamdudha ras, Jahar Mohra, akik pishti, gandhak rasayan, sutshekhar ras, etc. These ingredients balances all the three doshas (Vata, Pitta & Kapha) and helps in blood purification, reduces burning sensation, weakness, and hot flashes in ulcerative colitis patients. It reduces the level of high uric acid in the body. The powder is very beneficial in relieving discomfort, numbness, muscle ache, and reduces swelling of the pelvic region. This powder provides a cooling & calming effect on the mouth ulcers. It is very beneficial in reducing the swelling, redness, stiffness, and improves the movements of joints.

Liver care syrup

– CAC LIVER CARE SYRUP is a herbo-mineral Syrup which is purely ayurvedic formulation. CAC Liver Care syrup helps in balancing Pitta dosha. This Syrup enhances regeneration of liver cells, promote functions of liver, and improve blood flow from the liver. It helps in the treatment of fatty liver, liver cirrhosis, Hepatitis, hepatomegaly, and obstructive Jaundice. CAC Liver Care syrup contains Ingredients like Kalmegh (Andrographis paniculata), Kutaki(Picrorhiza kurroa), Bhumi amla( phyllanthus niruri), Giloy(Tinopora Cordifolia), Yavakshar( Hordeum vulgare), Imli Kshar( Tamarindus indica), Mukta Shukta pisti etc. These herbs shows Antioxidant, anti-inflammatory, Hepato-protective, properties. This syrup improves digestion, enhances appetite.

Curcumin

– CAC CURCUMIN CAPSULE is a herbo-mineral capsule of size 500 MG which is 100% safe and is purely ayurvedic formulation. CAC Curcumin Capsules helps in pacifying all three doshas. Curcumin Capsule is beneficial for variety of skin conditions like Acne, Eczema, Psoriasis, and Dermatitis. This Capsule contains standardized extract of the herb Curcumin (Curcuma longa). Curcumin is the active ingredient in Turmeric having powerful Anti-inflammatory, Antibacterial, Antifungal, Anti-microbial and Antioxidant properties. These Capsules lowers the risk of Heart Attack, prevents Cancer by reducing the growth of cancerous cells, helps in treating Alzheimer's disease, Rheumatoid arthritis and also has Anti-depressant property. These Capsules are very popular Anti-aging supplement.

Kanchnar guggule

– CAC Kanchnar Guggul is an Ayurvedic and Herbal medicine. It is available in the form of a tablet and it is to be taken orally. They are processed by decreasing the decoction of vegetable substances to a thick density and after pouring some powders for creating a pill mass. CAC Kanchnar guggul is pure herbal medicines which checks and treats any kind of abnormal growth in the body, healing of ulcers, thyroid disorders, hernia, lesions and cancer. All kind of unwanted growth and fluid retentions in the body is treated by CAC Kanchnar Guggul and it reduces all kinds of lumps in the body. The major ingredient in this medicine is guggul, and kanchanar. Here are the health benefits of these:The botanical name of kanchanar is Bauhinia variegata and it belongs to the Fabaceae family. It is used as antibacterial, antifungal, antimalarial, Anti Inflamatory ,Kapha har and pain reducing agents.The botanical name of guggul is Commiphora mukul. There are many medicinal properties of guggul such as antilipidemic (burn fat from the body), antifungal, antimicrobial, antitumor, and antioxidant.

Rasayan vati

– CAC Rasayan vati is herbo-mineral ayurvedic formulation, which is 100% natural. Rasayan vati contains various herbs such as Aswagandha, Shilajeet, Amla, Kesar, Musali, Shatavar, Brahmi Abhrak Bhasam, Swarn Makshik Bhasam, Yashad Bhasam, Mukta pisti, Praval pisti, Jaiphal, Vang Bhasam, Dalchini, Javitri, Gokhru, Kaunch Beej, Saunth, Mirch, Pipli, Amla, Kesar, Manjith, Anant Mool, Brahmi, Musali, Swarn Vang, etc. These ingredients show antioxidant, aphrodisiac, anti-inflammatory, antipyretic, analgesic, immuno-modulator properties.  These tablets provide good results in General debility, Psychological disorders, and improves immunity.
PREVENTION
There are a few factors that can control the risk of gynecomastia:
Don't use these drugs for example steroids and androgens, amphetamines, heroin, and marijuana.

Avoid alcohol. 

If you are taking medication known to cause gynecomastia, stop that medicines and consult with your doctor to change this medication.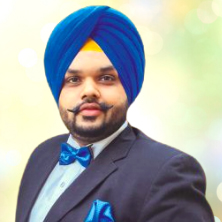 Dr. Vaidya Karanvir Singh is the younger Vaidya in Chandigarh Ayurved & Panchakarma Centre. He is the fourth generation in his family who is practicing as a general consultant in Ayurved & Panchakarma treatment at Chandigarh. In his practice, he had treated more than 1 Lakh Plus patients worldwide.
Article by Dr. Karanvir Singh (M.D in AYURVEDA, PANCHAKARMA FAGE) and reviewed by Vaidya Jagjit Singh (B.A.M.S)