Hearing loss – Causes, Symptoms, Diagnosis and Treatment
Gradual Hearing loss that occurs with increasing age is common. Almost half the people that is older than 65 have some degree of hearing loss.
Hearing loss is of three types:
Conductive (involves outer or middle ear)

Sensorineural (involves inner ear)

Mixed (combination of the two)
Many factors are responsible for hearing loss. In these factors aging and chronic exposure to loud noises both are the main factors that contribute to hearing loss. Other factors include like excessive earwax, can temporarily affect hearing that how well your ears conduct sounds.
Symptoms
Signs and symptoms of hearing loss may notice in people include:
Not proper understanding of words, especially in crowded places. 

Muffling of speech and other sounds

Trouble hearing consonants

Asking others to speak more loudly ,slowly and clearly

Withdrawal from conversations

Avoidance of some social settings
Causes
Causes of hearing loss include:
Gradual buildup of earwax.

Earwax block the ear canal that prevents conduction of sound waves thus leads to conductive loss of hearing. Removal of Earwax can help to restore your hearing.

Damage to the inner ear.

Aging and exposure to loud noise for longer time  may cause wear and tear on the nerve cells in the cochlea that send sound signals to the brain. Due to any kind of damage to nerve cells electrical signals are not transmitted properly that cause hearing loss.

Ear infection , tumors and abnormal growths –

These can be reason for hearing loss by affecting any part of ear.  

Ruptured eardrum.

Loud noise, sudden changes in pressure, poking your eardrum with an object and any kind of infection can perforate tympanic membrane (ear drum) and affect your hearing.
Risk factors
Factors that may damage nerve cells in your inner ear include:
Heredity.

Your genetic makeup can affect your hearing.  

Aging.

Degeneration changes of inner ear structures with time.

Loud noise.

Exposure to loud sounds for longer time can damage the cells of your inner ear and hence can affect your hearing.

Occupational noises.

Occupation where exposure to loud noise is a regular part of the working for eg. Construction or factory work , working in mines etc. can cause damage inside your ear.

Recreational noises.

Continuous exposure of noises from firearms and jet engines can results in permanent hearing loss. 

Some medications.

Intake of some medications like antibiotic gentamicin, sildenafil (Viagra) and some chemotherapy drugs, can damage the inner ear. Temporary effects like — ringing in the ear (tinnitus) can occur with taking very high doses of aspirin, other pain killers, antimalarial drugs etc.

Some illnesses.

Some ailments that cause high fever, like meningitis, may damage the cochlea.
Sound levels of common noises
Decibels   Noise source
Safe range
30

Whisper

40

Refrigerator

60

Normal conversation

75

Dishwasher
Risk range
85

Heavy city traffic, school cafeteria

95

Motorcycle

100

Snowmobile

110

Chain saw, jackhammer, rock concert, symphony

115

Sandblasting

120

Ambulance siren, thunder

140-165

Firecrackers, firearms
Complications
Hearing loss can affect your quality of life. Older people with hearing problem may have depression and isolation because hearing loss can make conversation difficult for them. 
Prevention of hearing loss
There are certain steps by following which you prevent noise-induced hearing loss and avoid severity age-related hearing loss:
Protect your ears. Limit the intensity and duration of noise exposure is the best protection. Use of plastic earplugs or glycerin-filled earmuffs at your work place can help to protect your ears from louder noise.

Have your hearing tested regularly. Go for regular hearing tests if you work in a noisy environment. If you've lost some hearing, you should consult with doctor to prevent further loss.

Avoid recreational risks. 
Diagnosis of Hearing loss
Physical examination. Your doctor will examine your ear for possible causes of your hearing loss, like any earwax or inflammation from an infection. Doctor can also check if there is any structural causes of your hearing problems.
Other test may include
App-based hearing tests. 

Tuning fork tests. 

Audiometer tests. 
Treatment of Hearing loss
If you have hearing problems, Treatment is purely based upon the causative factors and severity of your symptoms of hearing loss.
Treatment Options include:
Removing ear wax.

Earwax affects the conduction of sound waves by blocking ear canal so it is a reversible cause of hearing loss. Your doctor can easily remove earwax using suction or a small tool with a loop on the end.

Surgical procedures.

In which there are structural deformities, abnormal growth in ear or abnormalities of ear drum are treated with the help of surgery. 

Hearing aids.

These can be helpful if your hearing loss is due to damage to your inner ear.

Hearing aid helps in amplification of sound and directs it into your ear canal. 

Cochlear implants.

In severe cases of hearing loss where hearing aids, then a cochlear implant may be an option. A cochlear implant bypasses the damaged or un-functional parts of your inner ear and directly stimulates the hearing nerve. 
Avoid hearing loss with Ayurveda
With the help of Ayurveda, one can avoid this condition. As in Ayurveda there are many medicated herbs which balances the aggravated doshas. 

Chandigarh Ayurved centre provides combination of medicines that are effectively used in preventing hearling loss. These medications include
These ingredients show antioxidant, aphrodisiac, anti-inflammatory, antipyretic, analgesic, immuno-modulator properties.  These tablets provide good results in General debility, Psychological disorders, and improves immunity.
These sachets mainly balance Vata and Kapha Doshas. It  relieves exhaustion and provides energy. It also cures body aches, anorexia, and loss of sensation of tongue, indigestion, burning sensation in palms and feet and temperature.
It balances all the three doshas of body i.e Vata, Pitta, Kapha and maintain healthy balance of these doshas. It is an anti oxidant, anti-inflammatory, anti-bacterial, anti-fungal and immuno modulator.
Most hearing loss conditions are due to vata doshas, vata vitiation can result in damage to the auditory nerve and nerve ending, which leads to defective hearing problems. Trikatu syrup balances the Vata dosha, and provides strength to nerves. 
It acts as a nervine stimulator and also reduces Kapha doshas. It mainly acts on the central nervous system. These contain natural Vatahar properties and helps in curing Vata diseases. It speeds up physical and mental processes. 
For more details you can visit our website
www.chandigarhayurvedcentre.com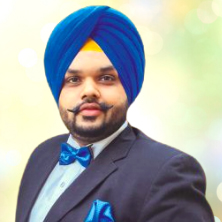 Dr. Vaidya Karanvir Singh is the younger Vaidya in Chandigarh Ayurved & Panchakarma Centre. He is the fourth generation in his family who is practicing as a general consultant in Ayurved & Panchakarma treatment at Chandigarh. In his practice, he had treated more than 1 Lakh Plus patients worldwide.
Article by Dr. Karanvir Singh (M.D in AYURVEDA, PANCHAKARMA FAGE) and reviewed by Vaidya Jagjit Singh (B.A.M.S)