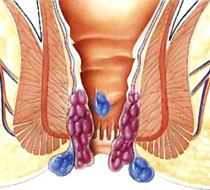 Hemorrhoids are inflamed or swollen veins in the lowest part of your rectum and anus. Sometimes, the walls of these blood vessels stretch so thin that the veins puffed up and get irritated, especially when you pass motions. Hemorrhoids are also termed piles.
Hemorrhoids are one of the most leasing causes of rectal bleeding. They usually go away on their own. Ayurvedic treatments can also cure. 
Classification
1st Degree
Stay in the rectum 
2nd Degree
Prolapse through the anus on defecation but automatically reduce 
3rd Degree
Prolapse through the anus on defecation but need digital reduction 
4th Degree
Remain persistently prolapsed/outside anus
Symptoms of Hemorrhoids
Painless bleeding during defecation

Itching or irritation in the anal region

Discomfort, soreness, and pain in the anal area

Lumps and swelling in the anal region

Dripping feces
Types
Internal hemorrhoids
Internal hemorrhoids are so far inside your rectum that you can't often see them. 

They don't usually hurt because you have few sensory nerves there.
Symptoms:
Blood on your poop, on toilet paper after wiping, or in the toilet bowl

 Tissue that swells outside your anal opening. This may be painful, often when you poop. 

 You might be able to see swollen hemorrhoids as moist bumps that are pinker than the surrounding area.

These generally go back inside on their own.
External hemorrhoids
External hemorrhoids are beneath the skin around your anus, where there are many more sensory nerves. Symptoms of external hemorrhoids include:
Pain

Itching

Swelling

Bleeding
Thrombosed Hemorrhoids
A blood clot can transform into an external hemorrhoid purple or blue. This is called a thrombosis hemorrhoid. You may have symptoms like:
Severe pain during defecation

Itching in the anal region

Bleeding
Causes
Pregnancy:

 They are more found in pregnant women because, as the uterus enlarges in size, it presses on the vein in the colon, causing it to swell up.

Aging:

 Hemorrhoids are more commonly found in adults aged 45 to 65 years. This does not mean that young individuals and children do not get them.

Diarrhea:

 Hemorrhoids can also occur after cases of chronic diarrhea.

Chronic constipation:

 Straining to move stool exerts additional pressure on the walls of the blood vessels.

Sitting for too long:

 Staying in a seated position for a prolonged time can cause hemorrhoids, especially on the toilet.

Heavy lifting:

 Regularly lifting heavy objects can result in hemorrhoids.

Anal intercourse:

 This can form new hemorrhoids or worsen existing ones.

Obesity:

 Obesity can cause also hemorrhoids.

Genetics: 

Hemorrhoids can be inherited.
Complications
Strangulated hemorrhoid:

 If the blood supply to the hemorrhoid is reduced or cut off, it may become strangulated. This can cause severe pain.

Anemia:

 Chronic blood loss from hemorrhoids can result in anemia. This occurs when there are not enough RBCs in a person's body.

Blood clots: 

Sometimes, a blood clot may form in the anus, which can be painful. The area will become inflamed
Treatment for hemorrhoids
Medical management (Bheshaja chikitsa)
Medical mode of treatment can cure first-degree hemorrhoids. In other degrees of piles, it may be practiced along with other procedures. This treatment is done after evaluating dosha predominance. 
Operative management (Sastra chikitsa) 
 Application of Kshara-sutra Therapy.
 In this process, hemorrhoids are tied at their pedicle by Kshara-sutra or specially processed thread with herbs. By the convention of pressure necrosis, it prohibits blood supply to the respective pile stack immediately. Eventually, hemorrhoids shrink, diminish and ultimately fall off within 10 days, leaving some scar tissue that assists the surrounding veins in that area, preventing them to bulge or swell further. 
Application of Ayurvedic Kshara (Caustics made up of Ayurvedic herbs) 
It is a non-surgical procedure of Ayurveda suggested for the complete management of hemorrhoids. A medicine (alkaline in nature) obtained from a combination of different herbs is applied to the pile stack with the usage of a special slit proctoscope. It is a form of chemical cauterization. Application of kshara sutra is considered superior over all other procedures used for the treatment piles. 
Cauterisation or Agnikarma
Agnikarma is the type of thermal cautery that is a suitable method in the excision of sentinel piles, skin tags, and anal warts falling in the Vatha Kaphaja type of pile.
 Do's and Don'ts for Hemorrhoids or Piles
Do's
Drink lot of fluids

Do take sufficient fibers in the diet

Exercise regularly and walking is one of the best things

Train yourself for healthy food intake of lunch and dinner

Lose weight if you are obese

Chew your food adequately which enable digestion

Take buttermilk, onion, leafy vegetables and green gram, etc. regularly

Do not eat any food which is heavy to digest

You should also cut off spicy, processed, and oily foods

Increase your intake of okra, bathua, spinach, carrots, radish, and leafy vegetables in your everyday menu

Increase physical activity

Drink at least 10 glasses of water a day.

Eat foods, which are excellent sources of fiber, such as whole-grain or bran, cereals and bread, fresh and leafy vegetables and fruits, and, if necessary, add bran to your meals (about three to four tablespoonful per day)

Keep the anal area clean and dry

Have warm baths

The hot soup of dry radish is very good in non-bleeding piles

Have enough sleep

Take sitz bath.
 Don'ts
Don't sit for prolonged time on a hard surface because it can prohibit blood flow around the anal area

Don't sit on the toilet pot for long periods. This position exerts extra pressure on the anal area

Don't drink coffee or alcohol in excess

Hurry and worry is not advisable for a piles patient

Avoid weight lifting. Even if you lift anything heavy exhale and don't retain your breath

Don't use laxatives on daily basis, as it may become a habit, weaken the intestine and cause the bowels to lose their ability to function normally.

Don't take any medication directly; this can be harmful to your intestine as well as diseases.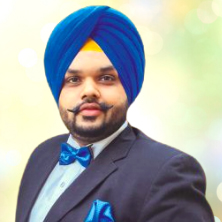 Dr. Vaidya Karanvir Singh is the younger Vaidya in Chandigarh Ayurved & Panchakarma Centre. He is the fourth generation in his family who is practicing as a general consultant in Ayurved & Panchakarma treatment at Chandigarh. In his practice, he had treated more than 1 Lakh Plus patients worldwide.
Article by Dr. Karanvir Singh (M.D in AYURVEDA, PANCHAKARMA FAGE) and reviewed by Vaidya Jagjit Singh (B.A.M.S)