Herbal Remedies for Piles (Hemorrhoids), Ayurvedic Treatment – Causes & Symptoms
Piles, also known as hemorrhoids, is a very common problem nowadays. Piles are dilated and swollen veins around the rectum and around the anal opening. Pile mass is a collection of small veins which can be compared with the cushions of tissue within the anal canal containing blood vessels.
Two types of piles seen in people are:-
Bleeding Piles – The piles that usually bleed are known as bleeding piles. Regular blood loss leads to anemia and weakness.
Non Bleeding Piles – When there is no bleeding in the piles but still the pile mass can be felt and causes pain and discomfort is called non bleeding piles or dry piles.
According to the location, piles can be:-
External Piles – The hemorrhoids present on the external surface are both painful and visible. They get burst or begin bleeding if they get inflamed.
Internal Piles – These are located in the inner lining of the anal region. These are not visible externally and are generally painless.
CAUSES
The most common and persistent cause of piles is constipation. The straining action during constipation for the evacuation of bowels is the biggest cause for this condition.
Some of the other causes for piles are:-
Sedentary lifestyle
Obesity
Genetic constitution
Untreated gastric condition
Lack of fibre intake in your food
Sitting on hard seats for prolonged periods of time
Lack of exercise
Varicose veins
Pregnancy
Diarrhoea
Conditions which cause increased pressure on veins around the anus
SYMPTOMS
Bleeding from the anal region
Itching and irritation in the anal region
Pain and discomfort at the time of bowel movement
Tender lumps
Feeling of unclear bowel even after passing the stool
Frothy mucus discharge with the stool
Constipation
AYURVEDIC VIEW AND TREATMENT ACCORDING TO CHANDIGARH AYURVED CENTRE
Ayurveda believes that Apana Vayu is responsible for the defecation process. Vitiation of apana vayu results in the formation of pile mass. The vitiation of apana vayu leads to Agnimandya which further causes the malformation of the stool and hence results in the constipation.
Piles can be compared with Arsh in Ayurveda. Pravahini, visarjini and samvarini the three major veins present in the anal region swell up and protrude out leading to the formation of pile mass.
Ayurvedic formulations useful in Arsh are:-
Arsh Kuthar Rasa
Pranda Gutika
Panchaskar Churna
Trivrit Avaleh
Lasuna Rasayan
Hingvadi Vati
Chitrakadi Vati
Kshara Sutra ligation and Agnikarma excision are done to remove the pile masses.
DIET AND LIFESTYLE
Drink a lot of water and other fluids
Avoid irregular eating pattern and have meals at regular timings
Avoid eating heavy, oily and fried foods
Avoid sitting at one place for longer time. Take a break from your long sitting job
Keep the sitting surface soft so that it does not restrict the flow of the blood around the anal region
Never hold the urge to pass the stool. Avoid over straining.
Prefer taking vegetables and fruits in your diet. Avoid taking non vegetarian food.
Make minimum use of oils and spices.
Avoid taking in bakery food items.
HERBAL REMEDIES
Take one radish and crush it. Add some milk to make a thick paste of it. Mix well and apply around the anal opening. Wash off after 15 minutes. Do this two times a day.
Take one tablespoon of cumin seed powder and add water to make a thick paste of it. Mix well and apply this on the affected area. Leave for 15 minutes. Wash off with the water and do this two times a day.
Crush one inch piece of ginger and make a paste of it. Also take a handful of mint leaves and prepare its paste. Mix both the pastes well and extract the juice out of it. Now add two teaspoons of lemon juice to it and one teaspoon of honey to it. Mix well and consume this two times a day.
Combine the mixture of buttermilk and bitter gourd leaves. Take this 2-3 times a day. This is again highly beneficial in the case of piles.
Take the decoction of the fruit peel of harad or Haritaki with one cupful of jaggery at bedtime.
Crush 11 rose petals and add 50 ml of water to it. Consume this empty stomach in early morning. This is beneficial in preventing bleeding piles.
NOT SATISFIED?
Click Here to consult Vaidya Jagjit Singh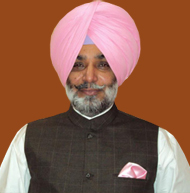 Vaidya Jagjit Singh is a 3rd generation Ayurved physician from his family and is the remarkable person responsible for setting up of the Chandigarh Ayurved and Panchkarma Centre in sector 32 and 22, Chandigarh and Zirakpur and he is also the first founder member of Guru Ravidas Ayurved University. He has done his B.A.M.S. from Shri Dhanwantri Ayurvedic College, Chandigarh. He is an admirable ayurvedic physician with specialization in Chronic ailments.
Article by Dr. Karanvir Singh (M.D in AYURVEDA, PANCHAKARMA FAGE) and reviewed by Vaidya Jagjit Singh (B.A.M.S)