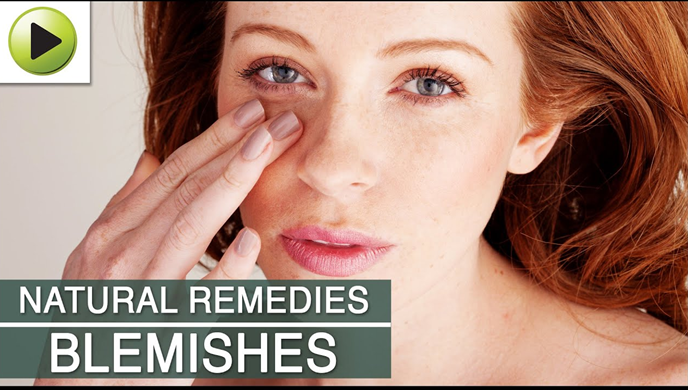 How Ayurveda Can Help to Cure Blemishes
What are blemishes?
Blemishes are defined as a discoloration of the facial skin. Facial blemishes occur when pores are clogged with bacteria, viruses, sebum and dead skin cells. Pollution and UV rays are one of the most common and major causes that hurt's skin barrier function by breaking down collagen and the lipids. Every individual has to suffer from irritation, rashes, and breakouts, particularly peaks in pollution. But if an individual starts taking Ayurvedic treatment for blemishes at the starting stage, the condition can cure its root cause and prevent further complications also.
CAUSES OF BLEMISHES –
Sun exposure
Excessive exposure to harmful ultraviolet (UV) sun rays can cause hyperpigmentation, skin cancer, and other forms of skin damage.
Viruses
Some blemishes, are caused by viruses, like HSV-1,  varicella-zoster virus (VZV) causes.
Genetics
Blemishes may have a genetic link.
Medications
Some medications may cause acne as a side effect this includes:
Clogged pores
When your sebaceous gland produces excessive sebum or oil it trapped within the pores and cause blemishes.
Excess oil can coalesce with dirt, dead skin cells and bacteria etc.
This results in pimples, pustules, blackheads, and whiteheads to form.
Makeup, sunscreen, or moisturizers and Hairstyling products can also clog pores if they get onto your face.
Infections
An infection in the hair follicles can cause blemishes to erupt the skin.
This condition is caused by an overgrowth of yeast and causes pimples to form.
Hormonal disturbance-
Changes in the hormones will lead to the formation of acne, pustules, blemishes, and other skin problems.
Mainly hormones fluctuate during puberty, pregnancy, menopause, and many women experience a surge of blemishes during the start of their monthly period cycle.
Stress –
Stress and anxiety induces the adrenal glands into the overproduction of a steroid known as Cortisol, which in turn makes sebaceous glands produce more oil and turns the skin extra oily.
To get rid of this, a person should keep away from the stress and take sound sleep each night.
Diet
Persons who consume the diets which are high in sugar and simple carbohydrates may also lead to blemishes.
Dairy products, such as skim milk, may cause acne, blemishes in some people.
The food with a high amount of oil, salt, and other species may also lead to blemishes
SYMPTOMS OF BLEMISHES :
Formation of the blackheads, and whiteheads on the skin,
Itchy and painful rash appears
Formation of pimples (raised, red spots that contain white or yellow pus)
Cysts on the skin appears on the face, chest, and back,
Sometimes mild tenderness and pain feel on the face
PATHOGENESIS –
If a person regularly consume Pitta aggravated products like oily, spicy, fried, fatty, salty, processed foods, consume excessive coffee, black tea, alcohol, too much exposure to the sun, emotional stress, overworking or under resting, regular use of chemicals based creams, bleaches, and certain medications, all these causes will impure the Rakta dhatu and Mamsa dhatu.
Impured Rakta dhatu and Mamsa dhatu lead to the formation of blemishes and other skin problems.
INCREDIBLE HOME REMEDIES FOR BLEMISHES –
We can easily treat our blemishes with some common home remedies. Some of the best effective home remedies that can be used by every individual these include-
FULLER'S EARTH (MULTANI MITTI)-
Multani mitti is widely known for its beneficial effects on the skin.
Fuller's will help to open the clogged pores and expells out the excessive oil and sweat from the facial skin.
How to use it-
We can make a paste by adding rose water and lemon juice in the multani mitti.
Apply this paste on your face equally and leave it for about 15 to 20 minutes, then wash off thoroughly.
This paste will help provide luster and glow on your face and also help in removing the dead skin cells.
Neem (Azadihrecta indica)-
Neem is well known for Ayurvedic treatment for blemishes & its anti-septic, blood detoxifying, anti-biotic properties, and widely used for many years.
Neem leaves gives cooling and soothing effect on the skin and reduces redness, burning sensation, tenderness, and other associated symptoms of blemishes.
Neem moisturizes your skin and makes it softer and its anti-fungal properties provide relief fromt the scars and pigmentation.
How to use it –
Make a decoction (kadha) of neem leaves and apply it on your face daily.
POTATO-
Potato is good for the reduction of pigmentation, dark circles under the eyes, acne, blemishes, and other skin problems because it has a high amount of starch that works wonderfully.
How to use it- 
You can use potatoes by extracting the juice of potato.
Apply potato extract on your face directly.
After 15-20 minute wash it off with normal water and apply moisturizer.
You can do this procedure daily or three to four times a week, you will show a noticeable result in your skin.
ORANGE PEEL-
Orange fruit is high in Vitamin-C, citric acid and very good in repairing the damaged skin.
Orange feel powder will help in keeps your skin looking younger and radiantr.
How to use it-
Add 1-2 tsp of orange peel powder with yogurt and honey
Apply this face pack and leave it for about 20 to 25 minutes.
After that, wash off with normal water and apply moisturizer.
This procedure will give a youthful and vibrant glow, day after day.
CAC Blemishes Go Kit-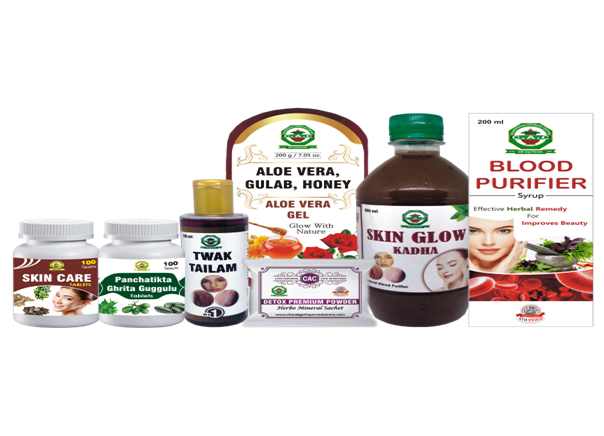 Blood Purifier Syrup– Take 2 teaspoonful twice daily.
Detox Premium Powder– Take 1 sachet twice daily with normal water.
Panchatiktaghrit Guggulu- Take 1 tablet twice daily.
Skin Care Tablet– Take 1 tablet twice daily.
Aloe Vera Gel– Gently applies over the affected area of the skin.
Twak Tailm- Apply over the affected area of the skin.
Skin Glow Kadha– Take 20 ml twice daily with an equal amount of water.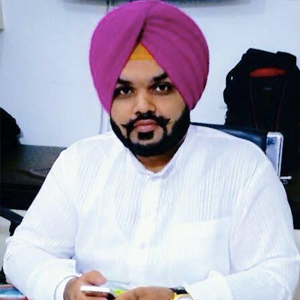 Vaidya Karanvir Singh is the younger Vaidya in Chandigarh Ayurved & Panchakarma Centre. He is the fourth generation in his family who is practicing as a general consultant in Ayurved & Panchakarma treatment at Chandigarh. In his practice, he had treated more than 1000 plus patients worldwide.
Article by Dr. Karanvir Singh (M.D in AYURVEDA, PANCHAKARMA FAGE) and reviewed by Vaidya Jagjit Singh (B.A.M.S)