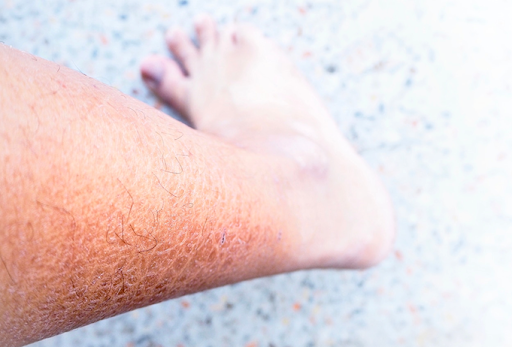 ICHTHYOSIS VULGARIS Is charaterized by excessive dry and scaly skin 

It's also known as "

fish scale disease

" it has similar pattern as fish's scales.

This is present at birth and disappear during child hood but in some cases it can return during adulthood 

Ichthyosis affects people with all ages, races and gender.

In some cases adults have ichthyosis without defective genes but this is a rare condition 

Ichthyosis vulgaris mayalso occur along with other skin disorders, such as atopic dermatitis, atopic dermatitis,  severe eczema

Ichthyosis vulgaris get worse during the winter time because of cold and dry air and in the summer, the disease  disappear because of the warm, moist air.
IN AYURVEDA: 
Ichthyosis vulgaris correlated with

Eka Kushtha

. 

According to Ayurveda disease is caused due to imbalance of Vata and Kapha dosha 
TYPES:
The most common type of Ichthyosis normally occurs scales of thick skin appear all over the body

An inherited condition of the skin where a baby is born with large patches of scaly-looking skin

Where a baby is born with red, delicate, and sensitive skin. They develop scales of dry skin later in life, such as in early childhood and puberty

New-born babies with this type of skin disorder are covered in a thick membrane at birth

Scales appear on a new-born shortly after birth

A non-inherited skin condition that occurs by internal diseases and medication reactions.
SYMPTOMS:
Flaky scalp

Itchy skin

Polygon-shaped scales on the skin

Scales that are brown, gray, or white

Severely dry skin

Thickened skin

Rough bumps on the arms, in thighs and in the  buttocks

Itchy skin

Flaky, dry skin

Patches of skin 

Thickened skin

Grey, white, or brown patches on skin
CAUSES:
Genes (inherited) and this is called inherited ichthyosis vulgaris.

Gene mutation (change) in the womb.

In adults including kidney failure, certain cancers, sarcoidosis, leprosy, and human immunodeficiency virus (HIV)

Allergy to certain medication 

Thyroid disease

Atopic dermatitis
DIAGNOSIS:
Biopsy (removing a small portion of the skin for examination under a microscope)

Since the disease is inherited in children so go for a genetic test.
COMPLICATIONS:
Skin infections

In Children have a higher risk of developing eczema, asthma, high Fever 

Ichthyosis vulgaris cause dehydration, blistering, overheating and skin allergies.
PRECAUTIONS:
Apply lotions and creams after taking bath 

Gently rub a pumice stone on wet skin help remove thickened crusty skin.

Brush washed hair to remove scales from scalp.

Take baths more than once a day this Hydrating the skin softens the scales

Take oral and/or skin medications including antibiotics to treat skin infections.

Add a small amount of bleach to bath water if skin infections 
TREATMENTS:
There is no permanent cure to ichthyosis, there are certain treatments available that can relieve your skin of the symptoms that cause dry, scaly skin.

Apply creams or lotions containing salicylic acid, glycolic acid, lactic acid or urea to exfoliate and moisturise skin. These may irritate active eczema.

Oral retinoids such as acitretin or isotretinoin can be prescribed in severe cases

Apply product that contains urea, lactic acid or a low concentration of salicylic acid 

Mild acidic compounds help skin shed its dead skin cells and Urea helps bind moisture to skin.
CAC MEDICATIONS IN ICHTHYOSIS VULGARIS:
This is a herbo-mineral preparation that contains ingredients like Parwal Pishti, Giloy satv, Shukta Pishti, Kamdudha Ras, Gandhak Rasayan, etc.
Recommended Dosage: Take 1 sachet twice daily with plain water.
It is ayurvedic syrup that consists of various natural ingredients such as Khadir Chall (Acacia catechu), Manjistha (Rubia cordifolia), Neem (Azadirachta indica), Giloy (Tinospora cordifolia), Harad (Terminalia bellirica), Baheda (Terminalia chebula), Amla (Emblica officinalis), etc. As the syrup purifies the blood by removing excess toxins it is very beneficial in maintaining proper circulation and improves the skin naturally.
Recommended Dosage – Take 2 teaspoonful twice daily.
skin care tablet is a pure ayurvedic formulation. It help to maintain the texture of your skin depending on the type of skin you have. It contains various herbs like Haridra khand, Panchnimb churna, Khadir chahal, Chirayta, Mulethi, Chopchini, Gandhak, Ajmoda that work very effectively on all skin types. Skin care is a blood purifying tablet. It cools and detoxifies the blood, increase blood circulation of the skin. It minimizes the blemishes, lighten sun tan, delay ageing of skin and heal skin problems.
Recommended Dosage: Take 1 tablet twice daily.
PANCHATIKTA GHRITA GUGGULU:
Panchatikta Ghrita Guggulu is an ayurvedic preparation mainly used for skin diseases. This tablet contains pure herbal ingredients such as Nimba(Azadirachta indica), Patola(Cucumis acutangulus), Guduchi(Tinospora cordifolia), Vasa(Adhatoda vasica), etc. This tablet promotes detoxification and rejuvenation. Panchatikta Ghrita Guggulu tablet is a natural source of anti – oxidant. It promotes engender vibrant and healthy skin.
Recommended Dosage – Take 1 tablets twice a day with normal water.
Strawberry face cream is pure herbal cream which gives you glowing complexion without any side effects. This face cream Delays ageing, eliminates dead skin cells, cleanses the skin, improves complexion, and even tones your skin. The antioxidants present in strawberries delay the signs of aging like wrinkles and sagging skin. The Vitamin C fights free radicals that cause damage to cells and collagen resulting in fine lines. Vitamin C in strawberries is essential for the production of collagen, which improves the skin's elasticity.
Recommended Dosage – Apply to the affected area twice daily.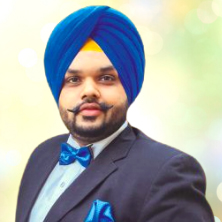 Dr. Vaidya Karanvir Singh is the younger Vaidya in Chandigarh Ayurved & Panchakarma Centre. He is the fourth generation in his family who is practicing as a general consultant in Ayurved & Panchakarma treatment at Chandigarh. In his practice, he had treated more than 1 Lakh Plus patients worldwide.
Article by Dr. Karanvir Singh (M.D in AYURVEDA, PANCHAKARMA FAGE) and reviewed by Vaidya Jagjit Singh (B.A.M.S)