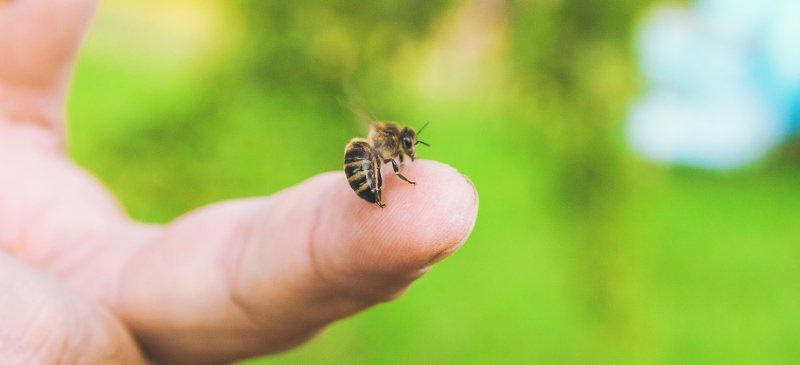 WHAT IS AN INSECT BITES?
Insect bite can be listed under the puncture wounds. It is caused by an insect possibly in self-defence or when looking to feed.
They typically inject the Formic acid which may lead to immediate skin reactions like itching, Redness, pain swelling etc. 
AYURVEDIC ASPECT OF INSECT BITE
In Ayurveda, Insect bite is classified under the Agantuja Vrana(Wound caused by external factors) or Viddha Vrana or Punctured wound.
Insect bite is also known as "Kita Damsha"
Atreya said something about the Kita or insects- They are born from the putrefied urine, feces, semen, egg, and cadavers of snakes.
The division of insects based on doshic characteristics into 4 types-
Vata- in this type of insect bite

the sensation of prickling pain is greatly increased.

Pitta-

In this type of insect bite there is less exudation but more burning sensation, redness, spreading of symptoms, and its appearance is like a ripe Pilu Fruit or kharjūra fruit(Phoenix dactylifera).

Kapha-

In this type there is mild pain, and the swelling appears like a ripen Udumbara fruit (Ficus racemosa).

Sannipattika-

In this type there is copious exudate, presence of all of the previous symptoms or mixed symptomatology, and this type is very difficult to treat.
Ancient Ayurveda Treatment
For the One dohik involvement i.e. Vata, Pitta, and Kapha – Acharya Atreya recommends the 3  kinds of doshic treatments-  fomentation, the application of medicines, and washing the lesion (Exception- instances of loss of consciousness, ulceration of the wounds, or infection.

Ghee mixed with equal amounts of trivruta (Operculina turpenthum) and tanduliyaka( the Sanskrit term for Amaranthus spinosus, commonly known as the spiny amaranth, prickly amaranth or thorny amaranth) should be consumed.

Human hair can be used to fumigate all types of bite/sting.
One should undergo purificatory therapy and after that the patient should apply a paste made of the milky sap of tree bark at the site of lesion.
The application of a paste of mukta (pearls)- It is considered the best cure for swelling, pricking pain, burning, and fever

Dasanga agada

– Acharya Kashyapa listed the herbal formula which is beneficial for insect bites. It consists of combination of the herbs like Vacha(Acorus calamus), Hingu, Vidanga(Embilia ribes) , saindhava, gajapippali, patha, prativaisa, and vyosa, which are formed into a paste and then rolled into pills. "This formulation cures all kinds of insect poisons."

The seeds of sirisa(Albizzia lebbeck) soaked and macerated for 3 times in the milky sap of Arka and then mixed with Pippali(Long pepper) powder is the Agada or antidote that destroys the poison of insects.
MOST COMMON INSECT BITES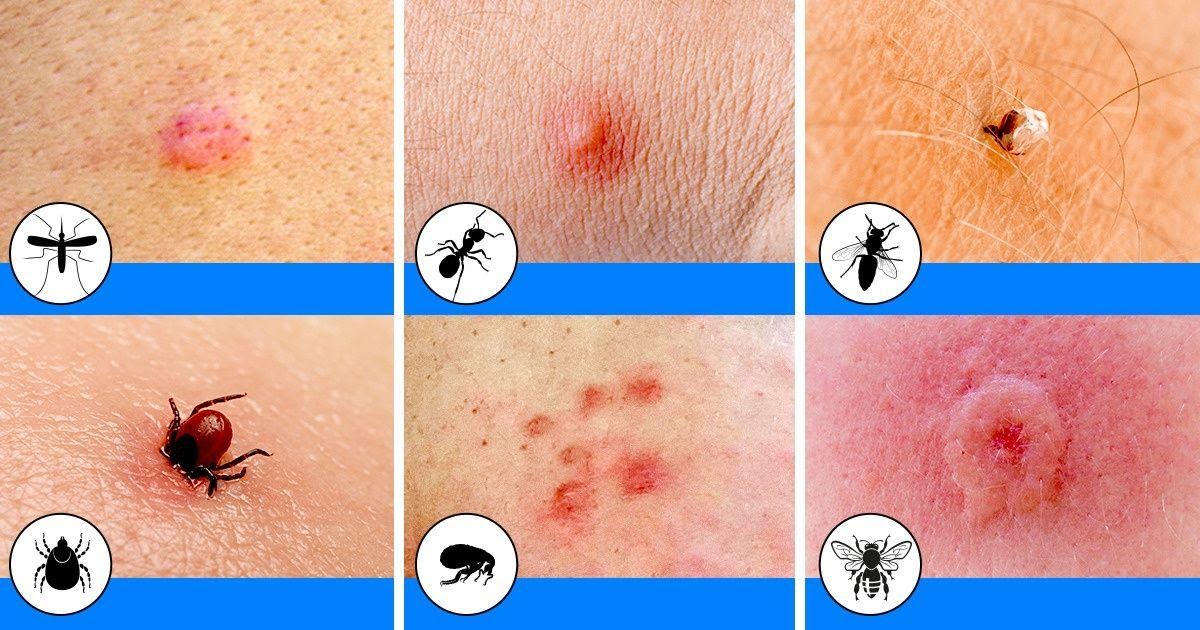 Mosquito
Ant
Bee
Spider
Hornets
Wasps
Mites
Fleas
SIGNS AND SYMPTOMS-
Pain
Redness
Swelling
Inflammation
Blisters
Itching
Irritation
Numbness
Tingling Sensation
Rashes and burning
Cramps
Stiffness
Breathlessness
Nausea 
HOME REMEDIES-
For redness and pain- apply ice packs on the affected part which helps to relieve from redness and pain.

In case of Swelling- Clean the affected area of the bite by using a soap and adequate amount of water. Then immediately, apply ice pack as it may reduce the swelling. Avoid scratching the bite or the area around it as it in order to reduce the chances of infection in Future. 

Insect Stingers- The insects that can leave stingers on your skin i.e. Honeybees and yellow jackets.
Firstly, remove the stinger from a card or something similar but it is advised not to pinch the stinger as it might spread more venom.

For redness, pain swelling follow the above points in addition some points are listed below-

Allium cepa (Onion)- Application of Sliced onion on the affected site by gently tapping and holding.

Time Duration- 1hour

Baking soda mixed with water may help to neutralize Venom of bee and reduces pain, itching and swelling. Time duration- 15minute and repeat it if required.

Honey- Apply to the affected site cover with a loose bandage keep it for an hour.

Apple cider Vinegar- It is believed that it can neutralize the Venom. Use diluted Apple Cider Vinegar to the affected site for at least 15minutes.
To remove the swelling, elevate the area of the bite if possible.

A mixture of baking soda and water can be applied over the affected site in order to avoid pain and swelling.

Aloe Vera, basil leaves and peppermint due to their antiseptic properties, considered as a great remedy to treat insect bites.

Aloe Vera- Local application Aloe Vera gel on the affected area. Peppermint leaves- Application of crushed leaves or peppermint oil provides a cooling sensation and reduces the itching.

Time Duration

-15 minutes

Basil leaves (2 table- spoons Crushed) and Turmeric Powder (2 table- spoons) mix them well together and apply on the affected site.

It helps to reduce itching.

Application of Mustard oil and Neem oil is a natural mosquito repellent.
IS THERE NEED TO SEEK FOR A MEDICAL TREATMENT?
If the insect bite is close to mouth and throat. 

If the symptoms are getting worse and not treated in 2-3 days.

Increasing pain and swelling along with Pus collection at the site of the insect bite.

If the area of bite is large i.e. around 10 cms and there is more redness and swelling.

If there is Fever of Flu-like symptoms persists.

 
CAC SPECIAL CARE PRODUCTS FOR INSECT BITE-
THESE CAN BE APPLIED LOCALLY IN ORDER TO REMOVE THE RASHES AFTER INSECT BITES –
Aloe Vera Gulab Gel
Aloe Vera gel enriched with almond oil
Jatyadi Ghrit lepa
CAC Neem Soap
Fullers Earth pack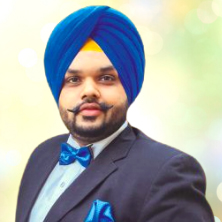 Dr. Vaidya Karanvir Singh is the younger Vaidya in Chandigarh Ayurved & Panchakarma Centre. He is the fourth generation in his family who is practicing as a general consultant in Ayurved & Panchakarma treatment at Chandigarh. In his practice, he had treated more than 1 Lakh Plus patients worldwide.
Article by Dr. Karanvir Singh (M.D in AYURVEDA, PANCHAKARMA FAGE) and reviewed by Vaidya Jagjit Singh (B.A.M.S)