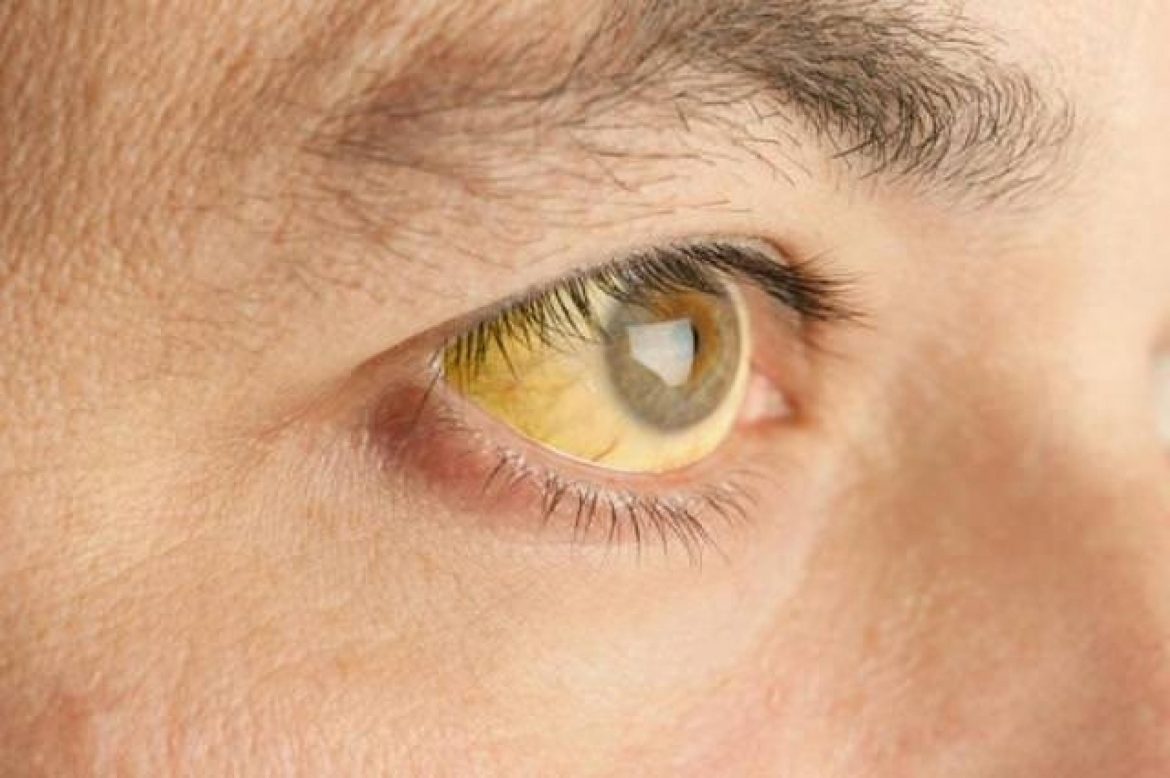 Jaundice
Jaundice is defined as the condition where in the eyes and skin takes the yellow tint. It is a common liver disorder affecting almost all the people at some point of time in their life. Sometimes it is also seen as a symptom of other liver disorders such as liver infection, gallstones and cirrhosis of liver or when some poisonous substances get ingested into the body which cannot be dealt by the liver. Jaundice is also caused when the liver gets inflamed. This is known as hepatitis.
The yellow color first appears in the white portion of the eyes and then slowly it spreads to other portions of the body. The yellow color of the skin is mainly due to excess of bile pigment namely bilirubin circulating in the blood. As a result the liver is not able to function properly and digest the fat.
What are the Causes of Jaundice?
Jaundice mainly takes place when the bilirubin is not properly metabolized by your liver. The various causes of jaundice are:
Due to any obstruction in the bile duct due to gallstones or hepatitis
Impairment of the functions of the liver
Excessive destruction of the red blood cells
Excessive circulation of the bile pigments in the blood
Ailments like typhoid, malaria, yellow fever, haemolytic anaemia and tuberculosis also affect the functioning of the liver
Due to certain viral infections
Liver cancer
Thalassemia
Misuse of alcohol
Hepatitis A, B, C, D, E
Sickle Cell Anemia
Acute pancreatitis
Pancreatic cancer
G6PD deficiency
Yellow fever
Drug-induced immune hemolytic anemia
Alcoholic liver disease
What are the Signs & Symptoms of Jaundice?
The various signs & symptoms seen in jaundice patient are:
Yellowish discoloration of eyes, nails, & skin
Fatigue
Flatulence
General weakness
Burning sensation in the body
Drowsiness
Black discoloration of stool
Excessive thirst
Loss of libido
Indigestion
Nausea
Loss of appetite
Low grade fever
Indigestion
What is the Ayurvedic view on Jaundice?
According to Ayurveda Jaundice is known as "Kamala" In this disease the pitta dosha is imbalanced along with the rakta as a dushya. Kamala is considered as the advanced stage of Pandu roga. This disease is known as Pittaja Nanatmaja vyadhi & Raktapradosaja vyadhi. In purvaroopa of Kamala the symptoms seen are yellow discoloration of eyes, nailbed, skin, & oral mucosa, toad like color of skin, burning sensation of body, anorexia, weakness, malaise, weight loss, indigestion, rakta pita purisha & mutra.
In Ayurveda, jaundice is compared with Kamala. It is a condition in which the skin gets discoloured. This happens because there is deposition of the bile pigment in the deeper layers of the skin.
There are two types of kamala defined in ayurveda:
Shakaashrita Kamala – This type of kamala is caused due to obstruction in the bile duct. The obstruction could be due to gallstones or any cancerous growth that causes the blockage.
Koshthashrita Kamala – This type of kamala is caused due to accumulation of bile pigments due to any liver disease.
Single herbs useful in case of jaundice are:
Trivrit
Kutki
Triphala
Bhumiamalaki
Vasa
Kakamachi
Aloe vera
Ayurvedic formulations useful in this disorder are:
Bhumiamalaki Churna
Aloe Vera Juice
Kumariasava
Punarnava Mandoor
Avipattikar Churna
Aarogyavardhini Vati
Triphala Guggulu
Kutki Churna
Lohasava
Punarnavasava
What is the Ayurvedic Treatment for Jaundice?
According to Ayurveda as jaundice is a raktaj pittaj vyadhi. So the basic line of treatment is to balance these two. In Ayurveda, there are numerous herbs that provide effective & good results to jaundice patients. Chandigarh Ayurved Centre prepares a complete kit known as "Jaundice Care Kit" for proper natural & herbal treatment of this disease. It comprises of five products mentioned below: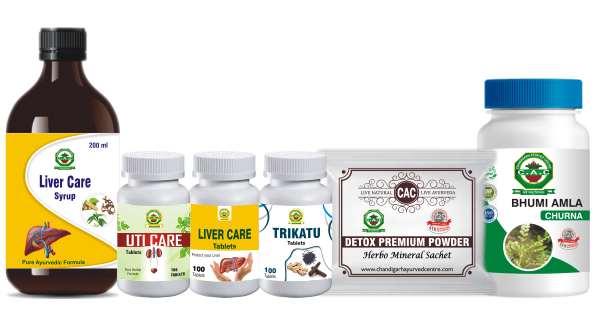 Real Testimonial of Jaundice Patient
1. Liver Care Tablet:
These tablets are 100% safe and purely ayurvedic formulation. It maintains the proper functioning of the liver and stimulates the growth of new liver cells. Liver Care Tablets contains Ingredients like Kalmegh (Andrographis paniculata), Kutaki(Picrorhiza kurroa), Bhumi amla( phyllanthus niruri), Giloy(Tinopora Cordifolia), Yavakshar( Hordeum vulgare), Imli Kshar( Tamarindus indica), Mukta Shukta pisti etc. These herbs balances excess Pitta Dosha and helps in problems like abdominal bloating,flatulence, abdominal pain, loss of appetite and indigestion.
Recommended Dosage: Take 1 tablet twice daily with normal water.
2. Detox Premium Powder:
This is the Ayurvedic formulation of natural herbs which is mainly formed to cure the Jaundice in a natural way. The powder contains a mixture of ingredients such as– Jahar mohra, Akik pishti, Giloy satva, Tal sindoor, Parwal pishti, etc. It clears away the toxins from the body and stimulates the function of the liver and increases the flow of bile.
Recommended Dosage – Take 1 sachet twice a day with normal water.
3. Liver care Syrup:
Liver Care syrup helps in balancing Pitta dosha. This Syrup enhances regeneration of liver cells, promote functions of liver, and improve blood flow from the liver. It helps in the treatment of fatty liver, liver cirrhosis, Hepatitis, hepatomegaly, and obstructive Jaundice. CAC Liver Care syrup contains Ingredients like Kalmegh (Andrographis paniculata), Kutaki(Picrorhiza kurroa), Bhumi amla( phyllanthus niruri), Giloy(Tinopora Cordifolia), Yavakshar( Hordeum vulgare), Imli Kshar( Tamarindus indica), Mukta Shukta pisti etc. These herbs show Antioxidant, anti-inflammatory, Hepato-protective, properties. This syrup improves digestion, enhances appetite.
Recommended Dosage: Take 2 teaspoonfuls twice daily.
4. Trikatu Tablet:
Trikatu means 3 most essential species –Maricha (Piper nigrum), Pippali (Piper longum), and Sonth (Zingiber officinale). It is an herbal formulation used in Ayurveda for enhancing effects and increasing the absorption of ayurvedic medicines. It has hot potency, which means its intake results in the production of heat in the body and increases digestive juices and bile salt secretion. Trikatu tablet promotes the bioavailability of nutrients and increases the absorption of drugs in the bloodstream.
Recommended Dosage – Take 1 tablet twice a day with normal water.
5. Bhumiamaladi Churna:
This churna is made up of mainly 2 ingredients Bhumiamala (Phyllanthus niruri) and Kutaki (Picrorhiza kurroa), which has the best results in the condition of Jaundice. It detoxifies the liver and brings down the SGOT and SGPT levels. It also increases the production and excretion of bile and is effective in gall bladder cleanser. The churna balances the aggravated Pitta and helps in nourishing the liver.
Recommended Dosage – Take 1 teaspoonful twice a day with normal water.
6. UTI Care Tablets:
UTI Care Tablet is an herbal formulation of Sajjakshar (Bergenia lingulata), Gokshura (Tribulus terrestris), Punarnava (Boerhavia diffusa), etc. The capsule cures the flow of urine, relieves the burning sensation, swelling, pain, and discomfort. UTI Care Tablets are also beneficial in kidney stones, chronic kidney disease, Renal colic, burning sensation or pain during micturition, Hypertension.
Recommended Dosage – Take 1 Tablet twice daily with normal water.
What is the Panchakarma Treatment in Jaundice?
Panchakarma therapies help in the overall detoxification of the body. Along with Ayurvedic treatment, it provides very effective and long-lasting results. Chandigarh Ayurved Centre recommends two procedures for jaundice patient:
Patra potli pind sweda: In this procedure, a potli is prepared with leaves of the various herbs. After that potali is dipped in medicated oil. Heat this for few time & massage with this potli is done on the patient body.
Basti: This is a kind of herbal enema in which medicated oil or decoction is used. According to the condition of the patient this enema is given to the patient.
Healthy Tips & Diet for Jaundice Patients
Drink green coconut water, mosambi, & pomegranate juice daily.
Avoid heavy, oily, fast, & processed food items.
Include green veggies & fruits in your diet.
You can include brown rice, wheat flour, potatoes, radish, tomatoes, bottle gourd, ridge gourd, spinach, lemon, cardamom, mangoes, and almonds in the diet.
Don't stress yourself and avoid tension.
Take proper rest for quick recovery.
Drink plenty of boiled water.
Do perform yoga poses like Baddha padmasana, Matsyasana, Sarvangasana, Ujjayi pranayam, & Yoga nidra. These yoga poses will help you to get rid of excess bile secretion that is the primary cause of jaundice.
Radish juice is also good for jaundice patients.
Doesn't overcook your food instead of that eats boil food.
Avoid using turmeric in your diet.
Strictly avoid aerated drinks & alcoholic beverages.
Use yellow & pink lentils.
Include fresh juices & soups in your diet.
You can drink buttermilk but avoid other milk & milk products like cheese, butter, paneer, etc.
DIET AND LIFESTYLE
Maintain personal and public hygiene
Wash your hands before and after eating and after going to the toilet.
Drink purified water.
Avoid eating hot, spicy, oily, fried and heavy food stuffs.
Avoid refined flour, polished rice, preserved foods and bakery products.
Carrot juice, beetroot juice mixed with lemon, juice of radish, juice of bitter gourd, lemon juice and sugarcane juice are highly beneficial for people suffering from jaundice. This enhances urination which helps in eliminating excess of bile pigments in the blood.
Increase the intake of minerals like iron and calcium in your diet.
Have boiled and spice less diet.
Prefer eating radish leaves, tomato, lemon, dried dates, almonds and cardamoms.
Take complete rest. Avoid taking mental stress and tensions.
Practice yogasanas like matsyasana, sarvanga asana and baddha Padma asana.
HERBAL REMEDIES
Take 4-5 tomatoes and boil them in 500 ml water for 15 minutes. De-skin and crush the boiled tomatoes. Press them on a sieve and extract the juice. Drink this juice every morning on an empty stomach.
Take 7 almonds, 2 dried dates, 3 small cardamoms. Soak them in water overnight and crush them next morning to make a fine paste. Now add two teaspoons sugar and one teaspoon butter. Mix well and eat once a day.
Add two teaspoons of turmeric in one glass of water. Drink this mixture two to three times a day.
Take a glass of buttermilk with some black pepper in it. Take this for a period of seven days in case of jaundice.
Here are a few home remedies that will help you to maintain the overall functions of the liver.
1) Radish
Radish herb is good for reducing the high bilirubin levels in jaundice patients. It contains a compound that regularizes the bowel movements & induces appetite. The leaves of this herb are used for removing jaundice naturally.
How to use
Take few leaves of radish in a half cup of water blend this mixture. Strain the mixture & drink this herbal juice once daily on an empty stomach.
2) Aloe vera
Aloe vera herb shows antioxidant, anti-inflammatory, & immuno-modulator properties. These properties are beneficial for jaundice patients as it deals with the loss of appetite, abdominal pain, itching, dark urine, & itching problem.
How to use
Take the fresh pulp of Aloe vera add black salt & ginger juice in it. Eat this mixture early in the morning regularly for ten days on an empty stomach once daily.
3) Tomato
Tomato contains lycopene in it that lowers the risk of liver ailments. It is good for removing toxins from the liver & maintaining its overall strength. This vegetable deals with the fatigue, general weakness, loss of appetite, itching related issues of the skin in jaundice patients.
How to use
Take a glass of fresh tomato juice add salt & pepper in it. Drink this juice early in the morning on an empty stomach.
You can also prepare soup from fresh tomatoes at home. Add black pepper & black salt in it. Have this once daily for reducing high bilirubin naturally.
4) Lemon
Lemon is rich in vitamin C & the antioxidant nature of this herb removes all toxins out from the body. The anti-inflammatory property of this herb cures jaundice naturally. It protects the liver cells from being damaged & reduces excessive bilirubin in the body.
How to use
Take a glass of water & squeeze a lemon in it. Add black pepper powder & a pinch of black salt in it. Drink this water early in the morning on an empty stomach.
You can also use fresh lemon juice in your dishes for maintaining your health.
5) Spinach
Spinach leaves are rich in iron & remove all toxins out from the liver. The spinach leaves deal with the symptoms such as loss of appetite, fatigue, general weakness, dark urine associated with jaundice patients.
How to use
Boil fresh leaves of spinach & prepare its soup. Have this soup once or twice daily.
Prepare fresh juice of spinach & drink this early in the morning on an empty stomach.
6) Sugarcane
Sugarcane helps in maintaining the liver & improves digestion naturally. This juice will help in improving the symptoms related to jaundice patients. So use this herb as a home remedy for getting effective results from jaundice.
How to use
Drink a glass of sugarcane juice by adding mint leaves, black pepper, & a pinch of black salt in it. This home remedy is good for your overall liver health.
7) Papaya
The fruit & leaves of papaya is good for jaundice patients. As it deals with the loss of appetite, fever, fatigue, bowel issues, abdominal pain, etc related in jaundice.
How to use
Eat a bowl of ripe papaya juice daily for maintaining your health.
Take a few fresh leaves of papaya & extract juice from it. Take 30 ml of this juice once daily early in the morning on an empty stomach.
8) Wheatgrass
Wheatgrass herb enhances the liver of an individual & remove extra bilirubin from the body. It increases the vigor, strength, & promotes overall health in an individual.
How to use
Take 30 ml of fresh juice of wheatgrass daily once or twice.
Wheatgrass powder is also available in the market. So take a teaspoonful of this powder in a glass of water. Drink this water once daily early in the morning on an empty stomach.
9) Barley
Barley shows diuretic properties that remove extra bilirubin & harmful toxins out from the body. It is an excellent source of dietary fiber that maintains healthy bowel movements & keeps your digestive system healthy. This herb is good for your body.
How to use
Take three liters of water & a cup of barley, boil this on low flame for three hours. Strain the mixture & drink this mixture several times throughout the day.
Diet Chart for Jaundice Patients
A person's diet plays a significant role in prevention and recovery of jaundice. People with jaundice are usually advised to eat foods and drinks that help to improve the digestion and metabolism, protect the liver from further damage and also detoxify the liver.
Here we suggested some of the best nutritious diet which is very beneficial to control and also prevent jaundice.
| | | |
| --- | --- | --- |
| | Foods to be Consumed | Foods to be avoided |
| Fruits | Apple, Papaya, Grapes, Sugarcane, Strawberries, Orange, Mosambi, Pear, Blueberries, Avocado. | Banana, Mango, Canned vegetables. |
| Vegetables | Spinach, Carrot, Potato, Radish, Bottle gourd, Round gourd, Bitter gourd, Cauliflower, Broccoli, Beetroot. | Sweet potato, Onion, Garlic, Ginger, Frozen vegetables. |
| Grains | Wheat, Oats, Quinoa, Barley, Millet, Brown rice. | White bread, White Rice, Pasta. |
| Dairy Product | Skimmed milk, Curd, Buttermilk. | Yogurt, Eggs, Cheese, Butter. |
| Legumes | Yellow lentil, Pink lentil, Green gram. | Black-eyed peas, Kidney beans, Chick-peas . |
| Nuts | Almonds, Figs, Walnuts, Corns. | Cashew nuts, Pistachio, Peanuts. |
| Oils | Olive oil, Cow's Ghee, Coconut oil, Sunflower oil, Mustard oil. | Refined oils, Sesame oil |
| Spices | Green Cardamom, Coriander seeds, Black pepper, Fenugreek seed, Cumin seeds. | Excessive salt, Turmeric, Chili powder. |
| Beverage | Coconut water, Lemon juice, Ginger tea, Carrot juice, Sugarcane juice, Herbal tea. | Tea, Coffee, Soft drinks, Alcohol. |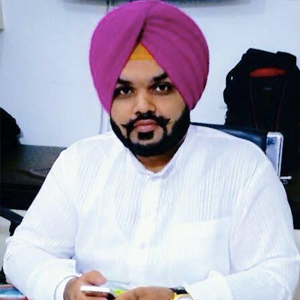 Vaidya Karanvir Singh is the younger Vaidya in Chandigarh Ayurved & Panchakarma Centre. He is the fourth generation in his family who is practicing as a general consultant in Ayurved & Panchakarma treatment at Chandigarh. In his practice, he had treated more than 1000 plus patients worldwide.
Article by Dr. Karanvir Singh (M.D in AYURVEDA, PANCHAKARMA FAGE) and reviewed by Vaidya Jagjit Singh (B.A.M.S)