NETRA TARPANA- THE AYURVEDIC EYE THERAPY
Introduction
Netra Tarpana is most often recommended practice in Ayurveda for  Netra Roga Chikitsa.  Netra Tarpana is a procedure done in ayurveda to provide nourishment to the eyes.

Tarpana may help to nourish eyes, increase blood circulation to the affected area, gets rid dosha imbalances, strengthens the eye muscles  and helps in  improving vision.
What is Netra Tarpana ?
'Netra Tarpana' is made up of two  words – 
Netra – means Eye

Tarpana – means Nourishment 
So Netra Tarpana means 'Nourishment of Eye' or a procedure  which is done for eye nourishment. Akshi tarpana is  another name used for Netra Tarpana. This procedure is effectively used for  nourishment and strengthening  of  the eyes, cures the eye diseases. 
In this procedure  , warm medicated ghee is kept over the eyes for a certain duration by making a ring of  barley or black gram flour over the eye socket.
Benefits of Netra tarpana
Balances Vata and pitta doshas.

Improves  vision

Removes dark circles under the eyes

Rejuvenates tired, dry , rough and injured eyes

Strengthens the nerves and muscles of the eyes

Prevents from various diseases of eyes
Indications of Netra Tarpana
Akshi tarpana is done in following conditions
Irritation in eyes after exposure to light

Feeling of darkness in front of eyes  

Stiffness or rigidity in the eyes



Dry eye syndromes 

Injury to the eye 

Diseases of the eyes caused due to vitiation of Vata and pitta dosha

Abnormal deviation of eye ball 

Eye lashes falling down  

Dirtiness of eyes 

Difficulty to open or close the eyes

In case of Acute orbital cellulitis

Phylectenular conjunctivitis 

Conjunctivitis  

Glaucoma  

Hyperaemia of conjunctiva

Atrophy of the cranial nerves 

Keratitis or Redness of eyes, tearing, pain, irritation 

Refractive errors of eye
Contraindications  of Netra Tarpana
Netra tarpana should not be done in following conditions 
On a Cloudy , very hot or cold day 

When a Person is  worried or not in stable condition

After physical exhaustion

When complications like  severe inflammation, redness , severe pain in the eyes etc. 
Procedure of Netra Tarpana
Purvakarma  (Pre-treatment procedure)

–  
Some Preparations are done before the main procedure of the akshi tarpana . These involves
Preparation of the patient: Examination of patient is done to know the  basic constitution or prakriti and Vikriti. On the basis of which- line of treatment and medications used in the procedures are decided.
Preparation of the treatment 
All the materials needed for the procedure should be collected before the procedure.These may include – 
Medicated ghrita ,

Flour of black gram for construction ring around the eyes.

Stoves , bowls , vessels

Sterile clothes / cotton / tissue paper

Material needed for dhoompana
Immediate procedures – Before doing netra tarpana , detoxification / cleansing of the body should be done . To do so procedures like vamana , virechana, shiro virechana  are done.
Preparation of  flour  for  ring – Flour of barley and black gram should be  mixed in a  vessel by adding water and some  oil. The mixture is made into bolus.  . From this, 2 small rings will be  prepared around the eye ball. 
Preparation of the medicine – The ghee which is to be used for Netra Tarpanam should be warmed . For this, the required quantity of ghee is put in asmall bowl  and this The bowl is placed in a big vessel having hot water. Check the temperature . As the medicine should be administered lukewarm.
Pradhan Karma – Main procedure
After explaining the whole procedure to the patient , The procedure of the akshi tarpana should be start
Time of the Netra tarpana – The treatment should be done in 'Sadharana Kala' i.e. in which  neither too hot nor too cold. The treatment should be done  in the morning  or evening time or at both times . This procedure is done for 30 minutes.
Position of the patient: The patient is made to lie down in  . Neck support should be given .
Construction  of ring  around the eye: The rings of  flour are made over the eye sockets . The height of the ring should be of 2 angula's . It should be done properly to prevent any kind of leakage of ghrita.  
Filling the Tarpana Ring with medicine – Lukewarm  medicated ghee (ghrita)  is  gently poured in the rings so that the eyes are dipped within the medicine.  Eyes of patient should be closed  while dropping the medicine in the ring. Later he or she is instructed to open and close the eyes repeatedly so that the interior of eyes come into the contact of the medicines . The medications are left in place for fixed duration of time . After certain time medications are removed.
Duration of tarpana
Disesaes of eye lids               –   100 matra kala

Disesaes of joits of eye        –    300 matra kala

Disesaes of sclera                  –    500 matra kala

Disesaes of cornea , iris       –     700 matra kala

Disesaes of retina & vision –     800 matra kala

Glaucoma                                –    1000 matra kala

Vata roga                                 –    1000 matra kala

Pitta roga                                 –    800 matra kala

Kapha roga                              –    600 matra kala

Swastha roga                          –     500 matra kala

In vata roga                             –    tarpana should be done daily

In pitta roga                             –   on alternate day

In kapha roga & swastha      –  on every day 4th
Signs of properly done Tarpana
Tolerance to light

Clarity of vision

Feeling of lightness in eyes

Good sleep

Reduction of eye diseases
Signs of improperly done Tarpana
Heaviness in eyes

Improper sleep

Intolerance to light

Lack of clarity of vision 

Dryness of eyes

Increase in disease or symptoms
Signs of overly done Tarpana
Heaviness in eyes

Increase of oilyness in eyes

Itching in eyes

Coating in eyes

Excessive lacrimation
Paschat Karma
Removing the medicine – The medicine is removed by creating a small hole in the ring at the outer  canthus of  eye . After that wiping the eyes and the surrounding area  is done with the help of sterile cotton or cloth. 
Dhumapana – After wiping of the eyes , herbal smoking should be given to patient to  eliminate the Kapha which has been exaggerated due to the administration of Ghrita and or Ghrita Manda in Netra Tarpana.
All of these procedures should be done properly to take complete netra tarpana benefits.
Importance of Netra tarpana
Eyes are the most important organ of the body . So it is very important to take proper care of eyes and keep them healthy.  Akshi Tarpana/ Netra Tarpana is an excellent soothing, relaxing eye treatment to  rejuvenate  eyes  and surrounding tissues. Akshi tarpana is the best care of eyes using ayurveda.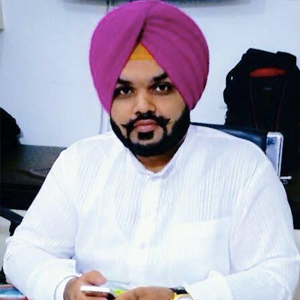 Vaidya Karanvir Singh is the younger Vaidya in Chandigarh Ayurved & Panchakarma Centre. He is the fourth generation in his family who is practicing as a general consultant in Ayurved & Panchakarma treatment at Chandigarh. In his practice, he had treated more than 1000 plus patients worldwide.
Article by Dr. Karanvir Singh (M.D in AYURVEDA, PANCHAKARMA FAGE) and reviewed by Vaidya Jagjit Singh (B.A.M.S)