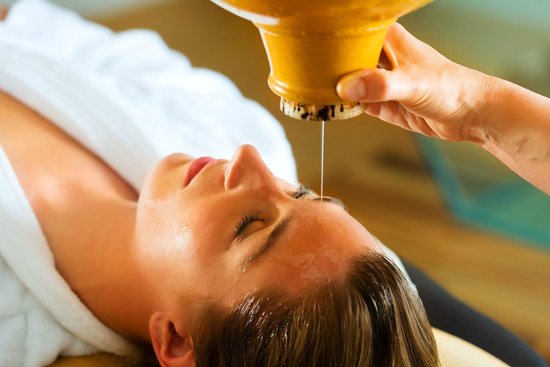 Panchakarma Treatment For Stress
Stress is a state of mental and physical pressure resulting from an imbalance between specific demands and the individual's ability and motivation to meet those demands.
In a stressful event our body produces larger quantities of the chemicals cortisol, adrenaline and noradrenaline, which trigger a higher heart rate, and sweating.
According to Ayurveda science, there are two main concepts of stress management – shodhana and shamana, where shaman takes care of imbalances in the body and shodhana expels the accumulated toxins from the body. Panchakarma treatment comes under the shodhana chikitsa.
CAUSES OF STRESS                         
Workplace stress
Having a heavy work load
Emotional stress
Trauma
Fear
Financial Burden
Working under dangerous
Lack of sleep
Anxiety disorders
Facing discrimination
COMPLICATIONS:
Weakened Immune System
Hypertension
Persistent Headaches
Depression
Heart Diseases
Gastrointestinal problems
Accelerated aging
AYURVEDIC THERAPIES FOR STRESSS REDUCTION
SHIRO ABHYANGAM
PADABHYANGAM
NASYAM
SHIRODHARA
SARVANGDHARA
SHIRO ABHYANGAM
In Sanskrit, 'shiras' means head and 'abhyanga' means massage.
Shiro Abhyanga is a procedure in which massaging the head, neck and shoulders with luke warm medicated oil to calm the mind..
The medicated oils customized according to patient's body type and are applied with a variety of massage techniques and gentle marma applications.
Shiro abhyanga has much deeper healing effects which naturally harmonize Mind, body and Soul.
Read Also: Post Traumatic Stress Disorder
BENEFITS OF SHIRO ABHYANGA
A wonderful and beneficial panchkarma procedure for de-stressing the mind and body
Head massage enhances mental and physical health and reduces stress.
Increase the flow of cerebra-spinal fluids, thus strengthening the nervous system
It revitalizes the body by improving blood circulation, digestive power and other physiological functions of the body.
Helpful against eyestrain, tinnitus, jaw ache and sinusitis, stimulates lymphatic drainage and aids sleep
It helps to remove the toxins and other side effects caused by the use of dyes, etc.
Nourishes hair roots, prevents hair loss and premature greying
Dispersion of toxins from tense and knotted muscles, improvement of blood circulation.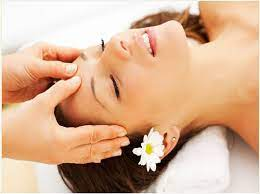 PADABHYANGAM
Ayurveda foot care treatment applies herbal oil on all the vital (marma) points of the feet. By stimulating the foot marma points, connections are made at the subtlest level of the nervous system for release of emotional stress.
BENEFITS OF PADA ABHYANGA
Relaxes tired feet and legs
Reduces stress, depression, and anxiety
Relieves tired feeling of restlessness experienced in the foot
Relaxes and soothes nerves and revitalizes the central nervous system
Improves blood circulation, which reduces the feet numbness
Decreases stiffness, dryness, and numbness of the leg and foot
Promotes healthy vision and hearing senses.
Relieves foot ache improves muscle tone and prevents dryness of the skin.
Promotes sound Sleep.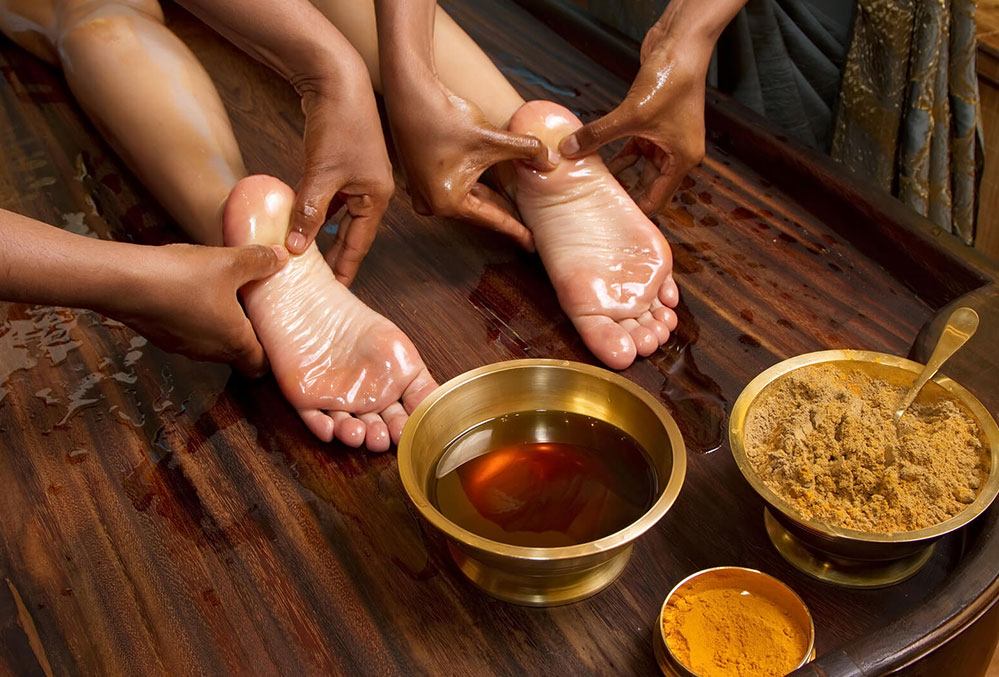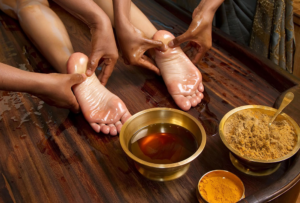 NASYAM KARMA:
Nasya is a part of Panchakarma treatment for body cleansing used in Ayurvedic medicine.
In this procedure medicated oil is administered into both nostrils to remove accumulated kapha toxins from head and neck region.
Nasyam treatment can help moisturize our nasal passage and prevent bleeding from the nose.
It Pacifies Vata Dosha and impacts are wide-ranging.
BENEFITS OF NASYAM TREATMENT
Relaxes mind
Relieves Tension and migraine headache
Reduces nose bleeds
Nourishes dry nasal passage
Reduces anxiety and stress
Promotes better Sleep
Relieves Sinusitis and Bronchitis
Sinus congestion
Allergies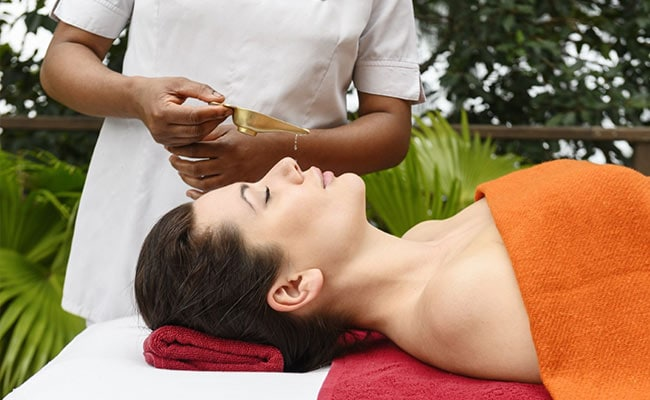 Read Also: How To Be Stress Free W.r.t Stress Care Tablet
SHIRODHARA:
Shirodhara is traditional Ayurvedic healing technique that has been use in ancient time to treat a host of disorders. In this technique warm medicated oil is poured over the forehead of patient and then a gentle and soothing head massage is done.
BENEFITS OF SHIRODHARA-
Pacifies vata dosha
Reduces anxiety and stress
Generates a profound state of relaxation,
Brings balance and harmony to body, mind, and spirit.
Relieves anxiety, depression, insomnia, stress, fatigue, negative emotions, and mood swings.
Balances your mind by increasing concentration, productivity, and clarity
Prevents hair loss and damage by nourishing hair follicles, roots and scalp
Calms down mental irritation & provide better sleep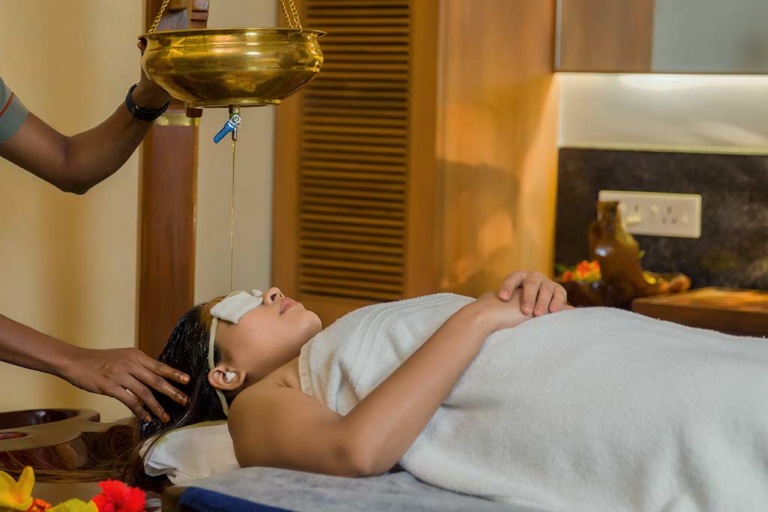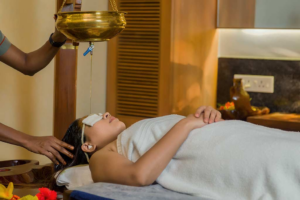 SARVANGDHARA
Sarvangdhara word means dhara (flow) given throughout the body. In this technique lukewarm medicated oils are squeezed all over the body except head and neck region.
Sarvangdhara is a very effective remedy for an optimum of relaxation, soothing, and rejuvenating. This is considered a very special treatment in ayurveda.
BENEFIT OF SARVANGDHARA AYURVEDIC MASSAGE
This treatment is useful in Vata imbalances, stress, anxiety, hypertension and wasting of the limbs.
That is given after Abhyanga
It helps to get rid of chronic fatigue syndrome (CFS) after a viral or bacterial infection.
Improves the body's immunity and reduces the burning sensation in the body.
It thereby also ensures better circulation, and helps to get rid of paralysis.
This therapy Promotes healing of fractures, and is also prevents from early aging.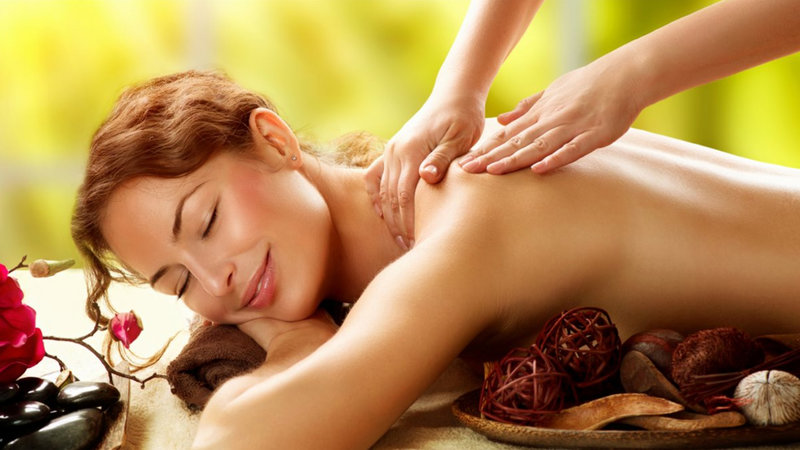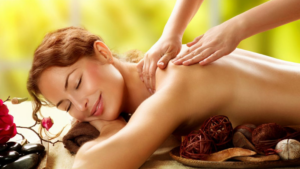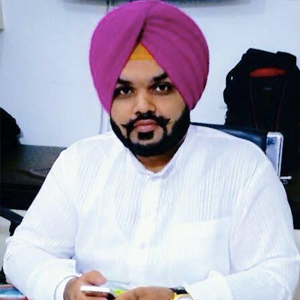 Vaidya Karanvir Singh is the younger Vaidya in Chandigarh Ayurved & Panchakarma Centre. He is the fourth generation in his family who is practicing as a general consultant in Ayurved & Panchakarma treatment at Chandigarh. In his practice, he had treated more than 1000 plus patients worldwide.
Article by Dr. Karanvir Singh (M.D in AYURVEDA, PANCHAKARMA FAGE) and reviewed by Vaidya Jagjit Singh (B.A.M.S)